Story Highlights
On average, public expects cost per gallon to peak at about $3.50 this year
41% say they will be driving less
Fewer concerned than in 2008 and 2011, when prices rose to $4 per gallon
WASHINGTON, D.C. -- Most Americans expect the price of gasoline to keep rising this year but do not expect prices to get close to the $4 per gallon average reached in 2008 and 2011. On average, Americans expect them to reach $3.46, up from the average of $2.98 they currently report paying.
"About how much would you say you currently pay for a gallon of gasoline?"; "How high do you think the price of a gallon of gasoline will go in the area where you live this year?"
Current average
Average expected high
Actual high for the year
Expected minus actual high

$

$

$

$

May 2018
2.98
3.46
May 2011
4.00
4.52
4.02
+0.50
March 2011
3.45
4.36
4.02
+0.34
June 2009
2.69
3.39
2.75
+0.64
March 2008
3.30
3.98
4.17
-0.19
April 2006
2.93
3.62
3.08
+0.54
GALLUP
In similar Gallup polling between 2006 and 2011, Americans tended to overestimate how high gas prices would rise. Only once in five polls, in 2008, did their prediction fall short of the actual peak gas price for the year. In the latest poll, conducted May 21-27, almost two-thirds (65%) expect the price per gallon where they live to go no higher than $3.50, though about one in four (27%) think it will reach or exceed $4.
The average price for all grades of gasoline nationally has risen more than 40 cents since Christmas and has been at or near the $3 level in recent weeks, according to the federal government's Energy Information Administration. With Americans gearing up for summer vacation travel, some Democrats have seized on high gas prices as a political issue, blaming them on the policies of President Donald Trump.
Public Reaction to Price Hikes Less Pessimistic, Less Negative Than in Past
Americans generally appear less concerned this year about the effects of the gas price hikes than they did in Gallup polls over the past 14 years. In six polls from 2004 through 2011, half or more expected the rise in gas prices they were experiencing to become permanent. This year only 35% feel that way, more in line with public opinion from 2000 through 2003.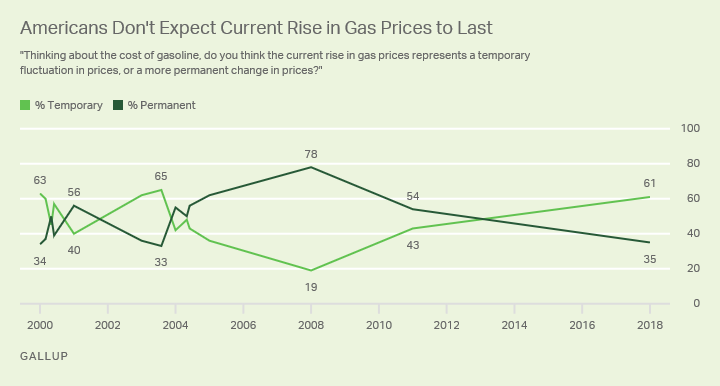 In another sign that Americans are not yet as concerned about the cost of gas as they had been in prior years, 35% say the recent price increases have caused financial hardship for themselves or their households -- the lowest percentage since 2003. It is the first time since 2004 that less than a majority have said the increases have caused hardship.
Impact of Cost of Gas Varies Significantly by Income, Party Identification
Forty-one percent of U.S. adults say they will be driving less this summer because of the high cost of gas, with the impact being felt far more by those with lower incomes. More than half (54%) of those living in households with annual incomes of less than $60,000 say they will be driving less, compared with 31% of those with household incomes of $60,000 or more.
There are also differences between the two major political party groups. Forty-nine percent of Democrats (including independents who lean Democratic) say they will drive less, compared with 30% of Republicans and Republican leaners.
Implications
This year's rise in gas prices has brought the average price per gallon nationally back to the $3 vicinity, and most Americans think it will go higher. But the level of concern is significantly lower than the last three times prices surged dramatically -- 2005, 2008 and 2011.
With the current rise in prices far smaller than in those years and optimism about the direction of the overall economy significantly higher, there is no widespread concern at present about prices at the pump -- and it may take significant further increases for such concerns to occur.
Survey Methods
Results for this Gallup poll are based on telephone interviews conducted May 21-27, 2018, on the Gallup U.S. Poll, with a random sample of 1,499 adults, aged 18 and older, living in all 50 U.S. states and the District of Columbia. For results based on the total sample of national adults, the margin of sampling error is ±3 percentage points at the 95% confidence level. All reported margins of sampling error include computed design effects for weighting.
Each sample of national adults includes a minimum quota of 70% cellphone respondents and 30% landline respondents, with additional minimum quotas by time zone within region. Landline and cellular telephone numbers are selected using random-digit-dial methods.
View survey methodology, complete question responses and trends.
Learn more about how the Gallup U.S. Poll works.