Story Highlights
Support for legalizing pot at new high of 66%
Majority support across regional, age and political party groups
WASHINGTON, D.C. -- Sixty-six percent of Americans now support legalizing marijuana, another new high in Gallup's trend over nearly half a century. The latest figure marks the third consecutive year that support on the measure has increased and established a new record.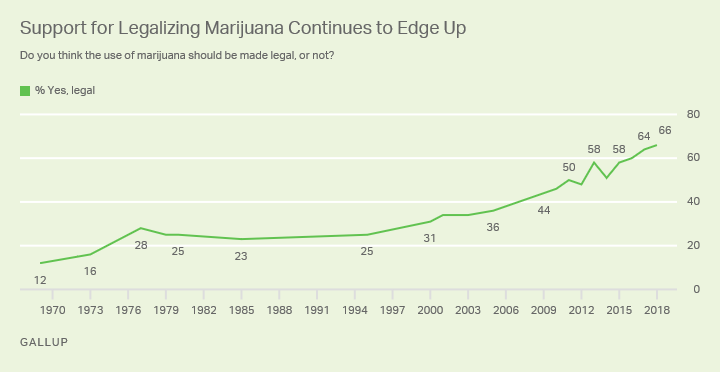 Legalizing the use of pot was an unpopular idea when Gallup first asked Americans about it in 1969 -- just 12% at that time said it should be made legal. Support grew in the 1970s but stagnated in the 20% range until the new millennium, when momentum for legalization picked up again. Since 2000, support for legalizing marijuana has trended steeply upward, reaching majority support for the first time in 2013 -- a year after Colorado and Washington voters legalized recreational use of marijuana via ballot initiatives, making them the first states to do so. Marijuana use continues to be illegal at the federal level.
The Oct. 1-10 Gallup poll was conducted before Canada last week became the second country in the world to legalize the recreational use of marijuana. In the U.S., voters in four states are voting this year on measures to allow for recreational or medical use of marijuana.
Support for legalization in the U.S. has continued to grow, even as Attorney General Jeff Sessions has pledged to crack down on marijuana at the federal level. But Sessions' own department has done little to actually carry out his demonstrated opposition to legal marijuana, and states have continued to legalize it since Sessions took on his role. Moreover, President Donald Trump undermined his attorney general's pledged mission over the summer when he indicated he would likely support a bill to allow states to determine their own marijuana policies.
Among Republicans, Newfound Majority Support for Legalization Remains
Sessions' opposition to legalization is further undercut by shifts in attitudes among his own political party. Gallup found last year that a slim majority of Republicans supported legal marijuana for the first time, and this year's figure, 53%, suggests continued Republican support.
Views that pot should be legalized have also reached new peaks this year among Democrats (75%) and independents (71%). Democrats reached majority-level support for legalization in 2009, and independents did so in 2010.
Majority of Older U.S. Adults Now Support Legal Pot
Among Americans aged 55 and older, views that marijuana should be legalized now surpass the majority level, with 59% support, up from 50% last year.
Meanwhile, solid majorities of younger adults have supported legalization for several years. Support is strongest among adults aged 18 to 34, at 78%, while nearly two in three adults aged 35 to 54 (65%) approve of legalizing marijuana.
Across All U.S. Regions, About Two in Three Support Legalizing Pot
In 2009 and 2010 -- before any state had legalized pot -- support for legalization reached the majority level in only one U.S. region -- the West, at 56%. And in most polls since, residents in the West, along with Eastern residents, have led the remaining regions in favoring legalized pot.
But attitudes about legalization have changed more recently: In 2017 and 2018, support for legalization of marijuana is about even in the East (67%), Midwest (65%), South (65%) and West (65%).
Do you think the use of marijuana should be made legal, or not?
2009-2010

2017-2018

Change

% Yes, legal

% Yes, legal

(pct. pts.)

East
46
67
+21
Midwest
40
65
+25
South
41
65
+24
West
56
65
+9
Gallup
Bottom Line
Like support for gay marriage -- and in prior years, interracial marriage -- support for marijuana legalization has generally only expanded, even if slowly, over the course of multiple decades -- raising the question of where the ceiling in support might be. As the percentage of Americans who favor legalizing pot has continued to grow, so has the number of states that have taken up legislation to allow residents to use the substance recreationally. States that permit use of medical marijuana are even more prevalent in the U.S. than states allowing recreational pot are.
After this year's elections, recreational pot use could be allowed in two more states, depending on what voters decide in North Dakota and Michigan. Both of these states border Canada, whose adult residents now have access to legal marijuana nationwide. Meanwhile, state lawmakers in New Jersey are moving closer to passing legislation to legalize pot, and neighboring New York might not be far behind after the state's health department conducted a study that led to its recommendation that marijuana be legal.
But even as many states take action to legalize pot, to date, no Midwestern or Southern states permit legal recreational use -- though medicinal marijuana is allowed in a few of these states. Now that public support is consistent across U.S. regions, legalization could spread to new areas in the future.
View complete question responses and trends (PDF download).
Learn more about how the Gallup Poll Social Series works.