Story Highlights
54% of Senegalese are confident in the honesty of elections
Electoral confidence dropped 30 percentage points since 2012
41% say it is a good time to find a job, unchanged from 2012
WASHINGTON, D.C. -- Portrayed as a model of democracy on the African continent, Senegal has enjoyed stability and economic growth for the past several years. Elected in 2012, President Macky Sall -- who is trying to win a second term this weekend -- has vowed to transform Senegal into an economic hub and to reach middle-income status by 2035. To achieve this, his government has launched a series of large infrastructure projects to improve transportation and modernize all sectors of the economy.
On the human development front, Sall's government has implemented universal healthcare and provided financial assistance to the poorest households. Strengthening governance, including shortening the length of time that presidents serve in office, has been a key message throughout Sall's tenure.
As the Senegalese head to the polls this Sunday to elect their next president, Gallup looks at survey results spanning Sall's seven-year term to shed light on key issues.
Trust in Elections in Senegal Is Sinking
Senegalese confidence in the honesty of elections in their country stands at 54%, its lowest level since Sall took office. Voters' confidence in their elections has tumbled 30 percentage points since it peaked at 84% in 2012, with sizable losses among Senegalese from all major demographic groups, including gender, age, education, urbanization level and income.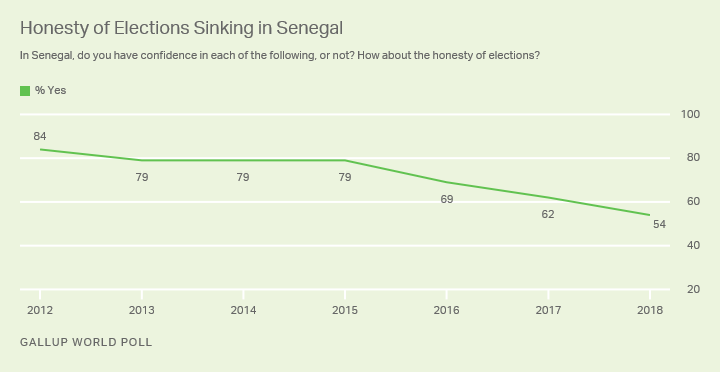 Confidence started to drop substantially in 2016 after Senegal's government held a national referendum that successfully shortened the presidential term from seven to five years. During his 2012 campaign, Sall had not only promised to reduce the presidential term but also that he would apply the new rule to his own, suggesting the next election would take place in 2017.
However, Senegal's High Court ruled in 2016 that the referendum's results could not apply to Sall's first term, thereby delaying the next presidential elections until 2019. Many Senegalese who approved of the proposed changes in the referendum felt the president had reneged on his campaign promise. Delays in issuing biometric voters' cards leading up to the 2017 parliamentary elections may have also contributed to lower confidence in the electoral process.
Satisfaction With Standard of Living, but Not Jobs
The Sall government has implemented several flagship projects to restructure the economy, improve governance and harness human capital. The government has also launched a subsidy program to help lift 250,000 Senegalese out of extreme poverty, reduce inequalities and provide universal healthcare.
While public attitudes toward the economy have improved, Senegalese' reading of the job climate has remained unchanged since 2012. Fewer than four in 10 Senegalese said they were satisfied with their standard of living in 2012, before dipping to 30% in 2015 and rising to 53% last year. At the same time, 41% of Senegalese said it was a good time to find a job in their communities in 2018, virtually unchanged from the 40% level at the beginning of Sall's term.
Satisfaction With Infrastructure Shows Little Perceived Progress
While the country's transformation program has led to a number of improvements to infrastructure, the survey results reveal there is much room for development. During Sall's first seven-year term, schools gained the most ground, with satisfaction rising from 31% in 2012 to 42% in 2018. Senegalese' satisfaction with the availability of good, affordable housing remains virtually unchanged at 44%.
Satisfaction with the availability of quality healthcare, the quality of air and the quality of water have all declined slightly from 2012, about a five-percentage-point drop for each. But Senegalese' satisfaction with roads and highways and the public transportation system have decreased the most, a nine- and 13-percentage-point drop, respectively. This may be surprising in light of the transportation projects the government has launched, including the first phase of a high-speed rail to link the southern part of the country to Dakar, the capital.
% Satisfied
2012
2018
Change

%

%

pct. pts.

Educational system
31
42
+11
City: Quality healthcare
42
37
-5
City: Good, affordable housing
43
44
1
Roads and highways
53
44
-9
Public transportation systems
54
41
-13
Quality of air
70
65
-5
Quality of water
56
50
-6
In the city or area where you live, are you satisfied or dissatisfied with…?
GALLUP World Poll
Slight Decline in Confidence in Sall's Government After First Term
Confidence in Sall's government stood at 65% after his election in 2012. After inching up to 67% in 2014, confidence declined slightly and measured 59% in July 2018. With respect to gender, age, education, urbanization level and income, there are no significant differences in Senegalese' confidence in their national government.
Bottom Line
Senegal's High Court barred the two strongest opponents to Sall's bid for a second term on charges of graft and corruption. While Sall has the incumbent's advantage, he will face four other presidential hopefuls this weekend and will need to garner more than 50% of the votes to avoid a runoff.
On the economic front, Senegalese report higher levels of satisfaction with their standard of living, suggesting subsidy programs may have helped families afford some goods and services. However, the lukewarm satisfaction scorecard on various types of infrastructure suggests Senegalese may not yet see or benefit from completed projects, especially in terms of transportation.
With attitudes toward the job climate virtually unchanged from 2012, the strong GDP growth rate of the last seven years sounds like jobless growth for most Senegalese. Job creation takes on even greater significance in Senegal as 60% of the population is younger than 30.
Beyond the need to create the right mix of conditions for strong job growth, the plunge in confidence in the honesty of elections may reflect a deeper malaise with the current state of political representation and governance. Whoever wins the election will need to work hard to rebuild Senegalese trust in the electoral process. It is a key ingredient for Senegal's stability and prosperity in its goal to become an emerging country 15 years from now.
Learn more about how the Gallup World Poll works.