Story Highlights
23% mention immigration as most important problem, highest in Gallup trends
The government is the most commonly mentioned problem, at 26%
Most Americans still say immigration a good thing for the U.S.
WASHINGTON, D.C. -- Americans' concern with immigration continues to be heightened, as 23% name it the most important problem facing the country. This is by one percentage point the highest Gallup has ever measured for the issue since it first began recording mentions of immigration in 1993.
The June 3-16 poll was conducted as the U.S. continues to grapple with how to handle a surge of Central American immigrants at the U.S.-Mexican border. Gallup has previously found spikes in mentions of immigration as the most important U.S. problem at other times when the immigration debate intensified, including:
22% in July 2018 amid controversy over a U.S. policy to separate children and parents who were trying to enter the U.S. illegally
17% in July 2014, when a wave of young immigrants from Central American countries crossed the U.S. border illegally
19% in April 2006 as the Senate worked toward passage of a comprehensive immigration reform bill it later passed but ultimately was not considered by the House of Representatives
Mentions of immigration have been higher on average in 2019 than in any prior year. The 20% average to date compares with 14% in 2018, and no more than 10% in any other year.
Yet immigration has typically finished behind the government as the nation's top problem over the past three years, and did so again this month, when 26% of Americans named the government. Government has finished ahead of immigration in all but two months since February 2017 (July and November 2018). This included a record 35% naming the government in February.
Concern about the government is broadly distributed across the three major partisan groups, with 32% of Democrats and 23% of both Republicans and independents currently identifying it as the most important problem. In contrast, immigration mentions are far more common among Republicans (42%) than Democrats (7%). Twenty-one percent of independents name it.
One in Three Want Immigration Levels Decreased
Asked their preferences for U.S. immigration levels, 37% of Americans say it should be kept at its present level, while more say it should be decreased (35%) than increased (27%). The percentage wanting immigration reduced is higher than the average 30% holding this view in Gallup's two prior surveys, in January 2019 and July 2018. However, in the past, many more Americans have called for a reduction than do so now, including 41% in June 2014, 58% in October 2001 (after 9/11), and a record 65% in the mid-1990s during a surge of illegal immigration in California.
In recent years, there has been an uptick in the percentage who want immigration to the U.S. increased. Before 2012, the percentage never reached 20%, but it has been above that mark since, including a record 30% in January.
As their differences in perceptions of immigration as the most important problem would suggest, partisans have divergent views on U.S. immigration levels. A slim majority of Republicans, 54%, want them decreased, while 31% want them kept the same and 13% increased. Democrats are about equally likely to prefer increased immigration (43%) as to want current levels maintained (42%); just 13% want immigration cut. Independents' views essentially match those of all U.S. adults.
Public Mixed in Assessment of Immigration's Effects
Even as they acknowledge immigration as one of the nation's most pressing problems, Americans still view immigration positively in general, with 76% describing it as a good thing for the country today and 19% as a bad thing. Since Gallup first asked this question in 2001, no fewer than 52% have affirmed immigration's value, with the current year's figure the highest to date by one point.
Notably, two-thirds of Americans who identify immigration as the most important problem still believe it is a good thing for the country.
Democrats (87%) are much more likely than Republicans (62%) to say immigration is a good thing, with 78% of independents holding that view.
Americans' assessments of the effect of immigration on six aspects of U.S. society are mixed. In two areas -- the economy and food, music, and the arts -- more believe immigration has made the situation better than made it worse. The public is divided as to immigration's effects on social and moral values and job opportunities for their family, but more evaluate immigration's effect on crime and taxes negatively than positively.
For each of the following areas, please say whether immigrants to the United States are making the situation in the country better or worse, or not having much effect. How about -- [RANDOM ORDER]?
Better
Worse
No effect
Net (% Better - % Worse)

%

%

%

pct. pts.

Food, music and the arts
57
10
32
+47
The economy in general
43
31
25
+12
Social and moral values
31
28
39
+3
Job opportunities for you and your family
19
25
56
-6
Taxes
20
42
37
-22
The crime situation
7
42
50
-35
Gallup, June 3-16, 2019
Americans' opinions on the impact immigration has on these aspects of society have shifted in a more positive direction over the past two decades. Specifically, the public is much more positive today about immigration's effect on the economy and job opportunities than they were in 2001, when Gallup first asked the question. While still negative overall today, Americans are less negative about immigration's effect on taxes and the crime situation than they were 18 years ago.
Probing further on immigration's impact on the economy, the poll asked Americans whether immigrants "mostly help the economy by providing low-cost labor" or "mostly hurt the economy by driving down wages for many Americans." For the first time, a majority of Americans say immigrants mostly help the economy, with 55% holding this view, compared with 37% who see immigrants as harming the economy. In 1993 and 2004 surveys, large majorities of Americans saw immigrants as detrimental to the economy.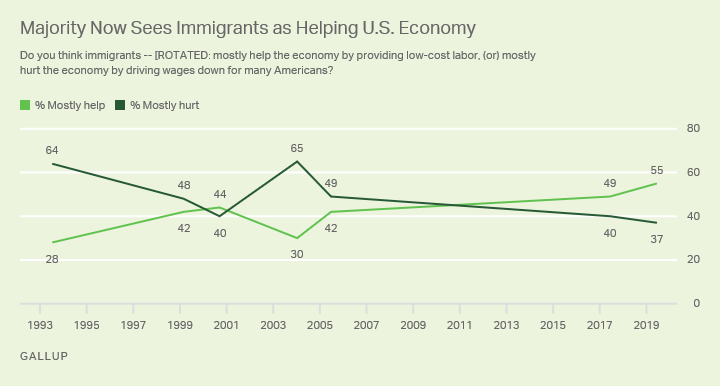 Republicans disagree with Democrats and independents on the effect of immigration on the economy. Whereas 60% of Republicans see immigration as hurting the economy, 72% of Democrats and 58% of independents believe it helps.
Implications
At a time when Americans are more likely to name immigration as the most important problem facing the country than any in recent memory, they hold mixed views about it. They still see immigration as a good thing for the country, and more believe it benefits than harms the economy. About one-third want to see immigration levels reduced, but that is a lower proportion than in past surveys, including times when fewer Americans viewed immigration as a pressing U.S. problem.
The issue continues to challenge U.S. lawmakers, as Congress and Presidents George W. Bush, Barack Obama and Donald Trump have been unable to enact meaningful legislation to stem the flow of illegal immigrants to the country and develop a plan for immigrants living in the U.S. illegally. As such, the issue promises to remain a major one in the coming presidential election.
View complete question responses and trends (PDF download).
Learn more about how the Gallup Poll Social Series works.