Story Highlights
64% of Tunisians have no confidence in their national government
79% say corruption is widespread in the government
76% say it is a bad time to find a job in their local areas
WASHINGTON, D.C. -- Tunisia's new leaders are still in the process of trying to form a government from its deeply divided parliament, but once that's done, the government will need to tackle some even bigger longtime challenges.
Not the least of these is Tunisians' dismal confidence in their national government. Before the elections in September and October, fewer than three in 10 Tunisians said they had faith in the government.
These data come from Gallup's latest survey in Tunisia, conducted July 16-28; during the survey period, Tunisia's President Beji Caïd Essebsi died. The survey was fielded before the first round of the country's presidential election in September and parliamentary elections in October.
The current 29% of Tunisians who have confidence in their national government is near the lowest levels in Gallup's trend. The lowest reading was 25% in 2017; it came after the passage of a controversial law allowing the government to overturn corruption convictions for civil servants and the delay of long-expected municipal elections.
Government Corruption Seen as Endemic by Tunisians
Likely contributing to Tunisians' lackluster confidence in their national government is the high percentage of the country's public that sees government corruption as widespread. Nearly eight in 10 Tunisians say corruption is widespread in the country's government, which is consistent with the elevated scores since 2017. The 2017 reading came on the heels of the passage of legislation allowing the overturning of corruption convictions for government officials.
After Tunisians' overthrow of President Zine el-Abidine Ben Ali in 2011, perceptions of government corruption shot up, peaking that year at 86%. This surge may have been attributable to a perceived freedom to speak openly after the ouster of Ben Ali's oppressive regime, rather than a surge in corruption. While the percentage of the Tunisian public that views the government as corrupt has fluctuated since, roughly seven in 10 Tunisians have consistently said there is endemic corruption in the country's government.
Tunisians do not just see corruption as endemic in their government but also in the country's businesses. More than eight in 10 Tunisians (82%) in 2019 say corruption is widespread in their country's business community, up from 69% last year and the highest level since 2013.
Economic Woes Compound Tunisia's Political Issues
In addition to Tunisians' lack of confidence in their national government and widespread views of endemic government corruption, pessimism about the country's job market is at or near record levels. More than three-quarters, 76%, of Tunisians now say it is a bad time to find a job in their local area, the highest reading in Gallup's trend that dates to 2009.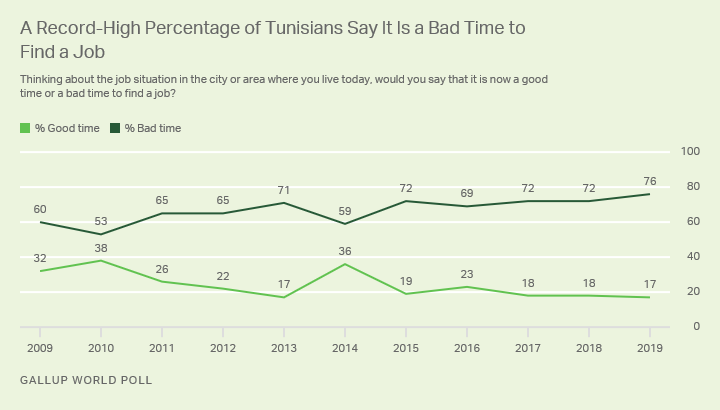 At no time during Gallup's trend have less than 53% of Tunisians said it was a bad time to find a job in their local area. And since 2015, no less than 69% have said the same. This would point to a long-term perception by Tunisians that economic conditions have been bad, likely further sapping confidence in the country's national government.
Bottom Line
Any one of these three issues would present a serious problem for a government. A combination of all three would likely prove a daunting challenge to any government, let alone one for a country that transitioned to democracy less than a decade ago.
Tunisians were primed for change before the recent election, and new President Kais Saied has set out to form a new government that would reach across party lines. Saied has tasked new Prime Minister Habib Jemli with forming a coalition government out of a deeply divided parliament. If Jemli is successful, it is unclear how strong the coalition government will be, and substantial political will and resilience will be required to pass legislation addressing the issues facing the new government.
For complete methodology and specific survey dates, please review Gallup's Country Data Set details.
Learn more about how the Gallup World Poll works.