Story Highlights
45% approve of Trump's job performance, marking his third consecutive increase
Support for impeachment still contentious, but continues to dip, now at 46%
Congress enjoys one of its highest ratings of the Trump era, now at 27%
WASHINGTON, D.C. -- President Donald Trump's job approval rating has inched up again and is now at 45%. The president's ratings have increased six percentage points since the House of Representatives opened an impeachment inquiry against him in the fall.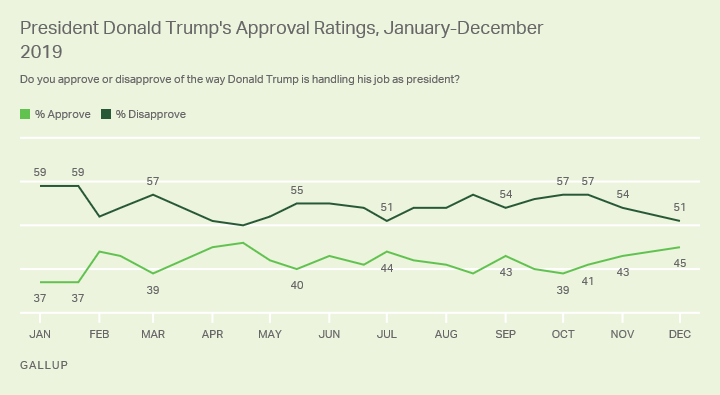 The president's latest approval rating is from a Dec. 2-15 poll, conducted as the Democratic-controlled House held hearings on whether Trump should be impeached. The House is likely to vote to impeach the president on Wednesday, though Trump's removal from office is unlikely in the GOP-controlled Senate.
Approval of the president's performance remains high among Republicans (89%) and low among Democrats (8%). Less than half of political independents approve, but the current 42% is up from 34% at the start of the impeachment hearings and matches their highest rating of Trump so far.
Trump's latest job rating is on the high end of the relatively tight range of 35% to 46% approval he has received since taking office, and marks the fifth time he has reached 45% or higher during his presidency. His approval stretched to 46% only once, in May of this year, when a flurry of positive economic news coincided with the issuing of Special Counsel Robert Mueller's report.
Americans Still Divided on Impeachment, but Support Has Fallen Slightly
Americans remain split on whether to impeach and remove Trump from office, but the percentage who support these legislative actions has dipped slightly each time Gallup has polled on the matter since October.
Currently, 46% support impeachment and removal, down six percentage points from the first reading after House Speaker Nancy Pelosi announced the impeachment inquiry. Meanwhile, 51% oppose impeachment and removal -- up five percentage points over the same period.
Democrats (85%) remain widely supportive of impeachment and removal, while a small percentage of Republicans, 5%, agree.
The movement in the national figure mostly reflects a small shift among political independents, a slight majority of whom supported impeachment and removal in two October polls (55% and 53%), but whose support has fallen below the 50% mark in the two polls since (45% in November and 48% in the latest poll).
Congress Enjoys One of Its Best Ratings of the Trump Era
As Trump's job approval rating has improved during the impeachment process, so has that of Congress. The current 27% who approve of the job Congress is doing is up from 18% in early September and is one of the highest readings during the Trump era, along with the 26% found in March after Congress rebuked Trump's attempts to redirect government spending toward the U.S.-Mexico wall and 28% in February 2017 after Trump was inaugurated, which gave Republicans control of the presidency and Congress.
Ratings of Congress' job performance have been consistently low and have not cracked the 30% mark in over a decade. But the current 27% who approve of Congress is well above the 19% average the legislative body has received since Trump took office.
The relatively high approval of Congress in the latest poll is driven largely by Democrats, 39% of whom currently approve. This is the highest figure recorded for this group in nearly a decade -- since the 41% rating in April 2010, when their party controlled both chambers of Congress.
Approval of Congress is also up among independents, with today's 29% the highest for this group since June 2009. Meanwhile, 12% of Republicans approve of Congress -- their lowest rating of the body since June 2016.
Bottom Line
The impeachment process has been a divisive one for the country, carrying risks for both political parties. As of now, it appears to be helping both Trump and Congress. While neither enjoys stellar approval ratings, they have both improved in their standing since the beginning of the impeachment process.
Months of reporting and testimony on impeachment seem to have largely crystalized preexisting opinions of Trump. Views among Republicans (overwhelmingly positive, anti-impeachment) and Democrats (almost exclusively negative, pro-impeachment) hardly change, while political independents tend to be the real drivers behind minor variations in overall national sentiments. Independents have become slightly more positive toward both the president and Congress, while they are slightly less in favor of impeachment.
This month's increase in negative views of Congress among Republicans has largely offset recent increases in positive views among Democrats -- who have warmed to Congress amid the House's ongoing activities that seem poised to end with impeachment of the president. Views may very well change once the Senate takes the reins in the next phase of the process, with Republicans in control of the body that will ultimately decide Trump's fate.
View complete question responses and trends (PDF download).
Explore President Trump's approval ratings and compare them with those of past presidents in the Gallup Presidential Job Approval Center.