Story Highlights
Job approval rating essentially unchanged from December
Slim majority want their senators to vote against convicting Trump
More want Trump removed from office than wanted Clinton out
WASHINGTON, D.C. -- As the Senate impeachment trial of President Donald Trump begins, 44% of Americans approve of the job he is doing as president. Trump's approval rating has been steady in the past three polls -- between 43% and 45% -- slightly above the 39% to 41% ratings he received as the impeachment inquiry started in the fall.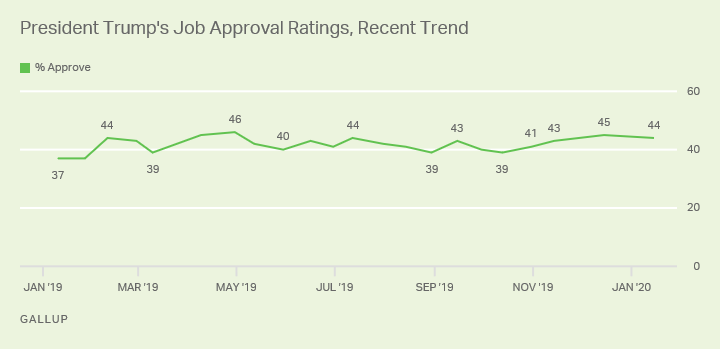 Trump's recent job approval ratings -- though below the historical average 53% for post-World War II presidents -- are among the highest of his presidency. His personal best is 46%, while he has averaged 40% job approval for his entire term.
Currently, 88% of Republicans, 37% of independents and 10% of Democrats approve of the job Trump is doing.
Public Leans Against Removing Trump From Office
The Jan. 2-15 poll was conducted after the U.S. House voted to impeach Trump in December but before the Senate trial formally began last Thursday. The House has accused Trump of withholding congressionally approved foreign aid to Ukraine contingent on that country investigating a political rival of the president, and obstructing Congress in its investigation of the matter.
Forty-six percent of Americans say they would like their senators to vote to convict Trump and remove him from office, while 51% want their senators to vote against conviction so Trump will remain as president.
Like his approval rating, Trump's impeachment figures are also sharply divided along partisan lines. Ninety-three percent of Republicans are opposed to convicting Trump and 84% of Democrats favor doing so. Independents are evenly divided, with 49% in favor and 46% opposed.
As you may know, the House has now impeached Donald Trump and the case will be sent to the Senate for trial. What do you want YOUR senators to do -- [vote in favor of convicting Trump and removing him from office (or) vote against convicting Trump so he will remain in office]?
Convict/Remove
Not Convict/Keep

%

%

U.S. adults
46
51
Democrats
84
15
Independents
49
46
Republicans
7
93
Gallup, Jan. 2-15, 2020
Though public opinion currently tilts against removing Trump from office, more want to see the Senate remove him than wanted the same for Bill Clinton after he was impeached by the House in 1998. In several polls conducted in January and early February 1999, an average of 33% of Americans were in favor of the Senate convicting Clinton and removing him from office, while 63% were opposed.
The president's own party is about as opposed to impeachment for Trump as the Democratic Party was for Clinton; but the opposition party and political independents are more strongly aligned against Trump than they were against Clinton.
Seven percent of Republicans today, versus 8% of Democrats in 1999, wanted the Senate to remove a president of their own party.

65% of Republicans wanted Clinton removed, but 84% of Democrats want to see Trump ousted today.

Thirty-two percent of independents wanted Clinton removed from office, compared with 49% wanting the same for Trump.
Implications
As was the case for Clinton, the impeachment of Trump has not had a noticeably negative effect on his popular support. In fact, for both presidents, impeachment had the opposite effect of increasing their public approval. Clinton registered a personal best 73% approval rating immediately after being impeached. Clinton's higher rating may also have been aided by U.S. airstrikes against Iraq that occurred at the same time as the House impeachment vote.
Clinton's job approval ratings held in the mid- to high 60s as the Senate tried him on his impeachment charges in early 1999. Trump's job approval ratings are nowhere near as high as Clinton's were during his impeachment saga, but they are among the best Trump has registered as president.
Both Clinton and Trump were impeached at a time when the U.S. economy was strong, but Trump is operating in a much more partisan environment than Clinton was. The polarization is holding Trump's job approval rating down, especially among Democrats but also independents. The greater correspondence between partisanship and views of the president also helps explain why more want Trump to be removed from office than wanted Clinton to be.
Explore President Trump's approval ratings and compare them with those of past presidents in the Gallup Presidential Job Approval Center.
View complete question responses and trends (PDF download).
Learn more about how the Gallup Poll Social Series works.