Story Highlights
20% attended religious services in person, 10% remotely in May
In-person attendance up from 3% one year ago
Total of 30% attending religious services ties last year's record low
WASHINGTON, D.C. -- With many churches, synagogues, mosques and temples reopening or lifting capacity limits as more Americans are vaccinated, in-person attendance is rebounding. Twenty percent of U.S. adults report that they have attended a place of worship in person in the past week and another 10% say they have participated virtually.
When this question was last asked, in December, slightly more Americans were still attending remotely (16%) rather than in person (13%). In contrast, last May, just 3% of U.S. adults said they had attended a house of worship in person, while 28% had done so remotely. Across the entire year, the proportion using some means to participate in a worship service stayed fairly steady near three in 10.
Line graph. Percentages of Americans who have attended a church, synagogue, mosque or temple either in person or remotely in the past week. The latest reading, from a May 3-18 survey, shows 20% have attended a religious institution in the past week in person and 10% have done so remotely.
The latest findings are from a Gallup poll conducted May 3-18, as the COVID-19 vaccination rate among U.S. adults continued to rise and restrictions in many states were being further eased.
Current Attendance Ties Lowest on Record
Gallup has measured Americans' attendance at religious services since 1939, when 41% said they had been to a place of worship in the previous week. By 1955, the annual average for the measure in the U.S. had risen to a record-high 49%. After a slight decline in 1967, each yearly average hovered near 40% until 2014's 36% reading. In 2019, before COVID-19 affected the U.S., the annual average was 34%.
Last year, amid the coronavirus pandemic, the annual average fell to 30%, its lowest point on record. The latest reading matches that. While a drop in religious service attendance is understandable during such an event, amid closures and capacity limitations at houses of worship, virtual participation has not been enough to make up the difference. It is, however, not clear whether the four-percentage-point drop in U.S. attendance from 2019 to 2020 reflects a lack of access to virtual services, a lack of interest in watching them, or both.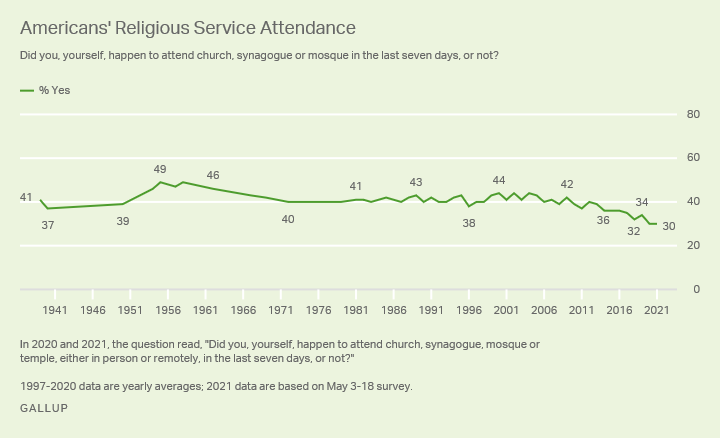 Line graph. Annual averages for Americans' self-reported attendance at a religious service in a church, synagogue, mosque or temple in the previous seven days, trend from 1939 to 2020. The 2021 reading is based on a May 3-18 survey and matches the 30% average from 2020, which is the lowest recorded by Gallup. The record high was 49% in 1955 and 1958.
Changes in Overall Attendance Among Subgroups
U.S. adults' overall attendance at religious services fell across most demographic groups between 2019 and 2020, even when virtual services were included. Attendance in 2021 has rebounded among some groups but not others.
Women were only slightly more likely than men to report attending a religious service in 2019, but when the pandemic hit, that gap grew as men's participation dropped more than women's. While women's attendance has since recovered completely, men's is significantly lower than it was pre-pandemic.

Before the pandemic, Protestants were more likely than Catholics to say they had attended church the previous week, and after COVID-19 forced closures in 2020, Catholics' churchgoing fell much more than Protestants'. Neither group's attendance rates have returned to their 2019 levels, but Protestants are slightly closer than Catholics.

Religious attendance has been mostly steady since 2019 among adults 55 and older -- the age group most likely to report attending services. At the same time, it dropped significantly between 2019 and 2020 among those aged 18-34 and 35-54. While it has recovered completely among the youngest group, it has sunk further since 2020 among those in the middle group. As a result, about one-quarter of Americans in both of these groups now say they have attended religious services in the past seven days, compared with 36% of those in the oldest age group.
% Who say they have attended church, synagogue, mosque or temple in the last seven days
2019
2020
2021

%

%

%

Gender
Male
33
26
24
Female
36
32
36
Religious preference*
Protestant
46
42
41
Catholic
37
28
30
Age
18-34
26
19
27
35-54
36
28
25
55 and older
38
37
36
2019 and 2020 data are based on yearly averages, while 2021 data are based on May 3-18 survey; 2020-2021 questions included "either in person or remotely"; * Other religions were not included due to insufficient sample size.
GALLUP
Bottom Line
The pandemic's effect on Americans' practice of their religion has been significant. Church membership in 2020 fell to its lowest point in more than eight decades of Gallup's tracking, and overall religious service attendance (the combined percentage in-person and virtual) also reached an all-time low. The latest data show that even as in-person attendance has increased with fewer closures and capacity limitations, overall attendance remains lower in 2021 than in 2019. As Americans gradually resume their pre-pandemic lives, their participation in religious services may increase further. But as the trend shows, attendance has generally been declining over the past two decades, so a full rebound to what it was two years ago may not occur.
View complete question responses and trends (PDF download).
Learn more about how the Gallup Poll Social Series works.