The unexpected death of Supreme Court Justice Antonin Scalia on Saturday deprives the high court of its longest-serving and arguably most-outspoken member. And, from the American public's perspective, one of the high court's controversial figures. In July of last year, popular perceptions of the conservative jurist were evenly divided, with 29% seeing him favorably and 27% unfavorably. Scalia, whom one prominent legal scholar named "the most influential justice of the last quarter-century," was nonetheless unknown to nearly a third of Americans (32%) and generated no opinion from another 12% in 2015, Scalia's 29th year on the nation's top court.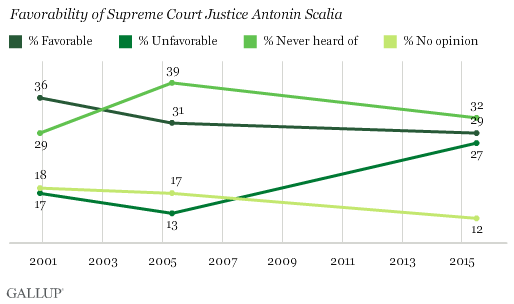 Scalia was well-known for his political leanings, but it was only late in his career that, according to Gallup data, he became a polarizing figure with Americans who were familiar enough to have an opinion of the first Italian-American to serve on the Supreme Court. In 2000, despite the controversy hanging over the court -- particularly Scalia and the other four justices who decided the Bush v. Gore case that handed the presidency to George W. Bush -- nearly twice as many Americans had a favorable view of Scalia as unfavorable, 36% vs. 17%. Scalia maintained a similar proportion of support in 2005, though slightly more Americans did not know him or had no opinion of him.
But while Scalia made for a controversial figure in his last full year as a Supreme Court justice, he was hardly the only source of fissure on the bench. Chief Justice John Roberts, twice the clinching vote in decisions that would preserve President Barack Obama's federal healthcare law, was equally controversial to Americans, according to the same July 2015 poll. Anthony Kennedy, the author of the court's 2015 ruling that effectively legalized gay marriage nationwide, was seen in slightly less negative terms, with 29% favorable and 21% unfavorable ratings. As was true for Scalia, about half of U.S. adults either did not know or had no opinion of Roberts and Kennedy.
Interestingly, the modest erosion of Scalia's popularity over the past 15 years came primarily not from increased Democratic hostility to the Republican-appointed judge but rather because of souring Republican views. In 2015, Scalia's "net favorable" rating -- the difference between his favorable and unfavorable ratings -- among Republicans was +6, down considerably from +36 in 2005. This drop -- the largest among any of the three major political affiliations -- may have been a bitter pill to swallow for one of the court's most reliably conservative votes. But as Gallup Poll Senior Editor Jeff Jones noted in his story about these data last year, Republicans' growing "dissatisfaction with the high court more generally may be influencing how they feel" about Scalia, rather than indicating a response to any of Scalia's votes. Scalia twice voted in a way that would dismantle the Affordable Care Act and vehemently opposed the court's finding that gay Americans had a constitutional right to marry.
Paralleling Scalia's declining popularity among Republicans has been a striking increase in unfavorable views of him among conservatives. In 2005, 36% of conservatives viewed Scalia favorably, compared with 7% who had an unfavorable view. In 2015, Scalia's favorable rating with conservatives held steady (34%), but his unfavorable rating surged to 26%. Somewhat unexpectedly, Scalia's 2015 net favorable score among conservatives (+8) was about on par with his score among moderates (+6). Liberals saw Scalia in net-negative terms (-13).
Over Scalia's lengthy tenure on the high court, confidence in that venerable institution fell dramatically, echoing a larger trend of declining confidence in most major U.S. institutions that Gallup has found recently. When Scalia first assumed his post there in 1986, 54% of Americans had a "great deal" or "quite a lot" of confidence in the Supreme Court. Last June, the figure was at a near-record low of 32%. Meanwhile, in September 2015, Gallup found the public's approval of the Supreme Court at 45%, only three percentage points above its historical low observed in 15 years of tracking.
Although presidents from their party had appointed a majority of the justices on the court (at least until Scalia's death), self-identified Republicans have typically been more likely than Democrats to disapprove of the court since Obama took office. Partisan polarization over the Supreme Court's job performance swelled in July 2015 -- just after the pair of rulings that upheld the ACA and legalized gay marriage -- with a record-low level of Republicans (18%) approving of the court and an all-time high 76% of Democrats approving. These sharp party differences diminished slightly in September, but nonetheless portend the coming battle over who Scalia's replacement might be, and whether Obama or the next president will ultimately make that choice.
The replacement of Scalia has the power to alter the ideological balance of the high court, which legal analysts often describe as conservative because of the greater number of Republican-appointed justices on the bench. This fact notwithstanding, nearly four in 10 Americans (37%) said the Supreme Court was "too liberal," including 63% of Republicans. Twenty percent judged the court "too conservative," a response more common among Democrats than independents or Republicans. Forty percent found the court "about right," though this was down from 50% in 2009. But Scalia's replacement could change that balance, which is why both political parties are gearing for a battle that will likely be fought on two fronts: on Capitol Hill and on the 2016 campaign trail.