GALLUP NEWS SERVICE
PRINCETON , NJ -- George W. Bush's most recent quarter in office -- his 27th -- ends today. For the quarter, Bush averaged a 33.2% job approval rating; the second lowest average of his presidency. It does, however, represent a slight improvement from his 31.8% average in the previous quarter -- which ranks as the lowest of his administration. Of the 248 presidential quarters since World War II for which Gallup has data, only 18 were worse than what Bush received in the most recent quarter.
Bush is in somewhat select company having made it to a 27th quarter, becoming just the 5th of the 11 post-World War II presidents to have done so. (Quarters are defined as three-month periods starting from the president's inauguration, which is usually Jan. 20.) Of those presidents, only Harry Truman, who had a 23.0% average approval rating in late 1951/early 1952, was held in lower regard than Bush during that period of his presidency. Dwight Eisenhower (65.3%) and Bill Clinton (59.7%) were very popular during their 27th quarters as president. Ronald Reagan's 47% average put him in between the two extremes.
Presidential Job Approval
Averages in 27th Quarter as President

Dates of 27th
Quarter

Quarter
Approval Average

Number of Polls
During 27th Quarter

%

Truman

Oct 20, 1951-Jan 19, 1952

23.0

2

Eisenhower

Jul 20-Oct 19, 1959

65.3

4

Reagan

Jul 20-Oct 19, 1987

47.0

2

Clinton

Jul 20-Oct 19, 1999

59.7

7

Bush

Jul 20-Oct 19, 2007

33.2

6
The trend line on Bush's quarterly averages throughout his presidency shows most prominently the effects of the 9/11 terrorist attacks, which produced a spike in support for him. The events surrounding the attacks led to him receiving some of the highest approval ratings in Gallup polling history. Since then, his average approval rating has declined nearly every quarter. In fact, the most recent quarter is only the second time in his second term as president that his quarterly average did not decline from the prior quarter.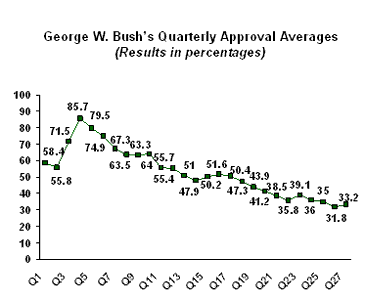 Bush's second term in office has been a difficult one for him, due in large part to the ongoing war in Iraq. He has averaged a 38.8% approval rating in his second term so far, which threatens Truman (36.5% in his second term) and Nixon (34.4% in his truncated second term) for the lowest average in any presidential term since World War II. In contrast, Bush averaged 62.2% during his first term, which is one of the best term averages to date.
The job approval average for Bush's entire presidency to date is 52.2%, which would rank in the middle of the pack for the post-World War II presidents.
In the most recent USA Today/Gallup poll, conducted Oct. 12-14, 2007, 32% of Americans approved and 64% disapproved of the job Bush is doing as president. He has not had an approval rating above 40% in more than a year, last doing so in a Sept. 15-17, 2006, Gallup Poll. That 13-month run ties him with Richard Nixon for the second longest (Nixon's streak began in July 1973, and ended when he resigned from office in August 1974.) Only Harry Truman's 26-month string of approval ratings below 40% was longer (from October 1950 through the end of his presidency). Bush can surpass that if he fails to break the 40% barrier for the remainder of his presidency.
Longest Runs of Sub-40% Job Approval Ratings
1945-2007 Gallup Polls

Dates

Number of Months

Harry Truman

Oct 1950-Dec 1952

26

George W. Bush

Sep 2006-Oct 2007

13

Richard Nixon

Jul 1973-Aug 1974

13

Jimmy Carter

May 1979-Nov 1979

7

Jimmy Carter

May 1980-Nov 1980

7

George W. Bush

Feb-Jul 2006

5
Bush has not had an approval rating at or above 50% in more than two years -- since May 2005 -- a total of 30 months. In fact, since his second term began on Jan. 20, 2005, Bush has received just seven approval ratings of 50% or higher.
Truman went 36 months without an approval rating at the 50% level spanning all of 1950-1952. In theory, Truman's streak may have been longer -- up to 40 months -- were it not for some holes in the trend line. His last approval rating at or above 50% came in early October 1949, but Gallup did not ask Truman job approval for the duration of 1949, and it also did not ask it during Truman's last month in office in January 1953.
Bush would surpass even the theoretical maximum for Truman's streak next fall if his approval rating does not get back to the 50% level.
Survey Methods
These results are based on telephone interviews with a randomly selected national sample of 1,009 adults, aged 18 and older, conducted Oct. 10-12, 2007. For results based on this sample, one can say with 95% confidence that the maximum margin of error attributable to sampling and other random effects is ±3 percentage points.
The quarterly average approval rating is based on the average approval ratings in polls conducted between July 20 and Oct. 19, 2007, each poll consisting of approximately 1,000 respondents.
In addition to sampling error, question wording and practical difficulties in conducting surveys can introduce error or bias into the findings of public opinion polls.