WASHINGTON, D.C. -- After months without a formal government, Ukraine has a new prime minister. In December, the Ukrainian parliament chose Yulia Tymoshenko, a popular leader of the 2004 Orange Revolution, to once again lead the nation alongside President Viktor Yushchenko. However, with public confidence in national institutions low, Ukraine's new government may face a tough road ahead. Just prior to the general election in September 2007, only 8% of Ukrainians told Gallup they have confidence in their national government, and 83% perceive corruption as widespread throughout the government.
The national government is not the only institution eliciting low trust among the Ukrainian people. Ukrainians are just as critical of the judicial system, with just 8% saying they have confidence in it. After allegations of election tampering led to massive protests in 2004, most Ukrainians also remain suspicious of the electoral process in their country; in 2006, only 18% of Ukrainians had confidence in the honesty of elections. This number drops 8 percentage points in 2007. In comparison to other transitional countries, Ukraine's financial sector is competitive. However, only 28% of Ukrainians express confidence in banks and financial institutions in their country.
About one-third of Ukrainians tell Gallup they have confidence in their military and in the quality and integrity of their media. However, about half (47%) say they are confident in Ukraine's religious organizations, more than any other national institution.
Overall, 44% of Ukrainians say they are satisfied with the educational system in the city or area where they live. Residents who say they live in a rural area are much more likely than self-identified urban residents to have confidence in their local schools. Only one in four Ukrainians have confidence in their local police force.
According to Ukrainians, the economic picture in their country is dismal. Sixty-eight percent say economic conditions in their country are not good. When asked whether economic conditions are "getting better" or "getting worse" in Ukraine, 46% say they are getting worse, while only 18% say they are getting better. Amid this atmosphere of discontent, Ukraine's new government faces the daunting challenge of improving public confidence in order to spur badly needed political and economic development.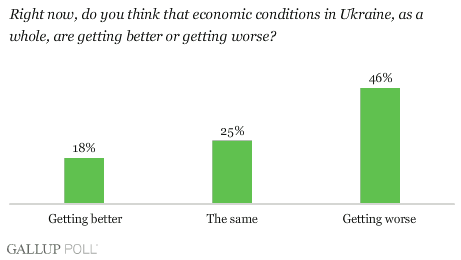 Survey Methods
Results are based on face-to-face interviews conducted in April-July 2007, with 1,066 adults, aged 15 and older, in Ukraine. For results based on the total sample of national adults, one can say with 95% confidence that the maximum margin of sampling error is ±3 percentage points. In addition to sampling error, question wording and practical difficulties in conducting surveys can introduce error or bias into the findings of public opinion polls.