WASHINGTON, D.C. -- Barely a week after Chinese and Indian leaders pledged closer ties in the 21st century, both economic juggernauts' markets plunged amid fears of a recession on the third side of a key power triangle: the United States. At the World Economic Forum in Davos, Switzerland, Wednesday, India's Commerce Minister Kamal Nath downplayed the potential effects a U.S. recession would have on his country. Although the United States is the country's major trade partner, he said India's growth is domestically driven and that trade was increasing with Europe and China.
Within this context, Indians' attitudes toward warming Sino-Indian relations and their attitudes toward relations with the United States become acutely relevant. Results from a 2007 Gallup Poll in India shed new light on Indians' views about the at-times tense and increasingly competitive relationship between India and China. In April and May 2007, 34% of Indians said they see a close relationship between India and China as a "good thing" for their country, while just 7% see it as a "bad thing."
Further, Indians, who can now claim the fifth-largest economy in the world, were also more likely to view China's phenomenal economic growth and its global clout as plusses rather than minuses for their country. Thirty percent of Indians say China's growing economy is a good thing for India, and 25% think China's growing influence in the world benefits their country.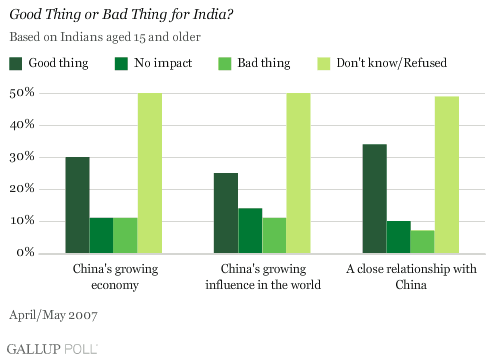 It's important to note the high percentage of "don't know" responses to each of these questions. Significantly higher percentages of respondents living in rural India, where roughly 70% of the population lives, expressed no opinion on relations between India and China. Urban respondents were more likely than rural respondents to have an opinion, and more likely than rural respondents to see benefits from closer ties.
India and the United States
Ties between India and the United States, the world's two largest democracies, have not always been as tight as they appear now. Within the past several years, the two countries have worked to establish a much closer alliance in the realms of trade, defense, and nuclear energy. Gallup data suggest Indians may have noticed these bilateral steps forward. Thirty-four percent of Indians said they think relations between India and the United States have recently improved, while only 3% said they have declined. Thirteen percent of Indians said relations have stayed the same and 50% had no opinion.
Comparing Indians' approval of the leadership of the United States and China, the United States appears to have an edge, but neither country receives high marks from those who have an opinion. Twenty-seven percent of Indians say they approve of U.S. leadership, while the approval rating for China's leadership is 18%. A number of geopolitical factors -- including a longstanding territorial dispute between the two countries, China's relationship with Pakistan, and a mounting trade deficit -- may tarnish Indians' perceptions of Chinese leadership and continue to be a barrier to closer relations.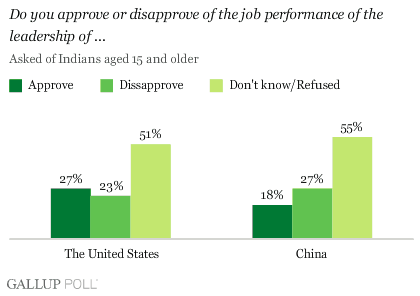 Survey Methods
Results are based on face-to-face interviews conducted in India in April and May 2007 with a nationally representative sample of residents aged 15 and older. For results based on the sample of 3,186 Indians, one can say with 95% confidence that the maximum margin of sampling error is ±2 percentage points.