PRINCETON, NJ -- Both Republicans and Democrats appear convinced at this point that Barack Obama is going to win the Democratic presidential nomination.
Not only does Obama enjoy this perceptual aura of inevitability, but he also is widely seen as the candidate who would provide the stiffer challenge for John McCain in November. Republicans say he would be tougher for McCain to beat, and Democrats say he would have the best chance of beating McCain come November.
The latest USA Today/Gallup poll asked Americans which candidate "will win the Democratic nomination this year," Hillary Clinton or Obama. There's little question about Americans' feelings on this issue. Almost three-quarters say Obama will win his party's nomination, compared with only 20% who say Clinton will win. That perception of inevitability is present among both Republicans and Democrats: 82% of Republicans and 70% of Democrats say Obama will win. Only 23% of Democrats believe Clinton will win their party's nomination -- despite the fact that in this sample, about 4 out of 10 Democrats say they personally support Clinton. In fact, only half of Democrats who support the former first lady believe she will win the nomination; 43% believe she will not. Only 5% of Democrats who support Obama think Clinton will be the nominee; 91% think "their" candidate, Obama, will win.
Gallup first asked Americans in early January who they thought would win the Democratic nomination. At that point, just after the Iowa caucuses that Obama had swept, the American public was much less certain that Obama would win his party's nomination. Democrats in particular were almost as likely to say Clinton (36%) would win as to say Obama (41%) would win.
Not only do the significant majority of Americans see Obama's capture of the Democratic Party's nomination as inevitable, both Republicans and Democrats perceive him as the candidate who would present the more formidable challenge to presumptive Republican nominee McCain.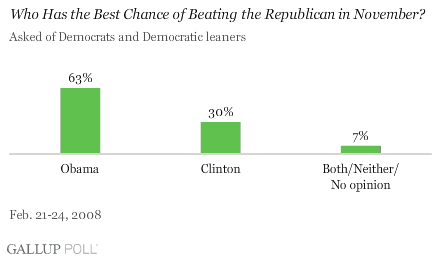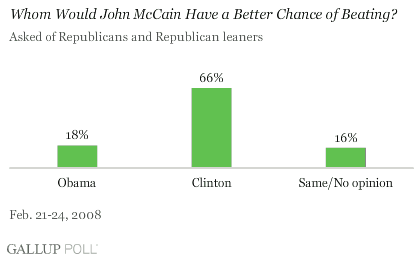 Democrats by more than a 2-to-1 margin (63% to 30%) say Obama -- rather than Clinton -- "has the best chance of beating the Republican in November." Democrats no doubt would be pleased to find out that Republicans are much more fearful of Obama than Clinton. A separate question asked of Republicans found them saying by an overwhelming 66% to 18% margin that McCain would have an easier time of beating Clinton than Obama.
Bottom Line
It appears the substantial majority of Americans have concluded that Obama is going to be the Democratic Party's nominee this year -- even before he has won the required number of delegates and before voting takes place in the crucial March 4 primary states of Texas and Ohio. Importantly, close to half of Democrats who say they support Clinton concede that Obama is going to win their party's nomination. Another sign of Obama's strength is the perception of Democrats and Republicans alike that Obama would be the more difficult opponent for McCain to beat in November.
These perceptions can change, but the data show that Obama currently has the strong edge in both perceptions and momentum. This puts even more pressure on Clinton not only to do well in the March 4 primaries, but to win impressively.
Survey Methods
Results are based on telephone interviews with 2,021 adults, aged 18 and older, conducted Feb. 21-24, 2008. For results based on the total sample of national adults, one can say with 95% confidence that the maximum margin of sampling error is ±2 percentage points. The margin of sampling error is larger for specific subsamples.
Interviews are conducted with respondents on land-line telephones (for respondents with a land-line telephone) and cellular phones (for respondents who are cell-phone only).
In addition to sampling error, question wording and practical difficulties in conducting surveys can introduce error or bias into the findings of public opinion polls.