Washington, D.C. -- The Gallup-Healthways Well-Being Index is helping to crystallize the relationship between income and smoking in the United States.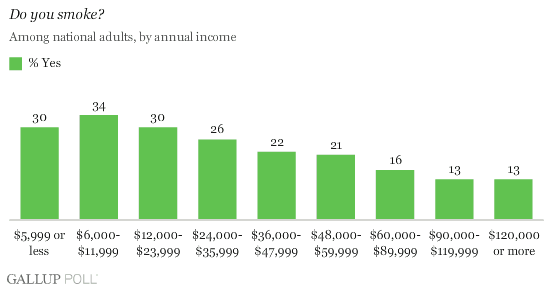 While researchers for Gallup and the Centers for Disease Control have previously documented higher smoking rates among lower-income Americans, the current results based on interviews with more than 75,000 individuals across the United States allow for a closer examination of the relationship between household income and smoking behavior.
Nationwide, the Gallup-Healthways Well-Being Index reveals that 21% of Americans say they smoke. As the accompanying graph illustrates, the likelihood of smoking generally increases as annual incomes decrease. One exception to this pattern occurs among those making less than $6,000 per year, an income bracket often skewed because many in that bracket are students. Among those making $6,000 to $11,999 per year, 34% say they smoke, while only 13% in the top two income brackets (those with incomes of at least $90,000 per year) say the same -- a 21 percentage-point gap.
The Well-Being Index also confirms distinctions in U.S. smoking rates relating to gender and race. Among respondents, 23% of men and 19% of women say they smoke. Blacks are the most likely to smoke (23%) and Asians are least likely to smoke (12%). Hispanics and whites fall in between, at 17% and 20%, respectively.
Interestingly, smoking rates in the United States are similar to those around the world. Across 118 different countries Gallup surveyed in 2006 and 2007, a median percentage of 22% said they smoked the day before the survey. At the high end, 50% of people in Turkey said they smoked. At the low end, 6% in Nigeria said the same. Interestingly, the relationship between income and smoking among Americans does not appear to repeat itself at the country level. Gallup researchers previously found no consistent relationship between the prevalence of smoking in a country and its location or its residents' relative wealth.
Survey Methods
Gallup is interviewing no fewer than 1,000 U.S. adults nationwide each day during 2008. These results are based on 75,073 surveys conducted from Jan. 2, 2008, to March 17, 2008. For results based on this sample, the maximum margin of sampling error is ±1 percentage point. In addition to sampling error, question wording and practical difficulties in conducting surveys can introduce error or bias into the findings of public opinion polls.
About the Gallup-Healthways Well-Being Index
In January, Gallup and Healthways launched a 25-year partnership in which the organizations will conduct 1,000 surveys per day in the United States, with the goal of providing the world's most up-to-date measure of individual and collective health and well-being. Detailed results from the Gallup-Healthways Well-Being Index, as well as relative well-being rankings of cities and states nationwide, will be released on April 29 at Gallup World Headquarters in Washington, D.C. Further findings will be reported on Gallup.com and raw data made available on a subscription basis. Through these means, Gallup and Healthways seek to provide business and government leaders with the tools necessary to more tactically address the health, wellness, and prevention needs of their constituents and to diminish the effects of health-related causes on worker productivity.