PRINCETON, NJ -- Approval of Congress has dipped below 20% for only the fourth time in the 34 years Gallup has asked Americans to rate the job Congress is doing. Today's 18% score, based on a May 8-11 Gallup Poll, matches the record lows Gallup recorded in August 2007 and March 1992.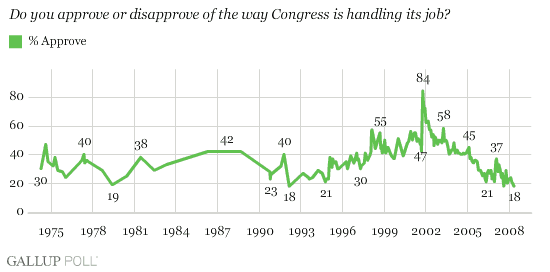 Congressional approval started off the year at a depressed 23%, then dipped to 21% in March and 20% in April, before reaching the current record-tying low. The 76% currently disapproving of Congress is just shy of the record-high 78% in March 1992.
Democrats Not Backing Congress
One reason Congress is doing so poorly in the court of public opinion is that rank-and-file Democrats are providing no support cushion for the Democratic-controlled institution. In fact, Democrats are about as likely to approve of Congress as are Republicans: 20% of Republicans approve, versus 16% of Democrats.
Not only is that true today, but it has been the pattern in Gallup's monthly approval ratings of Congress since December 2007. Prior to that -- for the first 10 months of the new Democratic majority in Congress -- Democrats tended to express slightly higher approval than Republicans, averaging seven points higher. However, by contrast, during most of the Republican-led Congress from 2000 to 2006, Republicans' approval of Congress was substantially higher than Democrats'.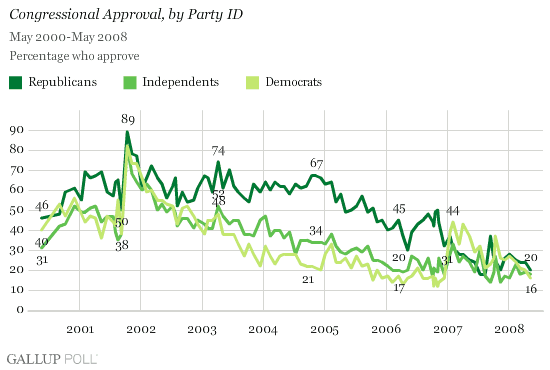 Bush Approval Now 29%
The partisan picture is quite different with respect to public approval of President George W. Bush.
The same poll finds President Bush's approval rating at 29%, only a shade above his personal worst approval score of 28%, first reached in April and repeated earlier in May. However, his rating would be even lower if not for the support of most Republicans.
Current Republican approval of Bush is much lower than it was early on in his presidency; however, it remains far better than approval from Democrats. Two-thirds of Republicans (66%) approve of Bush's job performance today, compared with only 7% of Democrats.
Bottom Line
Americans' ratings of Congress are almost always lower than their ratings of the sitting president. With Bush in a period of extremely low approval, and both houses of Congress controlled by the Democratic Party, one might expect that gap to be closer today. And, in fact, it was for a short period after the Democrats first returned to power in Congress at the start of 2007. However, that honeymoon quickly ended (about last August) and since then, Congress has lagged behind the president in approval.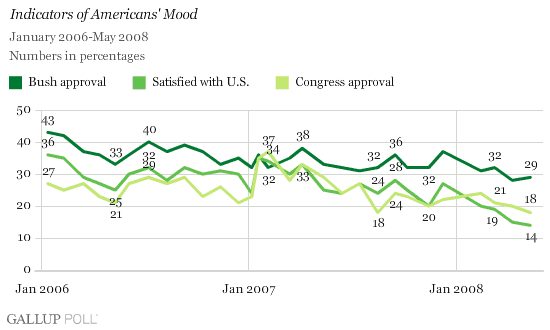 Survey Methods
Results are based on telephone interviews with 1,017 national adults, aged 18 and older, conducted May 8-11, 2008. For results based on the total sample of national adults, one can say with 95% confidence that the maximum margin of sampling error is ±3 percentage points.
Interviews are conducted with respondents on land-line telephones (for respondents with a land-line telephone) and cellular phones (for respondents who are cell-phone only).
In addition to sampling error, question wording and practical difficulties in conducting surveys can introduce error or bias into the findings of public opinion polls.
To provide feedback or suggestions about how to improve Gallup.com, please e-mail feedback@gallup.com.