WASHINGTON, D.C. -- Last week's election in Cambodia failed to meet international standards, but the political stability ensured with the ruling party's re-election may further encourage foreign investors. A Gallup Poll in Cambodia reveals that while most citizens would likely see more investment as a positive for the country's economy, they are less certain about its benefits for the people.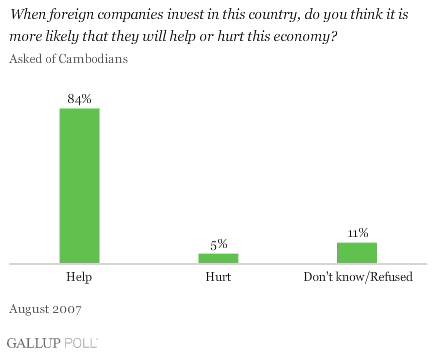 Nonexistent under the Khmer Rouge and the Vietnamese rule that followed, foreign investment in one of Southeast Asia's poorest nations has blossomed over the past several years, increasing twelvefold since 2004. Set to double this year from $2.7 billion in 2007, foreign investment has been a major factor in Cambodia's recent robust economic growth, which may help explain why many citizens see it as an economic boon for their country.
Cambodia's government generally does not restrict foreign participation in locally owned companies, which makes the country attractive to investors from abroad. Gallup's poll indicates that about half of Cambodians (51%) are also unopposed to foreign companies buying big companies in Cambodia, while just one-third (33%) say this should be prohibited. In fact, along with Filipinos, Cambodians are the most likely population in Asia to say the government should allow foreign acquisitions of big, local companies.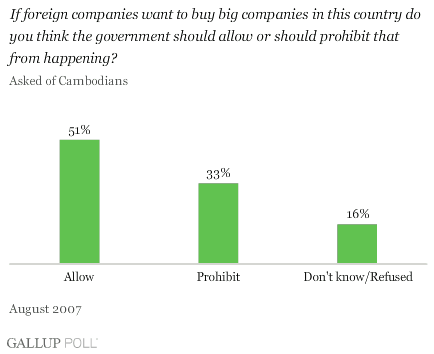 Despite their likelihood to feel foreign investment gives their economy as a whole an advantage, Cambodians are far less certain that economic reforms that include selling government-owned enterprises or encouraging foreign investment have been good for citizens themselves. Slightly more than a third of Cambodians (37%) told Gallup these reforms are mostly good for the country's people, while 29% said they were mostly bad and 34% didn't have an opinion. At the very least, the figures suggest that many Cambodians have failed to share in the prosperity that extraordinary foreign investment has brought their country.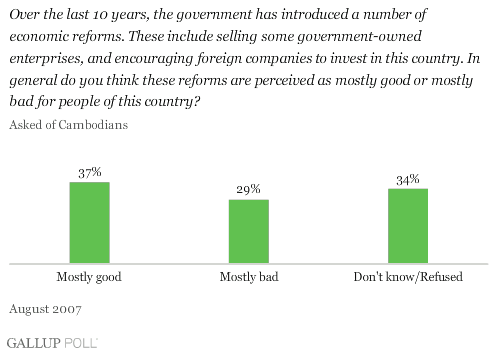 Many Cambodians do not expect many of their fellow citizens to benefit from these reforms. Of those Cambodians who have an opinion about the economic reforms in their country, only about a quarter said they expected the policies to eventually benefit most (16%) or nearly all (8%) of Cambodians. Thirty-six percent expect about half of Cambodians to profit.
Bottom Line
With foreign investment expected to double this year, and the discovery and development of oil off Cambodia's coast, the country should be well-positioned to attract foreign investors when it launches its stock market late next year. Gallup's data indicates that Cambodians would likely welcome further investment in their country, but their ambiguity about whether it has been good for the people suggests many have failed to benefit and they don't expect that to change.
Survey Methods
Results are based on telephone interviews with approximately 1,001 adults living in Cambodia, aged 15 and older, conducted in August 2007. For results based on the total sample of adults, one can say with 95% confidence that the maximum margin of sampling error is ±3 percentage points. In addition to sampling error, question wording and practical difficulties in conducting surveys can introduce error or bias into the findings of public opinion polls.