WASHINGTON, D.C. -- Clean water and the role of water resources in reducing poverty were some of the key issues that experts addressed during World Water Week, the global forum in Stockholm, Sweden, last week. Gallup Poll findings show that many residents living in 30 countries in sub-Saharan Africa say they have gone without enough clean water in the past year prior to the survey, affecting at least 140 million adults.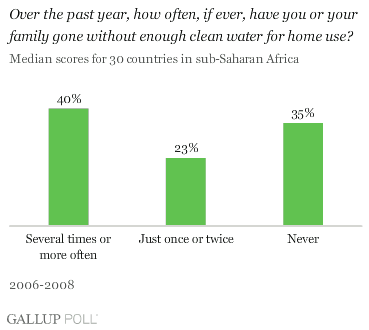 A median of 40% of those surveyed in sub-Saharan Africa told Gallup that they or their families had gone without enough clean water for home use several times or more often in the past year. The findings underscore the significant challenges ahead of the Millennium Development Goal target of halving the number of individuals without sustainable access to safe drinking water and basic sanitation by 2015.
Across the 30 African countries Gallup surveyed, the percentages of respondents who said they lacked clean water for home use several times or more often ranges from 9% in Botswana to 64% in Nigeria, with serious potential health implications for millions of families. Further, the African Development Bank reports that more than 25 countries in Africa will experience water scarcity (less than 1,000 cubic meters of water per person per year) or water stress (1,700 cubic meters of water per person per year) by 2025.
Other Gallup Poll findings have shown that residents in sub-Saharan Africa are the least likely of any region Gallup has studied to express satisfaction with water quality in their communities. Regarding sanitation, which was also one of the main issues discussed during the Stockholm water conference, Gallup Poll results show that many African households rely on unimproved toilet facilities.
Survey Methods
Results are based on face-to-face interviews conducted in 2006, 2007 and 2008. Randomly selected sample sizes typically number 1,000 adults, aged 15 and older, in each of the 30 countries polled. Surveys were conducted in urban areas in Angola and the Democratic Republic of the Congo. Surveys in Chad exclude the eastern part of the country, and surveys in Sudan exclude the Darfur region and parts of the South (around Juba and Nimule). For results based on the total sample of national adults, one can say with 95% confidence that the maximum margin of sampling error is ±5 percentage points. In addition to sampling error, question wording and practical difficulties in conducting surveys can introduce error or bias into the findings of public opinion polls.