WASHINGTON, D.C. -- In the weeks leading up to Zimbabwe's March elections, Gallup Poll results show that residents gave President Robert Mugabe, the incumbent who was seeking a fourth term, low marks.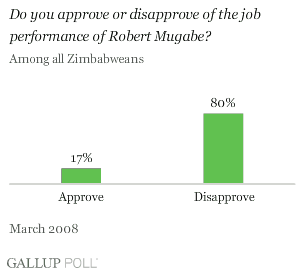 Gallup conducted a nationally representative poll in Zimbabwe between March 7 and March 19, 2008, just prior to the March 29 national elections: 17% of Zimbabweans said they approved of their president's job performance. As a point of comparison, 32% of Americans approved of U.S. President George W. Bush's performance around the same time.
The Zimbabwe Electoral Commission declared Mugabe to be the winner with 86% of the votes, while the opposition candidate, Morgan Tsvangirai, allegedly received 9% of the votes. But Gallup Poll findings reveal that 10% of Zimbabweans have confidence in the honesty of elections in their country, down 10 percentage points from a Gallup Poll in 2006 and 7 points from 2007.
When asked about the job performance of their country's leadership generally, 11% of Zimbabweans told Gallup they approved, down from 21% in the summer of 2007. Gallup did not ask this question in the 2006 poll.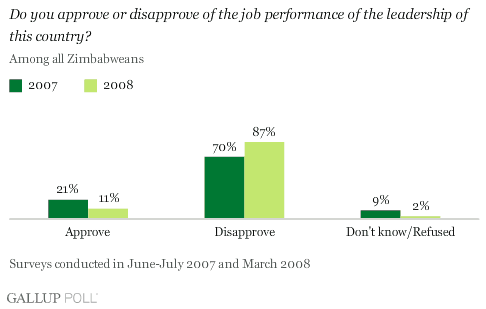 Mugabe and the Tribal Card
Although mosaics of ethnicities make up most countries in sub-Saharan Africa, there are only two main groups in Zimbabwe: 70% of those surveyed self-identified themselves as Shonas and 28% identified themselves as Ndebeles. The poll findings reveal that regardless of ethnicity, Mugabe's job approval is low: 18% of Shonas and 16% of Ndebeles told Gallup they approved of the job performance of their president, who is a Shona.
Among Shonas, the percentage approving of their country's leadership in general is slightly lower than the percentage approving of the president. But among Ndebeles, there is no difference between approval of the country's leadership and that of Mugabe's when taking into account the margin of error.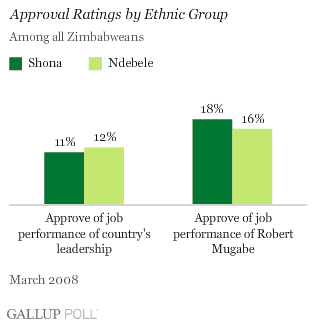 Low Approval Even in Heart of Mashonaland
Approval of the country's leadership is lowest in the cities of Harare, the capital, and Bulawayo (4%). In all other provinces, approval of the country's leadership is higher, but does not surpass 15%. Mashonaland includes the Central, East, and West sections. Matabeleland also includes its own Central, East, and West sections, and the rest of Zimbabwe includes the Manicaland, Masvingo, and Midlands provinces.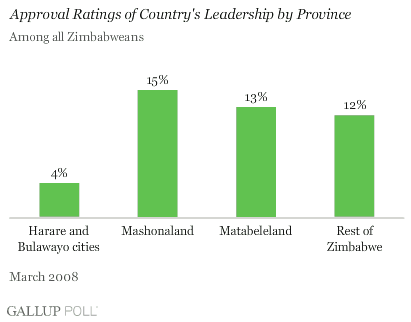 In the cities, Matabeleland, and the rest of Zimbabwe, there are no statistical differences between approval of the country's leadership and Mugabe's job performance. But Mashonaland residents are almost twice as likely to approve of Mugabe as they are of their national leadership, 29% versus 15%. While the findings suggest support is greatest in Mashonaland (the region where Mugabe was born), approval ratings are still low.
Survey Methods
Results are based on face-to-face interviews with 1,000 adults each year in Zimbabwe, aged 15 and older, in April 2006, June-July 2007, and March 2008. For results based on the total sample of national adults, one can say with 95% confidence that the maximum margin of sampling error is ±5 percentage points. In addition to sampling error, question wording and practical difficulties in conducting surveys can introduce error or bias into the findings of public opinion polls.