Very favorable
Mostly favorable
Mostly unfavorable
Very unfavorable
No opinion

%

%

%

%

%

2018 Feb 1-10
2
15
43
36
4
2017 Feb 1-5
2
10
47
39
3
2016 Feb 3-7
3
11
39
40
7
2015 Feb 8-11
2
9
44
40
6
2014 Feb 6-9
2
10
42
42
4
2013 Feb 7-10
2
7
39
48
4
2012 Feb 2-5
2
8
35
52
4
2011 Feb 2-5
2
9
42
43
4
2010 Feb 1-3
1
9
39
46
4
2009 Feb 9-12
2
10
38
42
7
2008 Feb 11-14
1
7
43
45
4
2007 Feb 1-4
1
8
38
48
5
2006 Feb 6-9
1
6
40
46
6
2005 Feb 7-10
1
11
49
33
6
2004 Feb 9-12
3
14
46
31
6
2003 Mar 14-15 ^
2
11
48
31
8
2003 Feb 3-6
2
11
48
29
10
2002 Feb 4-6
2
9
46
38
5
2001 Feb 1-4 ^
2
10
45
38
5
1996 Mar 8-10
1
5
38
46
10
1991 Aug 8-11
1
12
44
35
9
1991 Mar 14-17
3
11
41
35
10
1991 Jan 30-Feb 2
2
11
39
40
8
1989 Aug 10-13
1
4
27
62
6
1989 Feb 28-Mar 2
1
4
27
62
6
^ Asked of a half sample
Gallup
Ally
Friendly, but not an ally
Unfriendly
Enemy
No opinion

%

%

%

%

%

2018 Jul 2-8 ^
3
14
41
39
3
2014 Mar 22-23 ^
2
10
41
41
6
2013 Sep 15-16 ^
2
8
38
45
8
2013 Jun 1-4
2
8
34
51
5
2000 May 18-21
3
14
44
34
5
^ Asked on Gallup Daily tracking survey
Gallup
Recent trend
2018
2016
2015
2014
2012
2011
2008
2007

%

%

%

%

%

%

%

%

North Korea/Korea (nonspecific)
51
16
15
16
10
16
9
18
Russia
19
15
18
9
2
3
2
2
China
11
12
12
20
23
16
14
11
Iran
7
14
9
16
32
25
25
26
United States itself
2
1
2
2
1
2
3
2
Iraq
2
5
8
7
5
7
22
21
Syria
*
4
4
3
*
--
*
*
Saudi Arabia
*
*
1
1
1
1
1
3
Pakistan
*
1
*
1
2
2
2
*
Afghanistan
*
4
3
5
7
9
3
2
Middle East (nonspecific)
*
3
4
2
--
--
--
--
Islamic countries (nonspecific)
*
1
1
--
--
--
--
--
Japan
*
1
1
*
1
*
*
*
Mexico
*
*
1
--
*
1
*
*
Venezuela
*
--
--
*
*
--
1
*
Israel
*
1
--
--
--
--
--
--
Countries in which ISIS operates
--
5
4
--
--
--
--
--
Cuba
--
*
--
*
*
*
*
--
France
--
*
--
*
--
*
*
*
Libya
--
*
--
*
*
--
--
--
The Palestinian Authority
--
*
*
--
--
*
--
--
South Korea
--
--
*
1
--
--
--
--
Yemen
--
--
*
--
*
1
--
--
Egypt
--
--
--
*
--
1
--
--
Other
1
3
5
6
3
7
6
6
None (vol.)
*
4
1
2
1
1
2
1
No opinion
5
11
12
9
11
9
8
7
* Less than 0.5%; (vol.) = volunteered response
Gallup
Next, I am going to read you a list of possible threats to the vital interests of the United States in the next 10 years. For each one, please tell me if you see this as a critical threat, an important but not critical threat, or not an important threat at all. Development of nuclear weapons by Iran
Critical
Important
Not important
No opinion

%

%

%

%

2016 Feb 3-7
75
18
5
1
2015 Feb 8-11
77
16
5
2
2014 Feb 6-9
76
18
4
2
2013 Feb 7-10
83
16
1
*
* Less than 0.5%
Gallup
Next, I am going to read you a list of possible threats to the vital interests of the United States in the next 10 years. For each one, please tell me if you see this as a critical threat, an important but not critical threat, or not an important threat at all. The military power of Iran
Critical
Important
Not important
No opinion

%

%

%

%

2010 Feb 1-3
61
29
8
2
* Less than 0.5%
Gallup
Very closely
Somewhat closely
Not too closely
Not at all
No opinion

%

%

%

%

%

2016 Feb 3-7
18
37
26
17
1
^ Asked of a half sample
Gallup
Approve
Disapprove
No opinion

%

%

%

2016 Feb 3-7
30
57
14
Gallup
Very concerned
Somewhat concerned
Not too concerned
Not concerned at all
No opinion

%

%

%

%

%

2012 Feb 2-5
57
29
9
3
1
Gallup
Vitally important
Important, not vital
Not too important
Not important at all
No opinion

%

%

%

%

%

2011 Feb 2-5
57
24
11
5
3
2007 Feb 1-4
65
22
6
3
3
Gallup
Yes, should
No, should not
No opinion

%

%

%

2009 Jan 30-Feb 1
56
38
6
Gallup
2007 Nov

2-4

%

Take military action against Iran
18
Take military action if diplomatic/economic efforts fail
28
Not take military action even if diplomatic/economic efforts fail
45
No opinion
9
Gallup
Very concerned
Somewhat concerned
Not too concerned
Not at all concerned
No opinion

%

%

%

%

%

2007 Nov 2-4
42
34
14
8
1
2006 Feb 9-12
34
35
20
10
1
Gallup
Very concerned
Somewhat concerned
Not too concerned
Not concerned at all
No opinion

%

%

%

%

%

2007 Nov 2-4
33
40
17
9
2
2006 Feb 9-12
26
41
24
6
2
Gallup
Very confident
Somewhat confident
Not too confident
Not confident at all
No opinion

%

%

%

%

%

2006 Apr 28-30
5
28
36
31
1
2006 Feb 9-12 ^
8
39
27
24
2
^ WORDING: How confident are you in the United Nations' ability to handle the situation in Iran -- ...?
Gallup
Very likely
Somewhat likely
Not too likely
Not likely at all
No opinion

%

%

%

%

%

2006 Feb 9-12
50
30
12
6
2
Gallup
Very likely
Somewhat likely
Not too likely
Not likely at all
No opinion

%

%

%

%

%

2006 Feb 9-12
49
32
12
4
4
Gallup
Very likely
Somewhat likely
Not too likely
Not likely at all
No opinion

%

%

%

%

%

2006 Feb 9-12
41
36
15
4
4
Gallup
Very likely
Somewhat likely
Not too likely
Not likely at all
No opinion

%

%

%

%

%

2006 Feb 9-12
30
29
26
12
2
Gallup
Immediate threat
Long-term threat
Not a threat
No opinion

%

%

%

%

2006 Jan 20-22
19
65
12
5
2004 Nov 19-21 ^
16
65
14
5
2004 Jul 30-Aug 1 ^
15
65
15
5
2003 May 30-Jun 1
13
64
20
3
^ Asked in rotation with North Korea; results reported based on half sample where Iran asked first.
Gallup
Very worried
Somewhat worried
Not too worried
Not worried at all
No opinion

%

%

%

%

%

2006 Jan 20-22 ^
27
47
19
6
1
^ Asked of a half sample
Gallup
Yes, is
No, is not
No opinion

%

%

%

2006 Jan 20-22 ^
80
12
8
^ Asked of a half sample
Gallup
Subscribe to receive weekly Gallup News alerts.
Never miss our latest insights.
Recommended
Americans continue to consider Mexico to be an ally or friend (76%) rather than unfriendly or an enemy (26%), but fewer view it positively than in the past.
Americans have the most favorable opinion of Canada, but this ally and others have soured considerably on U.S. leadership since 2016.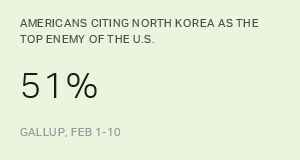 Just over half of Americans cite North Korea as the United States' greatest enemy, more than triple the percentage who said this in 2016.