WASHINGTON, D.C. -- The Pakistani government's crackdown on protesters this week may not go over well with residents already dissatisfied with the country's democratic track record. A Gallup Poll conducted in December, before the political crisis, found nearly 4 in 10 Pakistanis (38%) dissatisfied with the way democracy works in their country -- the highest percentage measured since before the government's return to democracy last year.
Citing security concerns ahead of a mass anti-government protest planned Monday in the nation's capital, Pakistan's government temporarily banned public gatherings, and authorities detained hundreds of lawyers and opposition activists. As of Friday, police had reportedly arrested more than 1,000 demonstrators who defied the ban and started their march to Islamabad Thursday from various parts of the country.
The nature of the demonstrators' complaint is not entirely new: Pakistan's lawyers and opposition activists have been demanding that the new civilian government reinstate judges sacked by former President Pervez Musharraf since it came to power last year. However, these political tensions reached a critical point late last month when the Supreme Court banned former Prime Minister and opposition leader Nawaz Sharif and his brother, former provincial minister of Pakistan's largest province, from office.
The Gallup Poll suggests rising political tensions may have been worrying Pakistanis even before the current crisis. Of the issues tested, Pakistanis were most likely to name unemployment as the most challenging issue they face, likely reflecting the country's economic meltdown in the past year. But after unemployment, Pakistanis were next most likely to name the political situation in their country (13%). This places the political situation on par with concerns about lack of money for food (11%) and housing (11%).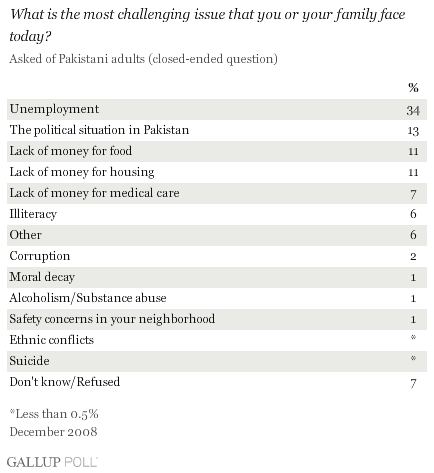 Together, the data suggest that despite dire economic woes, Pakistanis have also been watching and worrying about the escalating conflict between their two biggest political parties.
Bottom Line
The political crisis in Pakistan threatens to further destabilize a country already facing serious economic and security problems. Gallup Polls conducted before the crisis found many Pakistanis dissatisfied with their democracy and worried about the political situation. Together, the data suggest Pakistanis are likely eager to see a resolution to the political crisis, which reportedly may be on the way. What happens in the coming days will be crucial to the country's future.
Survey Methods
Results are based face-to-face interviews with approximately 840 adults, aged 15 and older, conducted in December 2008 in Pakistan. The survey did not include the Federally Administered Tribal Areas or Azad Jammu and Kashmir. The excluded area represents about 5% of the population. For results based on the total sample of national adults, one can say with 95% confidence that the maximum margin of sampling error is ±4 percentage points. In addition to sampling error, question wording and practical difficulties in conducting surveys can introduce error or bias into the findings of public opinion polls.