PRINCETON, NJ -- Consumer confidence shot up as August came to an end, recovering the ground it lost the week before and hitting a new 20-month high. Still, consumer spending continued its summer doldrums, declining for the second consecutive week, and is down 36% from a year ago. This spending new normal not only confirms the continued delinking of consumer confidence and spending but also reflects the continued deterioration of the job market -- if at a somewhat lower rate than earlier this year.
What Happened (Week Ending Aug. 30)
Consumer Confidence recovered from its prior-week decline as the percentage of Americans saying the economy is "getting better" hit 41% -- its best level since Gallup Daily tracking began in January 2008. Confidence remains up from 38% during the same week a month ago and 17% a year ago. At the same time, the percentage saying the economy is "getting worse," at 54%, is slightly better than the 57% of a month ago and far better than the 77% of a year ago. Americans' views of the current economy have also improved slightly, with the percentage rating the economy "poor" improving to 44% from 47% a month ago.

Consumer Spending decreased for the second week in a row, as self-reported average daily spending in stores, restaurants, gas stations, and online declined another $6 per day -- resulting in a combined drop of $23 per day over the past two weeks and leaving consumer spending down 36% from its level of a year ago.

Job Creation was essentially unchanged last week, with 25% of employees saying their companies were hiring -- this compares to 24% reporting hiring during the prior week and a month ago. At the same time, there was no gap between job gains and losses, as 25% of workers also said their companies were letting people go -- the same as a month ago. The percentage of companies reported to be hiring is down 32% from the same week a year ago.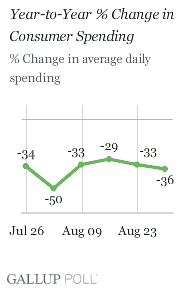 What to Watch For
While consumer confidence has shown much improvement during recent weeks, Gallup's data reveal that consumer spending has been delinking from consumer confidence through most of 2009. This key finding suggests that confidence may be a necessary but not sufficient condition to get consumers spending. That is, consumers also need jobs if they are going to spend.
As a result, and in view of Friday's employment report, much of the week ahead will be focused on job-market conditions. An improving job market will tend to confirm that the economy is on the mend. Continued deterioration will raise questions about whether the world economy can improve without the active participation of the U.S. consumer.
On Thursday morning, the Labor Department will report jobless claims. Last Thursday, claims exceeded the consensus estimate, declining slightly to 570,000 in the week ending Aug. 22, and the four-week moving average of initial claims was steady at 566,250. Gallup's Job Creation measure indicates no improvement in job creation, suggesting in turn that jobless claims will exceed the current consensus of 562,000 when reported on Thursday -- once again reinforcing the idea of job-market weakness.
More importantly, on Friday, the government will report the unemployment rate for August. The July decline in unemployment to 9.4% from the previous month's 9.5% resulted from a sharp reduction in the labor force. Gallup's job data suggest that the 9.6% August consensus estimate is a reasonable one. Regardless of what numbers are reported on Friday, Gallup's jobs data suggest the employment situation is continuing to deteriorate -- if at a slower pace than earlier this year.
In turn, a lack of improvement in the job market -- combined with Gallup's spending data showing that the summer new normal may extend into the fall -- suggests that there may be reason to question whether the U.S. economy can have a meaningful recovery for long without the consumer's active support.
Survey Methods
For Gallup Poll Daily tracking, Gallup interviews approximately 1,000 national adults, aged 18 and older, each day. The Gallup consumer perceptions of the economy and consumer spending results are based on random half-samples of approximately 500 national adults, aged 18 and older, each day. The Gallup job creation and job loss results are based on a random half sample of approximately 250 current full- and part-time employees each day. For the total samples of these surveys, one can say with 95% confidence that the maximum margin of sampling error is ±3 percentage points.
Interviews are conducted with respondents on land-line telephones (for respondents with a land-line telephone) and cellular phones (for respondents who are cell-phone only).
In addition to sampling error, question wording and practical difficulties in conducting surveys can introduce error or bias into the findings of public opinion polls.