PRINCETON, NJ -- As President Obama nears an important decision on U.S. troop levels in Afghanistan, Americans rate one of his key military advisers, Defense Secretary Robert Gates, much more positively than negatively. Forty-nine percent of Americans have a favorable opinion of Gates while 19% view him unfavorably. One in three Americans are not familiar enough with Gates to rate him.
"Despite his long service to Republican presidents, Gates receives a more positive review from Democrats than from Republicans."
These results are based on the Oct. 16-19 USA Today/Gallup poll. This is the first Gallup reading on public opinion of Gates, who served as George W. Bush's defense secretary in the latter part of his administration and whom Obama asked to remain in that role in his new administration.
Compared with other members of Obama's cabinet for whom Gallup has data, Gates is rated more positively than Vice President Joe Biden but less positively than Secretary of State Hillary Clinton. Clinton's unfavorable ratings are much higher than Gates', while Gates is the least well known of the three.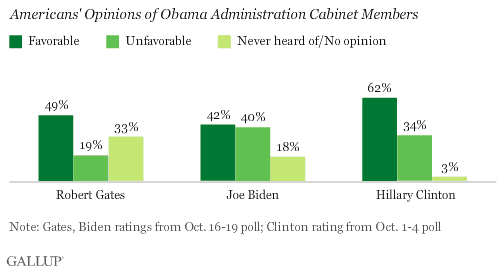 Gallup does not have much data on prior defense secretaries, though it did take several measurements of Gates' immediate predecessor, Donald Rumsfeld. Rumsfeld averaged 49% favorable and 37% unfavorable ratings while he was secretary of defense, but had just a 27% favorable rating (and a 57% unfavorable rating) immediately after Bush replaced him with Gates in late 2006.
Gates himself is a Republican who not only served under George W. Bush but was deputy national security adviser and then CIA director under George H.W. Bush.
Despite his long service to Republican presidents, Gates receives a more positive review from Democrats than from Republicans.
This suggests that Gates' status as an Obama administration official is more influential than his political affiliation or prior service in how people view him. Federal Reserve Chairman Ben Bernanke has also served under both Bush and Obama, and Gallup observed an abrupt shift in how confident Republicans and Democrats were in his economic leadership after the change in administrations. Republicans expressed more confidence in Bernanke to recommend the right thing for the economy from 2006 to 2008 while Bush was in office, but after the change in administrations, that pattern reversed and now Democrats are much more confident in Bernanke. Whether this indicates that Americans are unaware of the political background of these officials, or merely put greater emphasis on their current service to one party or the other is unclear.
Since Gallup does not have a Bush-era rating on Gates, it is not possible to document whether a similar shift occurred in his ratings, though, as noted, such a shift would not be unprecedented.
Survey Methods
Results are based on telephone interviews with 1,521 national adults, aged 18 and older, conducted Oct. 16-19, 2009, including an oversample of 408 blacks, consisting of 102 interviews done as part of the random national sample and 306 interviews with blacks who had previously participated in national Gallup polls and agreed to be re-interviewed at a later date. The data from the national sample and re-interviews are combined and weighted to be demographically representative of the national adult population in the United States and to reflect the proper proportion of blacks in the overall population. For results based on this sample of national adults, the maximum margin of error is ±3 percentage points.
Interviews are conducted with respondents on land-line telephones (for respondents with a land-line telephone) and cellular phones (for respondents who are cell-phone only).
In addition to sampling error, question wording and practical difficulties in conducting surveys can introduce error or bias into the findings of public opinion polls.