PRINCETON, NJ -- Gallup's Job Creation Index hit its best level in 19 months in May. Based on 16,395 U.S. employees' self-reports of hiring (28%) and firing (21%) activity at their workplaces, the Index improved to +7 -- up steadily this year and a total of eight points since January.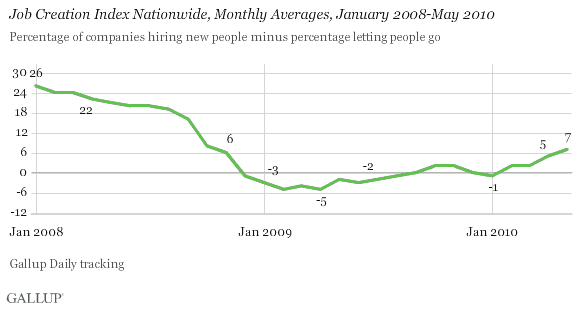 Both Hiring and Firing Continue to Improve
Twenty-eight percent of U.S. workers report that their companies are hiring, a total increase of five points since January, while 21% say their companies are letting people go -- an improvement of three points.
Regional Trends: All Regions Improving
U.S. workers' reports suggest that job market conditions are improving in every region, with the South showing the best job market and the West still lagging -- but at the same time improving.
South: Still the Best
Job conditions in the South are the best of any region, with hiring reaching 31% and firing at 21%. Hiring in this region exceeds that of other regions by at least three points. The South's job situation continues to benefit from the energy industry, but that situation may change if the oil spill in the Gulf leads to more drilling shutdowns in the months ahead.
Midwest: Second-Best and Getting Better
Hiring in the Midwest increased to 28% and firing fell to 19% in May, improving the hiring-firing gap to nine points in May from five points in April. The strong manufacturing sector of recent months continues to produce a growing job market in this region.
East: Improvement Rivals That of Midwest
With 28% of employers hiring and 21% firing, job market conditions in the East improved as much as did those in the Midwest. Recent financial market volatility and plunging stocks may threaten these improvements during the months ahead.
West: Best Showing Since November 2008
Hiring improved slightly to 25% while firing declined slightly to 23% in the West. This difference of two points is the best measure of job market conditions in the West since November 2008. Manufacturing and exports continue to help in this region, as does some improvement in local housing conditions. However, the deteriorating situation in Europe due to the plunging euro -- and its potential impact on U.S. exports -- may slow these improvements in the months ahead.
Commentary
Gallup's Job Creation Index for May suggests that more new jobs are being created while layoffs continue to decline across the U.S. The Index also shows that job market conditions improved further as May came to a close.
There are numerous events -- the plunging euro, falling stock market, the oil spill debacle, international tensions -- taking place that could in theory make employers more hesitant to hire going forward. Further, some of today's job creation gains may be seasonal -- and others may be due to the expected sharp increase in government census takers. Regardless, any improvement in job market conditions benefits not only those getting jobs but also the overall economic recovery.
Gallup.com reports results from these indexes in daily, weekly, and monthly averages and in Gallup.com stories. Complete trend data are always available to view and export in the following charts:
Daily: Employment, Economic Confidence and Job Creation, Consumer Spending
Weekly: Employment, Economic Confidence, Job Creation, Consumer Spending
Read more about Gallup's economic measures
Survey Methods
For Gallup Daily tracking, Gallup interviews approximately 1,000 national adults, aged 18 and older, each day The Gallup Job Creation Index results are based on a random sample of approximately 500 current full- and part-time employees each day.
National results for May are based on Gallup Daily tracking interviews with 16,395 employees. For this sample, one can say with 95% confidence that the maximum margin of sampling error is ±1 percentage point. Regional results for May are based on interviews totaling more than 3,000 in each region. For each total regional sample, the maximum margin of sampling error is ±3 percentage points.
Interviews are conducted with respondents on landline telephones (for respondents with a landline telephone) and cellular phones (for respondents who are cell phone only).

In addition to sampling error, question wording and practical difficulties in conducting surveys can introduce error or bias into the findings of public opinion polls.