This article is the first in a multipart series on the well-being of the American military.
WASHINGTON, D.C. -- Active duty U.S. military personnel on average enjoy higher well-being than American workers overall, as measured by the Gallup-Healthways Well-Being Index. Employed veterans, however, fare worse than the general workforce.
These findings are based on 86,262 interviews with employed Americans, aged 18 to 64, from Aug. 1, 2009-June 15, 2010, and conducted as part of the Gallup-Healthways Well-Being Index. Of these surveys, 1,451 were completed with active duty military personnel residing in the United States at the time they were interviewed and another 10,092 were completed with veterans (discharged and retired). The Gallup-Healthways Well-Being Index score is composed of six sub-indexes, which measure how Americans rate their lives, emotional health, work environment, physical health, healthy behaviors, and access to basic necessities.
For more information on what each sub-index comprises, see page 2.
Military Personnel Rate Their Lives Better
Active duty military personnel are significantly more likely to be thriving than are American workers overall -- 68.1% vs. 58.2% -- and less than half as likely to be suffering -- 0.9% vs. 2.2%. Veterans, however, are far less likely to be thriving and more likely to struggling and suffering than current military personnel and the general working population.
Gallup and Healthways categorize Americans as "thriving," "struggling," or "suffering" based on how they rate their current and future lives and use these groupings to calculate the Life Evaluation Index.
Further analysis finds that these relationships hold regardless of age and also become more profound over the age of 45.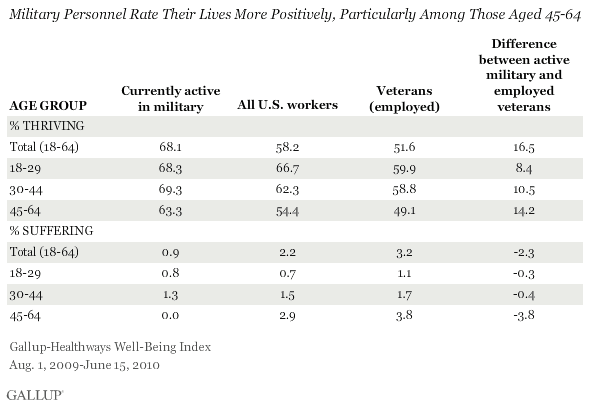 Emotional Health Better for Active Duty Military Personnel
Active duty military personnel who are younger than 45 report considerably less depression and stress than do employed veterans and U.S. workers in general. Underscoring this, veterans aged 18 to 29 and those aged 30 to 44 have nearly double the rates of clinically diagnosed depression than their counterparts who are still enlisted. These advantages for military personnel, however, are mostly or entirely eliminated for those over the age of 45.
Controlling for age is of particular importance when reviewing clinical depression diagnoses, as the incidence of lifetime depression increases with age and would be expected to be lower overall in a disproportionately young population such as the military. Still, after controlling for age, substantial differences with the comparison groups prevail.
Bottom Line
Gallup-Healthways Well-Being Index findings reveal that while American military personnel surpass American workers in well-being, veterans lag behind. Once out of the military, even when employed, veterans' well-being and life evaluation fall below that of the overall working population, while clinical depression climbs higher.
These findings underscore two points for consideration for U.S. military leadership. The first is that military service may be beneficial for the well-being of active military personnel. At the same time, these personnel tend to suffer after leaving the military. While the first point could serve as a strong recruiting tool, the second point highlights the need for enhanced involvement in improving life after the military for America's veterans, both discharged and retired alike.
Learn more about the Gallup-Healthways Well-Being Index.
Survey Methods
Results are based on telephone interviews with 86,262 national employed adults, aged 18 and older, conducted Aug. 1, 2009-June 15, 2010, as part of the Gallup-Healthways Well-Being Index. Of those surveyed, 10,092 were veterans (discharged and retired) of the U.S. military and 1,451 were currently active duty in the U.S. military. For results based on the total sample of national adults, one can say with 95% confidence that the maximum margin of sampling error is ±0.4, +1.2, and +3.0 percentage points, respectively. Margin of sampling error ranges are higher for individual age groups within each category.
Questions used to discern military involvement include:
Have you, or has any member of your household, ever served in the U.S. military?
Are you currently on active duty, or not?
Interviews are conducted with respondents on landline telephones (for respondents with a landline telephone) and cellular phones (for respondents who are cell phone only and cell phone mostly).
In addition to sampling error, question wording and practical difficulties in conducting surveys can introduce error or bias into the findings of public opinion polls.
About the Gallup-Healthways Well-Being Index
The Gallup-Healthways Well-Being Index measures the daily pulse of U.S. well-being and provides best-in-class solutions for a healthier world. To learn more, please visit well-beingindex.com.