PRINCETON, NJ -- Catholics' views of President Obama were little changed during a week in which the administration battled publicly with Catholic leaders over whether church-affiliated employers should have to pay for contraception as part of their employees' health plans. An average of 46% of Catholics approved of the job Obama was doing as president last week, compared with 49% the prior week, a change within the margin of sampling error.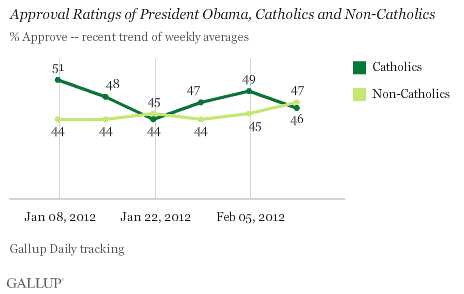 Although Catholic Church leaders' opposition to the requirement dates back to last fall, when the policy was being laid out, the controversy erupted and made headlines in the last 10 days, after the Obama administration announced that religious-based employers would ultimately have to comply. The Obama administration's rules would have forced organizations affiliated with the church -- such as Catholic hospitals, service organizations, and universities -- to pay for employee healthcare services that go against their belief that Catholics should not use contraception.
It is possible that practicing Catholics are more likely than nonpracticing Catholics to hew to the church's teachings on birth control. But both groups -- those who attend church every week or nearly every week and those who attend less often -- had identical 46% approval ratings of Obama last week. Though both more frequent and less frequent churchgoing Catholics' approval ratings of Obama were down from the prior week, neither change was statistically meaningful.
To some degree, the more positive economic news in the last couple of weeks may have helped offset any damage the birth-control controversy may have caused among Catholics. Also, on Feb. 10, the administration announced an "accommodation" to the requirement that was acceptable to some Catholic groups, but not to others -- including the U.S. bishops.
The accommodation did not appear to have a positive effect on Catholics' views of the president in the short run, with Catholic approval averaging 47% before Friday and 45% after.
Obama Approval Improves to 47% Among All Americans
Overall, last week was one of Obama's better weeks in terms of his approval rating. He averaged 47% approval, by one percentage point his highest weekly average so far this year and his best since June 2011.
The fact that Catholic approval of Obama (46%) was below his approval rating from all Americans (47%) last week is a bit of a departure from the norm, though. Throughout his presidency, Catholics have generally given Obama slightly higher ratings than all Americans, with the monthly trend for Catholics closely following the national trend.
Implications
Catholics are typically an important swing voting group in U.S. elections, so a president is at some political risk if he pursues a policy that could anger Catholics. So far, though, it appears the controversy over religious group employer health plans and contraception has not had a significantly negative effect on how rank-and-file Catholics view the president.
One key will be whether Catholic approval of Obama stays a bit lower than it has been in the coming days or begins to edge back closer to 50%, where it had been earlier this year. This will give an indication of whether the controversy has passed and is forgotten, or remains an issue, resulting in a meaningful -- but small -- erosion in his support among Catholics.
In any case, as voters make up their minds about whether Obama deserves a second term in office, it is likely that economic progress will weigh more heavily in their minds than policy disputes they may have with the president on less top-of-mind issues.
Explore President Obama's approval ratings in depth and compare them with those of past presidents in the Gallup Presidential Job Approval Center.
Survey Methods
Results are based on telephone interviews conducted as part of Gallup Daily tracking Feb. 6-12, 2012, with a random sample of 3,415 adults, aged 18 and older, living in all 50 U.S. states and the District of Columbia.
For results based on the total sample of national adults, one can say with 95% confidence that the maximum margin of sampling error is ±4 percentage points.
For results based on the total sample of 755 Catholics, one can say with 95% confidence that the maximum margin of sampling error is ±4 percentage points.
Interviews are conducted with respondents on landline telephones and cellular phones, with interviews conducted in Spanish for respondents who are primarily Spanish-speaking. Each sample includes a minimum quota of 400 cell phone respondents and 600 landline respondents per 1,000 national adults, with additional minimum quotas among landline respondents by region. Landline telephone numbers are chosen at random among listed telephone numbers. Cell phone numbers are selected using random-digit-dial methods. Landline respondents are chosen at random within each household on the basis of which member had the most recent birthday.
Samples are weighted by gender, age, race, Hispanic ethnicity, education, region, adults in the household, and phone status (cell phone only/landline only/both, cell phone mostly, and having an unlisted landline number). Demographic weighting targets are based on the March 2011 Current Population Survey figures for the aged 18 and older non-institutionalized population living in U.S. telephone households. All reported margins of sampling error include the computed design effects for weighting and sample design.
In addition to sampling error, question wording and practical difficulties in conducting surveys can introduce error or bias into the findings of public opinion polls.
The questions reported here were asked of a random half-sample of respondents each night on the Gallup Daily tracking survey.
For more details on Gallup's polling methodology, visit www.gallup.com.