PRINCETON, NJ -- A variety of economic-related issues dominate Americans' top concerns on a list of 15 issues facing the country today. The economy and gas prices lead the list, with 71% and 65% of Americans, respectively, saying they personally worry "a great deal" about each. These are followed by federal spending and the budget deficit (60%), the availability and affordability of healthcare (60%), unemployment (55%), Social Security (48%), and the availability and affordability of energy (48%).
Race relations -- very much in the news this week over the Trayvon Martin case -- are at the bottom of the list, with 17% of Americans saying they worry about them a great deal. The poll was conducted March 8-11, after Martin had been shot and killed by a neighborhood watchman in Sanford, Fla., but before the recent escalation of protests and rallies around the country, with some charging that racism has played a role in aspects of the case.
Fifty-five percent of Americans say they worry "only a little" or "not at all" about race relations, making it the only issue with majority concern at this low a level -- though it is possible that more recent developments in the Martin case have increased Americans' concern. Other low-ranking issues include illegal immigration, the possibility of future terrorist attacks in the U.S., and the quality of the environment, with just over a third of Americans highly worried about each of these.
Gallup finds moderate levels of worry for drugs, crime, hunger/homelessness, and the size and power of the federal government. Between 42% and 46% of Americans are highly worried about each.
It is noteworthy that energy costs as an issue spark more concern when narrowly couched as "gas prices" than when more broadly stated as "the availability and affordability of energy." This may reflect Americans' somewhat muted concern about U.S. energy supplies, as is evident in the modest percentage who in the same survey call the energy situation "very serious."
The 71% of Americans reporting a great deal of worry about the economy is unchanged from last year -- remaining at the highest level Gallup has recorded since instituting these trends in 2001. Concern about unemployment has followed a similar trajectory, dipping only slightly this year and last, while concern about healthcare has been consistently high. The survey was conducted before this week's Supreme Court hearing on the constitutionality of the 2010 Patient Protection and Affordable Care Act.
Party Perspectives Differ
Republicans are particularly more worried than Democrats about federal spending and the budget deficit, as well as the size and power of government -- both of which may reflect their displeasure that a Democrat resides in the White House.
Republicans' concern also exceeds Democrats' by more than 10 percentage points for illegal immigration, the possibility of future terrorism, the economy, and the Social Security system. Democrats are significantly more worried than Republicans about healthcare, the environment, and hunger and homelessness.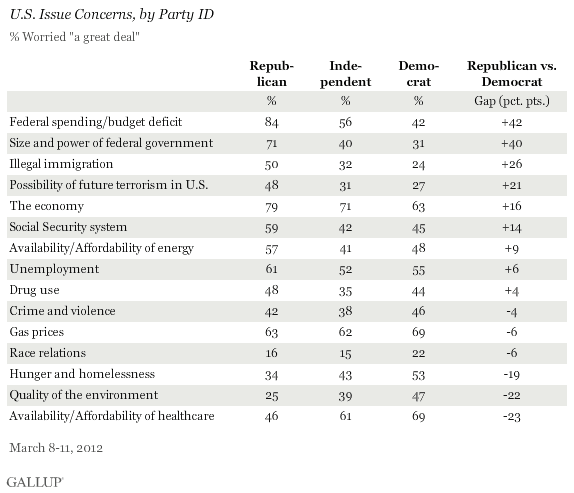 Notably in this election year, majorities in both parties show high levels of worry about the economy, gas prices, and unemployment. Neither party shows majority concern for crime, drugs, the environment, terrorism, or race relations.
Racial Gaps Also Apparent
Nonwhites show greater concern than whites for several issues that are also Democratic-oriented concerns: hunger and homelessness, the quality of the environment, and healthcare. Nonwhites are also more concerned than whites about crime, drug use, and race relations. Still, race relations are the lowest-ranking concern for nonwhites, with 28% concerned a great deal, as they are for whites.
Bottom Line
Economic issues in general are more worrisome to Americans than a number of other problems facing the country. These include strictly economic issues, such as "the economy," gas prices, and unemployment, but also extend to the federal budget deficit and the cost and availability of healthcare.
Illegal immigration, crime, drugs, and race relations are among the issues Americans find less troubling. And according to Gallup trends dating to 2001, these issues have tended to rate lower on the list.
Survey Methods
Results for this Gallup poll are based on telephone interviews conducted March 8-11, 2012, with a random sample of 1,024 adults, aged 18 and older, living in all 50 U.S. states and the District of Columbia.
For results based on the total sample of national adults, one can say with 95% confidence that the maximum margin of sampling error is ±4 percentage points.
For results based on the sample of 521national adults in Form A and 503 national adults in Form B, the maximum margins of sampling error are ±5 percentage points.
Interviews are conducted with respondents on landline telephones and cellular phones, with interviews conducted in Spanish for respondents who are primarily Spanish-speaking. Each sample includes a minimum quota of 400 cell phone respondents and 600 landline respondents per 1,000 national adults, with additional minimum quotas among landline respondents by region. Landline telephone numbers are chosen at random among listed telephone numbers. Cell phone numbers are selected using random-digit-dial methods. Landline respondents are chosen at random within each household on the basis of which member had the most recent birthday.
Samples are weighted by gender, age, race, Hispanic ethnicity, education, region, adults in the household, and phone status (cell phone only/landline only/both, cell phone mostly, and having an unlisted landline number). Demographic weighting targets are based on the March 2011 Current Population Survey figures for the aged 18 and older non-institutionalized population living in U.S. telephone households. All reported margins of sampling error include the computed design effects for weighting and sample design.
In addition to sampling error, question wording and practical difficulties in conducting surveys can introduce error or bias into the findings of public opinion polls.
View methodology, full question results, and trend data.

For more details on Gallup's polling methodology, visit www.gallup.com.