PRINCETON, NJ -- In the lead-up to this year's presidential convention period, 44% of registered voters held a favorable view of the Republican Party and 43% of the Democratic Party. While the Republicans' favorable rating is similar to where it stood before the conventions kicked off in 2008, the Democrats' is 11 percentage points lower. It is also the lowest pre-conventions favorable score the Democrats have received among voters in Gallup records dating to 1992.
These results are based on a USA Today/Gallup poll conducted Aug. 20-22, just prior to the start of the Republican National Convention in Tampa, Fla., and two weeks before the Democrats' convention is set to start in Charlotte, N.C.
The relatively low ratings for both parties likely reflect Americans' broader dissatisfaction with the country's direction and government leaders, including Congress. The parity of ratings mirrors the political polarization Gallup sees in national party identification, and contrasts with 2008, when the Democratic Party entered the convention period with a significant image advantage. However, historically, it is not unusual for the parties to have similar ratings at this point in an election year, including in 2004, 2000, and 1992.
Views of Republican Party Up Among Some Groups, Down Among Others
Both parties will use their conventions to excite their base voters with an eye toward turnout on Election Day, while they also attempt to broaden their appeal to independents and other swing groups. Currently, by 50% to 38%, more political independents view the Republican Party unfavorably than favorably, similar to the 49% vs. 37% unfavorable to favorable split among independents in 2008.
Republicans are also attempting to blunt the Democrats' advantage among female voters in a variety of ways, including by showcasing Ann Romney in Tuesday night's convention lineup. The need for that is clear in the finding that about four in 10 female voters have a favorable view of the Republican Party, unchanged from August 2008.
White voters now view Republicans more favorably than they did in 2008, 50% vs. 44%; however, this is largely offset by a decline from 31% to 24% in the percentage of nonwhites viewing them favorably. Similarly, the increase in favorability among the older age groups more than makes up for the 11-point decline among 18- to 34-year-olds.
Democrats' Image Decline Seen Mainly With Men, Whites, and Older Voters
Much has changed for the Democrats in the past four years that helps explain their overall 11-point drop in favorability among registered voters.
Favorable views of the party have declined more among men than women (-15 vs. -7). And while the party's favorability has increased among nonwhites and held steady among 18- to 34-year-olds, it has declined among whites, middle-aged adults, and older Americans.
Perhaps crucially, favorable views of the Democratic Party are down 12 points since 2008 among independents; in addition, they are down seven points among Republicans, while holding steady among Democrats.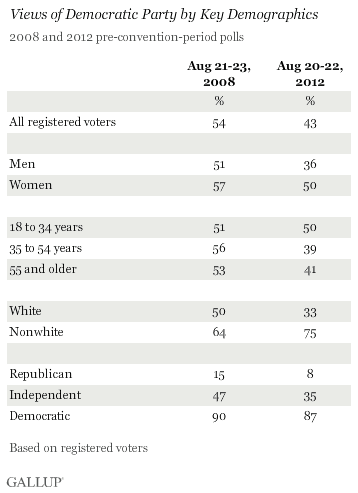 Although convention planners spend years preparing for these events as unique opportunities to help their party's candidates, it is not clear that they produce lasting results. A recent Gallup analysis found that the presidential candidate leading in Gallup polls prior to the first convention ultimately won the election in 12 of the last 15 presidential election contests -- suggesting conventions rarely change the overall trajectory of a race.
Accordingly, Gallup's limited pre-/post-convention trends on party favorability generally find little to no lasting impact.
Long-Term Trend Underscores Negative Position Both Parties Are in Today
Regardless of how much the conventions affect the presidential election, both parties have some repair work to do with Americans, with their favorable ratings down significantly from where they stood through much of the 1990s and early 2000s. This is particularly true for the Democrats, whose current 45% favorable rating among national adults is among the lowest in Gallup trends since 1992. They had slightly lower ratings at points in 2010 (41%) and 2011 (42%), but their current rating is the lowest recorded on the eve of the national presidential conventions.
The Republicans' 42% favorable rating with national adults is also on the low side for that party, both historically and for convention periods. But it is at least tied with the pre-convention level in August 2008, and significantly better than the party's ratings were in much of 2006 through 2008.
Survey Methods
Results for this USA Today/Gallup poll are based on telephone interviews conducted Aug. 20-23, 2012, with a random sample of 1,033 adults, aged 18 and older, living in all 50 U.S. states and the District of Columbia.
For results based on the total sample of national adults, one can say with 95% confidence that the maximum margin of sampling error is ±4 percentage points.
For results based on the sample of 955 registered voters, one can say with 95% confidence that the maximum margin of sampling error is ±4 percentage points.
Interviews are conducted with respondents on landline telephones and cellular phones, with interviews conducted in Spanish for respondents who are primarily Spanish-speaking. Each sample includes a minimum quota of 400 cell phone respondents and 600 landline respondents per 1,000 national adults, with additional minimum quotas among landline respondents by region. Landline telephone numbers are chosen at random among listed telephone numbers. Cell phone numbers are selected using random-digit-dial methods. Landline respondents are chosen at random within each household on the basis of which member had the most recent birthday.
Samples are weighted by gender, age, race, Hispanic ethnicity, education, region, adults in the household, and phone status (cell phone only/landline only/both, cell phone mostly, and having an unlisted landline number). Demographic weighting targets are based on the March 2011 Current Population Survey figures for the aged 18 and older non-institutionalized population living in U.S. telephone households. All reported margins of sampling error include the computed design effects for weighting and sample design.
In addition to sampling error, question wording and practical difficulties in conducting surveys can introduce error or bias into the findings of public opinion polls.
View methodology, full question results, and trend data.

For more details on Gallup's polling methodology, visit www.gallup.com.