WASHINGTON, D.C. -- Fewer than three in 10 U.S. smokers (28%) say that secondhand smoke is "very harmful" to adults, compared with 63% of nonsmokers. Smokers instead tend to believe secondhand smoke is "somewhat harmful" (46%) and nearly one in four say it is "not too" or "not at all harmful."
The 28% of smokers who say secondhand smoke is very harmful is down from 35% last year, but is still within the range Gallup has measured since 2001.
The findings are from Gallup's annual Consumption Habits poll, conducted July 9-12, 2012, which measures Americans' attitudes on many issues including smoking, drinking, and weight. The views of "smokers" in 2012 are based on respondents who reported smoking any cigarettes in the past week.
Studies suggest that exposure to secondhand smoke increases the risk of developing many of the same fatal illnesses that smoking does, and 27 states have passed comprehensive smoke-free laws. Despite this, the percentage of Americans -- 56% this year -- who say secondhand smoke is very harmful to adults has remained remarkably steady over the past decade. The percentage of nonsmokers who agree that secondhand smoke is very harmful is also within the range that Gallup has typically found.
Most Americans Agree Smoking Is Very Harmful
There is more consensus among Americans that smoking is very harmful to adults who smoke. Eighty percent of Americans overall agree that smoking is very harmful to smokers -- levels that have remained very consistent over the past decade. While smokers also generally agree that smoking is very harmful to those who do it, the 60% who say this is significantly lower than the 86% among nonsmokers. Smokers have consistently been less likely than nonsmokers to view smoking as harmful since Gallup began asking this question.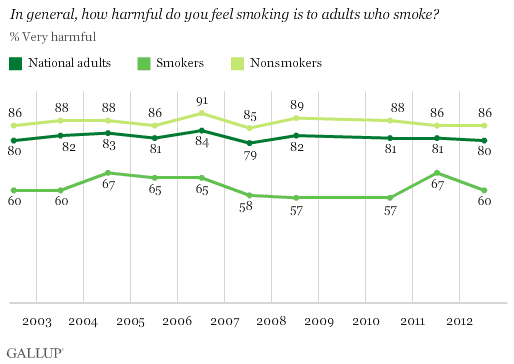 Smokers may be significantly more likely than nonsmokers and national adults to say smoking is "somewhat harmful," because they may be reluctant to say they take part in a very harmful behavior.
The risks of smoking and secondhand smoke are widely recognized. The Centers for Disease Control and Prevention reports that cigarette smoking causes more than 443,000 American deaths each year, and a recent study from researchers at the University of California San Francisco reports that secondhand smoke is linked to heart and lung disease and, in babies, is associated with low birth weight, sudden infant death syndrome, and respiratory distress syndrome. While Gallup's question asks only about harmful effects on adults, it is essential that adults, and particularly smokers, also consider the risks of secondhand smoke to children who might be exposed to it.

Implications
Americans are significantly more likely to say smoking is harmful than they are to say the same for exposure to secondhand smoke. This gap has remained steady over the past decade, despite a growing number of studies demonstrating the harmful effects of secondhand smoke.
The CDC released several graphic anti-smoking public service announcements over a 12-week period starting March 2012 that showed the harmful effects of smoking to encourage current smokers to quit. Overall, U.S. smokers were no more likely to say in July 2012 that smoking is very harmful, although the prevalence of smokers tied an all-time low, the percentage of heavy smokers dropped to an all-time low, and 78% of smokers say they would like to quit.
Gallup's annual Consumption Habits poll and the Gallup-Healthways Well-Being Index survey will continue to monitor smoking patterns and attitudes in future years.
Survey Methods
Results for this Gallup poll are based on telephone interviews conducted July 9-12, 2012, with a random sample of 1,014 adults, aged 18 and older, living in all 50 U.S. states and the District of Columbia.
For results based on the sample of 166 smokers, the maximum margin of sampling error is ±10 percentage points.
Interviews are conducted with respondents on landline telephones and cellular phones, with interviews conducted in Spanish for respondents who are primarily Spanish-speaking. Each sample includes a minimum quota of 400 cell phone respondents and 600 landline respondents per 1,000 national adults, with additional minimum quotas among landline respondents by region. Landline telephone numbers are chosen at random among listed telephone numbers. Cell phone numbers are selected using random-digit-dial methods. Landline respondents are chosen at random within each household on the basis of which member had the most recent birthday.
Samples are weighted by gender, age, race, Hispanic ethnicity, education, region, adults in the household, and phone status (cell phone only/landline only/both, cell phone mostly, and having an unlisted landline number). Demographic weighting targets are based on the March 2011 Current Population Survey figures for the aged 18 and older non-institutionalized population living in U.S. telephone households. All reported margins of sampling error include the computed design effects for weighting and sample design.
In addition to sampling error, question wording and practical difficulties in conducting surveys can introduce error or bias into the findings of public opinion polls.
View methodology, full question results, and trend data.
For more details on Gallup's polling methodology, visit https://www.gallup.com/.