PRINCETON, NJ -- Americans, by 56% to 38%, support a reduction in U.S. and Russian nuclear arsenals. Democrats are most inclined to support it -- saying they would vote for such a law if they could -- while Republicans are about evenly divided in their views.
A March 2-3 Gallup poll asked Americans how they would vote on a number of potential issues, most of which President Barack Obama raised in his recent State of the Union address, including U.S.-Russian nuclear reductions. Obama is considering a plan for further reductions in U.S. and Russian nuclear weapons, beyond those agreed to in the 2011 New START treaty.
Gallup asked about that treaty -- also in the referendum format -- in December 2010 and found results similar to those from the current poll, with 51% saying they would vote for the treaty and 30% against it.
However, Gallup has found much greater support for U.S-Russian or U.S.-Soviet nuclear arms reduction agreements in the past, typically above 70% in a variety of question formats asking about proposed or agreed-upon nuclear deals. For example, 82% supported a 2002 agreement signed by U.S. President George W. Bush and Russian President Vladimir Putin. In 1987, 74% said they approved of the proposed U.S.-Soviet INF treaty to eliminate intermediate-range weapons from Europe and Russia signed by U.S. President Ronald Reagan and Soviet leader Mikhail Gorbachev.
Americans may be less inclined now to have the U.S. reduce its nuclear weapons along with Russia because they do not view Russia as favorably as they did in the past. Currently, Americans' views tilt negative, with 44% holding a favorable opinion of Russia and 50% an unfavorable one, according to Gallup's Feb. 7-10 World Affairs poll. Americans tended to be much more positive toward Russia during the times the countries made past nuclear agreements, such as in 1991 and in 2002. Gallup did not ask this version of country ratings prior to 1989, when the Cold War was still ongoing.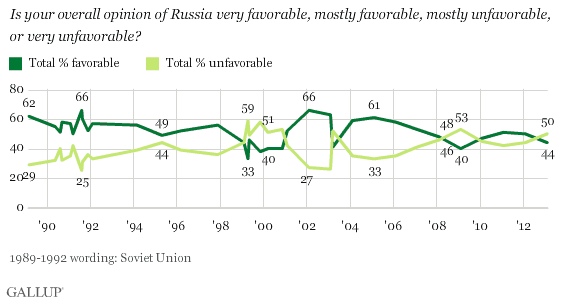 Americans may also be less inclined to want to enter into an arms reduction deal with Russia not because of the threat Russia poses, but because of the perceived threat from countries like Iran and North Korea. Americans rated those two countries' nuclear capabilities the most critical threats to the U.S. among nine foreign policy matters in a Feb. 7-10 poll, conducted just days before North Korea conducted a nuclear test. Americans in the same poll viewed Russian military power as much less of a threat.

Americans may also be less likely to support nuclear cuts now, given that the U.S. has already made significant reductions in a series of past U.S.-Russian treaties and agreements.
Implications
President Obama favors a new agreement to cut U.S. and Russian nuclear weapons. Most Americans continue to favor nuclear arms reductions with Russia, but the level of support for that appears less now than in prior years.
Obama has many other issues to address in his second term, so it is not clear how high a priority he would make a new arms deal. But he has argued that reducing the U.S. nuclear arsenal would save the country billions in the cost to maintain those weapons. And while cutting government spending is a clear priority for Obama and most government leaders, his ability to reach an agreement may depend on the relative benefits of potential savings compared with the potential risks to U.S. security.
Survey Methods
Results for the item on nuclear arsenals from a Gallup poll based on telephone interviews conducted March 2-3, 2013, on the Gallup Daily tracking survey, with a random sample of 1,028 adults, aged 18 and older, living in all 50 U.S. states and the District of Columbia.
Results for the remaining items are from a Gallup poll based on telephone interviews conducted Feb. 7-10, 2013, with a random sample of 1,015 adults, aged 18 and older, living in all 50 U.S. states and the District of Columbia.
For results based on these total samples of national adults, one can say with 95% confidence that the margin of sampling error is ±4 percentage points.
Interviews are conducted with respondents on landline telephones and cellular phones, with interviews conducted in Spanish for respondents who are primarily Spanish-speaking. Each sample of national adults includes a minimum quota of 50% cellphone respondents and 50% landline respondents, with additional minimum quotas by region. Landline telephone numbers are chosen at random among listed telephone numbers. Cellphones numbers are selected using random digit dial methods. Landline respondents are chosen at random within each household on the basis of which member had the most recent birthday.
Samples are weighted to correct for unequal selection probability, nonresponse, and double coverage of landline and cell users in the two sampling frames. They are also weighted to match the national demographics of gender, age, race, Hispanic ethnicity, education, region, population density, and phone status (cellphone only/landline only/both, cellphone mostly, and having an unlisted landline number). Demographic weighting targets are based on the March 2012 Current Population Survey figures for the aged 18 and older U.S. population. Phone status targets are based on the July-December 2011 National Health Interview Survey. Population density targets are based on the 2010 census. All reported margins of sampling error include the computed design effects for weighting.
In addition to sampling error, question wording and practical difficulties in conducting surveys can introduce error or bias into the findings of public opinion polls.
View methodology, full question results, and trend data.

For more details on Gallup's polling methodology, visit www.gallup.com.