Very favorable
Mostly favorable
Mostly unfavorable
Very unfavorable
No opinion

%

%

%

%

%

2018 Feb 1-10
3
20
47
26
4
2017 Feb 1-5
3
16
49
30
3
2016 Feb 3-7
2
13
48
31
6
2015 Feb 8-11
2
13
45
36
5
2014 Feb 6-9
2
14
46
34
4
2013 Feb 7-10
3
16
46
30
4
2012 Feb 2-5
2
22
46
26
4
2011 Feb 2-5
2
23
46
24
4
2010 Feb 1-3
3
20
44
29
3
2009 Feb 9-12
2
26
40
26
7
2008 Feb 11-14
3
17
44
33
3
2007 Feb 1-4
3
12
41
41
3
2006 Feb 6-9
3
18
39
36
5
2005 Feb 7-10
4
25
38
28
5
2004 Feb 9-12
4
17
39
35
5
2003 Mar 14-15 ^
3
2
25
68
2
2003 Feb 3-6
1
4
33
57
5
2002 Feb 4-6
2
4
39
49
6
2001 Feb 1-4 ^
2
7
34
51
6
2000 Nov 13-15
2
4
35
53
6
1999 May 7-9
1
4
38
53
4
1999 Feb 8-9
2
5
27
60
6
1996 Mar 8-10
1
5
34
52
8
1992 Feb 6-9
1
3
30
62
4
1991 Aug 8-11
1
6
32
54
7
1991 Mar 14-17
2
5
26
62
5
1991 Jan 30-Feb 2
*
3
17
73
7
^ Asked of a half sample; * Less than 0.5%
Gallup
Favor
Oppose
No opinion

%

%

%

2015 Nov 4-8
43
53
4
2014 Sep 20-21 ^
40
54
6
^ Asked on Gallup Daily tracking survey
Gallup
Yes, a mistake
No, not a mistake
No opinion

%

%

%

2015 Jun 2-7
51
46
3
2014 Jun 20-21 #
57
39
3
2014 Feb 6-9
57
40
2
2013 March 7-10
53
42
5
2010 Aug 5-8
55
41
3
2010 Jul 8-11 ^
54
44
2
2009 Jul 10-12 ^
58
39
3
2009 Mar 14-15 ^#
53
42
5
2009 Jan 9-11
56
43
2
2008 Oct 31-Nov 2 ^#
58
39
2
2008 Sep 5-7 ^
58
41
1
2008 Aug 21-23 ^
60
38
2
2008 July 25-27
56
40
4
2008 Jun 15-19
60
37
3
2008 Apr 18-20
63
36
1
2008 Feb 21-24
59
39
2
2008 Feb 8-10
60
38
2
2008 Jan 30-Feb 2
57
41
2
2007 Nov 30-Dec 2
57
41
2
2007 Nov 2-4
58
39
3
2007 Oct 12-14
60
37
2
2007 Sep 14-16
58
41
1
2007 Sep 7-8
54
44
2
2007 Aug 3-5
57
42
2
2007 Jul 6-8
62
36
2
2007 Jun 1-3
56
40
4
2007 May 4-6
58
40
2
2007 Apr 13-15
57
41
2
2007 Mar 23-25
56
43
2
2007 Mar 2-4
59
39
2
2007 Feb 9-11
56
42
2
2007 Jan 12-14
58
41
2
2007 Jan 5-7
57
41
2
2006 Dec 8-10 ^
53
45
2
2006 Nov 2-5
55
40
5
2006 Oct 20-22
58
40
2
2006 Oct 6-8
56
40
4
2006 Sep 15-17
49
49
2
2006 Jul 28-30
54
45
2
2006 Jul 21-23
56
41
2
2006 Jun 23-25
55
43
1
2006 Jun 9-11
51
46
2
2006 Apr 7-9
57
42
1
2006 Mar 10-12 ^
57
42
1
2006 Feb 28-Mar 1
55
43
2
2006 Feb 9-12 ^
55
42
3
2006 Jan 20-22
51
46
3
2006 Jan 6-8 ^
50
47
3
2005 Dec 16-18
52
46
2
2005 Nov 11-13 ^
54
45
1
2005 Oct 28-30
54
45
1
2005 Oct 21-23
49
49
2
2005 Sep 16-18
59
39
2
2005 Sep 8-11
53
46
1
2005 Aug 28-30
53
46
1
2005 Aug 5-7 ^
54
44
2
2005 Jul 22-24
46
53
1
2005 Jun 24-26
53
46
1
2005 Apr 29-May 1 ^
49
48
3
2005 Mar 18-20 ^
46
51
3
2005 Feb 25-27
47
51
2
2005 Feb 4-6
45
55
*
2005 Jan 14-16
52
47
1
2005 Jan 7-9
50
48
2
2004 Nov 19-21
47
51
2
2004 Oct 29-31 ^
44
52
4
2004 Oct 22-24
47
51
2
2004 Oct 14-16
47
52
1
2004 Oct 9-10 ^
46
53
1
2004 Oct 1-3
48
51
1
2004 Sep 24-26
42
55
3
2004 Sep 3-5 ^
38
57
5
2004 Aug 23-25 ^
48
50
2
2004 Jul 30-Aug 1
47
51
2
2004 Jul 19-21
50
47
3
2004 Jul 8-11 ^
54
45
1
2004 Jun 21-23 ^
54
44
2
2004 Jun 3-6 ^
41
58
1
2004 May 7-9 ^
44
54
2
2004 Apr 16-18 ^
42
57
1
2004 Jan 12-15 ^
42
56
2
2003 Nov 3-5 ^
39
60
1
2003 Oct 6-8 ^
40
59
1
2003 Jul 7-9 ^
27
72
1
2003 Mar 24-25 ^
23
75
2
^ Asked of a half sample; # Asked on Gallup Daily tracking survey
Gallup
Next, I am going to read you a list of possible threats to the vital interests of the United States in the next 10 years. For each one, please tell me if you see this as a critical threat, an important but not critical threat, or not an important threat at all. Islamic militants, commonly known as ISIS, operating in Iraq and Syria
Critical
Important
Not important
No opinion

%

%

%

%

2015 Feb 8-11
84
12
2
1
* Less than 0.5%
Gallup
Approve
Disapprove
No opinion

%

%

%

2014 Jun 20-21
61
34
4
2011 Oct 29-30 ^
75
21
5
^ WORDING: Turning to Iraq, do you approve or disapprove ..... decision to withdraw nearly all U.S. troops from Iraq by the end of the year?
Gallup
Favor
Oppose
No opinion

%

%

%

2014 Jun 20-21
39
54
7
Gallup
Ally
Friendly, but not an ally
Unfriendly
Enemy
No opinion

%

%

%

%

%

2013 Jun 1-4
4
17
40
35
4
2001 Apr 20-22
4
6
30
56
4
2000 May 18-21
2
8
39
47
4
Gallup
Vitally important
Important, not vital
Not too important
Not at all important
No opinion

%

%

%

%

%

2011 Feb 2-5
52
32
10
5
2
2007 Feb 1-4
70
19
6
3
2
Gallup
Much better off
Somewhat better off
Somewhat worse off
Much worse off
No difference (vol.)
No opinion

%

%

%

%

%

%

2010 Aug 5-8
15
49
18
12
2
4
2006 Mar 10-12 ^
19
48
18
12
1
2
2004 May 21-23
27
45
16
8
1
3
^ Asked of a half sample; (vol.)=volunteered response
Gallup
Total success
Mostly successful
Mostly a failure
Total failure
No opinion

%

%

%

%

%

2010 Aug 5-8
3
39
39
14
5
2008 Feb 21-24
4
38
36
18
4
Gallup
Yes, able to maintain
No, not able to
No opinion

%

%

%

2010 Aug 5-8 ^
34
61
5
^ Asked of a half sample
Gallup
Very well
Moderately well
Moderately badly
Very badly
No opinion

%

%

%

%

%

2010 Jul 8-11 ^
5
45
38
10
2
2009 Jul 10-12 ^
7
49
26
14
3
2009 Mar 14-15 ^ @
8
43
29
14
5
2008 Sep 5-7 ^
13
39
26
21
1
2008 Aug 21-23 ^
9
38
31
20
2
2008 Jul 25-27 ^
8
38
32
19
3
2007 Nov 30-Dec 2
8
35
43
13
1
2007 Jan 5-7
3
25
33
38
1
2006 Oct 20-22 ^
3
32
29
35
2
2006 Jun 9-11
8
39
30
23
1
2006 Mar 10-12
6
32
32
28
1
2006 Jan 6-8
8
38
32
21
1
2005 Oct 21-23
7
35
29
28
1
2005 Aug 5-7
5
38
28
28
1
2005 Apr 29-May 1
6
36
31
25
2
2005 Mar 18-20
8
44
24
21
3
2005 Feb 4-6
13
40
28
18
1
2005 Jan 7-9
5
35
29
30
1
2004 Dec 5-8
6
34
26
33
1
2004 Sep 24-26
4
42
27
25
2
2004 Aug 9-11 ^
5
40
28
25
2
2004 Jul 8-11
5
35
30
29
1
2004 Jun 3-6
6
34
35
25
*
2004 May 21-23
7
35
26
31
1
2004 May 2-4
4
33
32
30
1
2004 Apr 5-8
5
30
31
33
1
2004 Mar 5-7
9
46
28
15
2
2003 Nov 3-5
4
34
34
27
1
2003 Oct 6-8 ^
6
36
34
24
*
2003 Sep 8-10
6
41
31
21
1
2003 Aug 25-26
6
44
30
19
1
2003 Jul 25-27
10
46
28
15
1
2003 Jul 18-20
6
48
30
15
1
2003 Jun 27-29
5
51
29
13
2
2003 May 30-Jun 1
11
59
22
7
1
2003 May 5-7 ^
30
56
10
3
1
2003 Apr 22-23 ^
21
64
12
2
1
2003 Oct 6-8 ^
6
36
34
24
*
2003 Sep 8-10
6
41
31
21
1
2003 Aug 25-26
6
44
30
19
1
2003 Jul 25-27
10
46
28
15
1
2003 Jul 18-20
6
48
30
15
1
2003 Jun 27-29
5
51
29
13
2
2003 May 30-Jun 1
11
59
22
7
1
2003 May 5-7 ^
30
56
10
3
1
2003 Apr 22-23 ^
21
64
12
2
1
^ Asked of a half sample; * Less than 0.5%; @ Asked on Gallup Daily tracking survey
Gallup
Better
Not much difference
Worse
No opinion

%

%

%

%

2008 Jul 25-27^
48
32
17
3
2008 Feb 21-24
40
38
20
2
2008 Feb 8-10
43
35
21
2
2007 Nov 30-Dec 2
40
39
20
1
2007 Nov 2-4 ^
34
39
25
2
2007 Sep 14-16
35
43
21
1
2007 Sep 7-8
32
44
19
5
2007 Aug 3-5
31
41
24
4
2007 Jul 6-8 ^
22
51
25
2
2007 Jul 6-8 ^#
17
49
30
3
2007 Apr 13-15 #
26
41
29
4
2007 Mar 23-25 #
29
43
22
5
^ Asked of a half sample; # WORDING: "..surge of U.S. troops in Baghdad..."
Gallup
Keep troops until situation better
Set timetable for removing troops
No opinion

%

%

%

2008 Feb 21-24
35
60
5
2008 Feb 8-10
39
56
5
2007 Nov 30-Dec 2
38
59
3
2007 Sep 14-16
38
59
4
2007 Sep 7-8
35
60
5
2007 May 4-6
36
59
5
2007 Apr 13-15
38
57
4
2005 Jun 29-30
48
49
3
2005 Jun 24-26
44
51
5
Gallup
Yes, does
No, does not
No opinion

%

%

%

2008 Feb 21-24
65
32
3
2007 Sep 7-8
67
29
4
Gallup
Yes, deliberately misled
No, did not
No opinion

%

%

%

2008 Feb 21-24
53
42
5
2006 Mar 10-12 ^
51
46
3
2006 Jan 20-22
53
46
1
2005 Oct 28-30
53
45
2
2005 Jul 22-24
51
47
2
2005 Apr 1-2
50
48
2
2004 Oct 9-10
47
51
2
2004 Jul 19-21 ^
45
52
3
2004 Jan 29-Feb 1
43
54
3
2003 Jul 18-20
39
58
3
2003 Jun 27-29
37
61
2
2003 Jun 9-10
31
64
5
2003 May 30-Jun 1
31
67
2
^ Asked of a half sample
Gallup
Definitely win
Probably win
Can win, don't think it will
Cannot win
No opinion

%

%

%

%

%

2007 Nov 30-Dec 2
15
24
20
37
4
2007 Sep 14-16
14
19
22
42
3
2007 Sep 7-8
13
19
23
39
5
2007 Jun 1-3
10
20
24
41
5
2007 Mar 2-4
11
17
20
46
6
2006 Dec 8-10
14
21
25
36
3
2006 Jun 9-11
19
29
21
27
4
2006 Apr 7-9
20
19
21
36
4
2006 Feb 28-Mar 1
24
20
18
34
5
2005 Dec 16-18 ^
24
25
20
27
4
2005 Dec 9-11 ^
25
21
19
30
5
2005 Nov 11-13
23
23
17
33
4
2005 Sep 16-18
21
22
20
34
3
^ Asked of a half sample
Gallup
Safer
Less safe
No change (vol.)
No opinion

%

%

%

%

2007 Sep 7-8
40
49
10
1
2006 Oct 20-22
37
52
9
2
2006 Sep 15-17
41
48
8
3
2005 Aug 5-7
34
57
6
3
2005 Jul 7-10 ^
40
54
5
1
2005 Jun 29-30
44
39
13
4
2005 Jun 24-26 ^
43
46
8
3
2004 Oct 1-3
47
45
5
3
2004 Jun 21-23
37
55
6
2
2004 Mar 5-7
50
37
10
3
2003 Dec 15-16 ^
56
33
9
2
2003 Nov 14-16
48
43
7
2
2003 Oct 24-26
45
43
10
2
2003 Apr 22-23
58
33
8
1
2003 Apr 10
51
37
9
3
^ Asked of a half sample; (vol.)=volunteered response
Gallup
Immediately
In 12 Months
As Many Years as Needed
Send more
No opinion

%

%

%

%

%

2007 Mar 2-4
20
38
26
13
3
2007 Jan 12-14
17
39
29
13
2
2007 Jan 5-7
15
39
31
12
2
2006 Oct 20-22
20
34
35
9
2
2006 Sep 15-17
17
31
42
9
2
2006 Jul 28-30
19
36
35
6
3
2006 Jul 21-23
19
33
38
7
2
2006 Jun 23-25
17
33
41
8
1
2006 Jun 9-11
17
32
42
6
3
2006 Mar 10-12
19
35
39
4
3
2005 Nov 11-13
19
33
38
7
3
Gallup
Favor
Oppose
No opinion

%

%

%

2007 Feb 9-11
38
60
2
2007 Jan 12-14 ^
38
59
3
^ WORDING: As you may know, the Bush administration has proposed a significant increase .... Do you favor or oppose this?
Gallup
Favor
Oppose
No opinion

%

%

%

2007 Jan 15-18
36
61
3
2006 Feb 9-12 ^
40
56
4
2005 Jun 16-19
39
59
2
2005 Mar 18-20 ^
47
47
6
2004 Nov 19-21 ^
48
46
6
2003 Oct 24-26
54
43
3
2003 Apr 22-23
71
26
3
2003 Apr 10 †
72
22
6
2003 Apr 7-8
68
28
4
2003 Apr 5-6
70
27
3
2003 Mar 29-30
70
27
3
2003 Mar 24-25
71
27
2
2003 Mar 22-23
72
25
3
^ Asked of a half sample
Gallup
(Asked of adults who favor the U.S. war with Iraq)
2007 Jan

15-18

%

We need to put a stop to terrorists/terrorism/because of 9/11
34
For democracy/freedom for the Iraqi people
15
We started it and we need to finish it
15
We need to help stabilize that region/for world safety
13
To keep our nation safe and secure
12
Need to stop the dictatorship/Saddam Hussein
10
To keep the fighting over there and not in the U.S.
6
We need to support our president/leaders
6
The Iraqi people need our help and guidance
5
Need to support our troops
4
Other
8
No opinion
2
Percentages add to more than 100% due to multiple responses.
Gallup
(Asked of adults who oppose the U.S. war with Iraq)
2007 Jan

15-18

%

No reason to be there/unnecessary/unjustified
36
False pretenses that got us involved/misled by our leadership/not informed
24
Too many deaths
22
Taking too long/another Vietnam/need to end it
11
Ineffective/can't change the Iraqis' beliefs/way of life
7
Poorly planned from the beginning/no strategy/no exit strategy
7
Cost of it all
6
Don't believe in war/violence
4
We need to worry about our own country
3
Lack of military presence/equipment
2
It is time the Iraqis take care of themselves
1
Lack of help from allies/lack of U.S. commitment
1
Concerned for the safety of family/friends over there
1
It is only making everything worse than it was
1
Other
9
No opinion
2
Percentages add to more than 100% due to multiple responses.
Gallup
Worth going to war
Not worth going to war
No opinion

%

%

%

2006 Dec 8-10 ^
37
62
1
2006 Mar 10-12 ^
37
60
3
2006 Jan 6-8 ^
46
52
3
2005 Nov 11-13 ^
38
60
2
2005 Sep 12-15
45
53
2
2005 Aug 5-7 ^
44
54
2
2005 Jul 7-10
44
53
3
2005 Jun 29-30
46
52
2
2005 Jun 6-8
42
56
2
2005 Apr 29-May 1
41
57
2
2005 Apr 1-2
45
53
2
2005 Feb 7-10
48
50
2
2005 Jan 3-5
46
52
2
2004 Oct 9-10 ^
44
54
2
2004 Sep 3-5 ^
49
48
3
2004 Aug 23-25 ^
51
46
3
2004 Aug 9-11 ^
49
48
3
2004 Jul 8-11 ^
47
50
3
2004 Jun 21-23 ^
46
51
3
2004 Jun 3-6 ^
46
52
2
2004 May 21-23 ^
45
52
3
2004 May 7-9 ^
44
54
2
2004 May 2-4
50
47
3
2004 Apr 16-18 ^
52
46
2
2004 Apr 5-8
50
47
3
2004 Mar 26-28
56
41
3
2004 Mar 5-7
55
43
2
2004 Jan 29-Feb 1
49
49
2
2004 Jan 9-11
59
38
3
2003 Dec 15-16 ^
65
33
2
2003 Dec 14
62
33
5
2003 Dec 5-7
59
39
2
2003 Nov 14-16
56
42
2
2003 Nov 3-5
54
44
2
2003 Oct 24-26
54
44
2
2003 Oct 6-8
55
44
1
2003 Sep 19-21
50
48
2
2003 Sep 8-10
58
40
2
2003 Aug 25-26
63
35
2
2003 Jul 25-27
63
34
3
2003 Jul 18-20
63
35
2
2003 Jun 27-29
56
42
2
2003 Apr 14-16
73
23
4
2003 Apr 9
76
19
5
2003 Apr 7-8
67
30
3
2003 Mar 24-25
68
29
3
2003 Jan 3-5
53
42
5
^ Asked of a half sample
Gallup
U.S. and its allies
Insurgents in Iraq
Neither side
No opinion

%

%

%

%

2006 Dec 8-10 ^
16
17
64
3
2006 Oct 20-22 ^
19
21
58
1
2006 Feb 9-12
31
10
55
4
2005 Dec 16-18 ^
40
9
50
1
2005 Dec 9-11 ^
36
13
49
2
2005 Jun 24-26
34
14
50
2
2005 Feb 25-27
43
7
48
2
2004 Nov 19-21
44
7
46
3
2004 Oct 22-24 ^
35
10
53
2
^ Asked of a half sample
Gallup
Better off
Same
Worse off
No opinion

%

%

%

%

The strength and preparedness of the U.S. military
44
30
23
2
The Iraqi people
38
24
35
2
The war on terrorism
32
30
36
2
The people of the United States
28
36
36
1
Peace and stability in the Middle East
19
37
42
1
Relations between the U.S. and Middle East governments
18
31
49
2
The image of the U.S. around the world
14
25
60
1
Gallup
Part of war on terrorism
Separate military action
No opinion

%

%

%

2006 Sep 15-17
48
49
3
2006 Mar 10-12 ^
44
53
3
2005 Dec 16-18
43
55
2
2005 Jun 24-26 ^
47
50
3
2004 Oct 1-3
50
47
3
2004 Jul 19-21 ^
51
47
2
2004 Mar 26-28
50
48
2
2003 Aug 25-26
57
41
2
^ Asked of a half sample
Gallup
Yes, is
No, is not
No opinion

%

%

%

2006 Mar 10-12
47
50
2
2003 Mar 29-30
73
24
3
Gallup
Yes, was involved
No, not involved
No opinion

%

%

%

2006 Mar 10-12 ^
39
54
7
2004 Oct 1-3 ^
42
53
5
2004 Jun 21-23 ^
44
51
5
2003 Dec 15-16 ^
53
42
5
2003 Sep 19-21
43
50
7
2003 Mar 14-15 ^
51
41
8
2002 Aug 19-21 ^
53
34
13
^ Asked of a half sample
Gallup
Certain it had
Some doubt
A lot of doubt
Certain it did not have
No opinion

%

%

%

%

%

2006 Mar 10-12 ^
29
28
22
19
2
2003 Jan 10-12 #
41
45
10
1
3
^ Asked of a half sample; # WORDING: "....view of whether Iraq has weapons..."
Gallup
Yes, will
No, will not
No opinion

%

%

%

2005 Dec 9-11
41
55
4
2005 Oct 21-23
40
56
4
2005 Jul 22-24
37
58
5
2004 Nov 19-21
46
49
5
2004 Apr 16-18
37
57
6
Gallup
Yes, do
No, do not
No opinion

%

%

%

War with Iraq
2005 Sep 16-18
67
33
*
2004 Oct 22-24
70
28
2
2003 Mar 29-30
81
18
1
War on terrorism
2001 Nov 2-4
89
10
1
Involvement in Iraq
1998 Feb 20-22
75
23
2
Persian Gulf War
1991 Jul 18-21
81
18
1
1990 Dec 13-16
74
24
2
1990 Nov 29-Dec 2
73
27
*
1990 Nov 15-18
69
29
2
1990 Sep 27-30
75
23
2
1990 Aug 30-Sep 2
76
23
1
1990 Aug 23-26
70
28
2
1990 Aug 16-19
75
24
1
Vietnam War
1967 May 11-16
49
48
3
World War II
1944 Mar 31-Apr 4
59
41
--
1942 Dec 4-9
68
32
--
1942 Nov 21-26
73
27
--
* Less than 0.5%
Gallup
Favor
Oppose
No opinion

%

%

%

2003 Mar 14-15 ^
64
33
3
2003 Mar 3-5
59
37
4
2003 Feb 24-26
59
37
4
2003 Feb 17-19
59
38
3
2003 Feb 7-9
63
34
3
2003 Jan 31-Feb 2
58
38
4
2003 Jan 23-25
52
43
5
2003 Jan 10-12
56
38
6
2003 Jan 3-5 ^
56
39
5
2002 Dec 19-22 ^
53
38
9
2002 Dec 16-17 ^
58
35
7
2002 Dec 9-10
55
39
6
2002 Nov 22-24
58
37
5
2002 Nov 8-10
59
35
6
2002 Oct 21-22
54
40
6
2002 Oct 14-17 ^
56
37
7
2002 Oct 3-6
53
40
7
2002 Sep 20-22 ^
57
38
5
2002 Sep 13-16
57
39
4
2002 Sep 5-8 ^
58
36
6
2002 Sep 2-4
58
36
6
2002 Aug 19-21
53
41
6
2002 Jun 17-19 ^
61
31
8
2001 Nov 26-27
74
20
6
2001 Feb 19-21
52
42
6
1993 Jun 29-30
70
27
3
1992 Mar 30-Apr 5
55
40
5
^ Asked of half sample
Gallup
Subscribe to receive weekly Gallup News alerts.
Never miss our latest insights.
Recommended
Americans have the most favorable opinion of Canada, but this ally and others have soured considerably on U.S. leadership since 2016.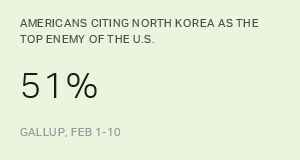 Just over half of Americans cite North Korea as the United States' greatest enemy, more than triple the percentage who said this in 2016.
Before the recent clashes between Iraqi and Kurdish forces, confidence in the Iraqi government in the semi-autonomous region was on an upswing.