WASHINGTON, D.C. -- Amid a tight race for a U.S. Senate seat from Alaska, a growing proportion of Alaskans, now 59%, identify as political independents. At the same time, there are recent lows in the percentage of Alaskans identifying as Republicans (25%) and the percentage identifying as Democrats (13%). These shifts create a more challenging political landscape for the campaigns of both incumbent Democratic Sen. Mark Begich and his Republican challenger, former Alaska Attorney General Dan Sullivan.
The race between Begich and Sullivan has been highly watched as national Republicans and Democrats hone in on competitive elections. The campaign is similar to those in North Carolina and Iowa that could decide the majority in the U.S. Senate. Alaska has traditionally been among the states with the highest percentages of residents who identify as independents, and the current Alaskan independent percentage far exceeds the national average of 40%.
Historically, however, the state has leaned right. Despite Alaskans' initial inclination to identify as politically independent, when examined closer, more Alaska independents say they "lean" to the Republican Party than to the Democratic Party. That leaves a situation in which 42% of Alaskan adults identify as Republican or lean Republican, compared with 34% who identify as Democrats or lean Democratic. At the same time, the current Republican advantage is less than Gallup has measured in recent years. Still, the comparable national percentages are 43% who identify with or lean Democrat, and 39% who identify with or lean Republican. This underscores Alaska's generally more Republican orientation.
Party identification and several other political and economic measures for Alaska are included in Gallup's new State Scorecard assessments, which present data for 14 key measures for each of the 50 states. Within each assessment, the state's performance on the measure is compared with the national average for the same time period.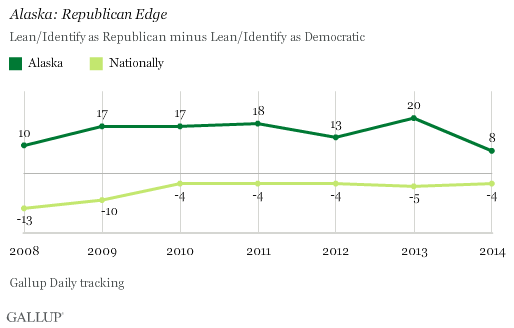 Historically, the state has leaned to the right, with Republicans exerting firm control over both of the state's U.S. Senate seats. Prior to Begich's historic victory in 2008, former Republican Sen. Ted Stevens held his seat for four decades before losing to Begich amidst an extensive federal corruption investigation. Former Sen. Frank Murkowski and his daughter, incumbent Sen. Lisa Murkowski -- both Republicans - have occupied the other seat since the early 1980s. The state's at-large congressman, Republican Don Young, has owned Alaska's single House seat since 1973.
One of the Lowest Obama Approval Scores in the Nation
Despite being the state's first Democrat in Congress in nearly three decades, Begich has done much to distance himself from President Barack Obama, a fellow Democrat also elected in 2008. Given Alaska's political climate, this is a smart move if not a political necessity for the vulnerable incumbent. One in three Alaskans (34%) approve of Obama's job performance -- well below the national average of 43%.
Alaskans Have Low Confidence in U.S. Economy, but High Confidence at Home
In the gubernatorial election, too, the surge in independents could muddy the path to re-election for Republican Gov. Sean Parnell. Parnell is being challenged by a joint ticket led by former Republican Valdez Mayor Bill Walker, an independent candidate for governor, and a Democratic running mate for lieutenant governor. Parnell successfully won election in 2010 after taking over for former Gov. Sarah Palin, who resigned. However, a unique challenge from a bipartisan ticket could threaten his standing with a swath of independent voters.
Parnell, however, has some advantages on his side. Alaskans' confidence in their state's economy, as measured in Gallup's 2013 50-state poll, was well above that in the other states. Alaskans' confidence in the national economy based on January through June 2014 polling is similar to the national average.
Most residents of Alaska also view their state as among the best places to live. While 46% of Americans say their state is the best or one of the best places, more than three in four Alaskans (77%) feel this way about where they live, putting Alaska along with Montana at the top of the list of states on this dimension.
Additionally -- and crucially for Parnell -- Alaskans were among the most trusting of their state government, according to the 2013 50-state poll. Part of this may come from the fact that more than one in four residents work for the government in some capacity -- the highest figure in the nation -- including the government of the state of Alaska.
This culmination of factors gives Parnell -- who has been in office for five years now -- a favorable climate with which to run for re-election -- one that many other governors likely wish they could enjoy in their own states.
Bottom Line
The shifts in party identification among Alaskans make a complicated landscape for all candidates running for statewide office in the Last Frontier this November. For incumbent Sen. Mark Begich, the shifts could serve to his benefit as a result of the decline in those who identify as Republicans. Those who identify as Democrats are also on the decline.
However, the large percentage of independents also leaves many question marks in this unpredictable election season, particularly for the re-election race of Gov. Parnell. Largely, voters in Alaska treat incumbents well. But the unprecedented independent-Democratic ticket attempting to unseat Parnell could provide the upset to a statewide incumbent that Alaska has not seen since Ted Stevens' loss in 2008.
Survey Methods
Results for this Gallup poll are based on telephone interviews conducted on the Gallup Daily tracking survey with a random sample of 88,802 adults, aged 18 and older, living in all 50 U.S. states and the District of Columbia. Results are also based on Gallup's recent 50-state poll conducted June-December 2013 with a random sample of approximately 600 adults per state, aged 18 and older, living in all 50 U.S. states.
For results based on the 2014 sample of 278 Alaska residents, the margin of sampling error is ±7 percentage points at the 95% confidence level.
For results based on the 2013 sample of adults per state, the margin of sampling error is ±5 percentage points at the 95% confidence level.
For both the Gallup Daily tracking poll and the 50-state poll, interviews are conducted with respondents on landline telephones and cellular phones, with interviews conducted in Spanish for respondents who are primarily Spanish-speaking. Landline telephone numbers and cellphone numbers are selected using random-digit-dial methods. Landline respondents are chosen at random within each household on the basis of which member had the most recent birthday. In the Gallup Daily tracking poll, each sample of national adults includes a minimum quota of 50% cellphone respondents and 50% landline respondents, with additional minimum quotas by region. In the 50-state poll, each sample of national adults includes minimum quotas of cellphone respondents and landline respondents based on cellphone and landline use in the respective state.
Samples are weighted to correct for unequal selection probability, nonresponse, and double coverage of landline and cell users in the two sampling frames. They are also weighted to match the national demographics of gender, age, race, Hispanic ethnicity, education, region, population density, and phone status (cellphone only/landline only/both, and cellphone mostly). Demographic weighting targets are based on the most recent Current Population Survey figures for the aged 18 and older U.S. population. Phone status targets are based on the most recent National Health Interview Survey. Population density targets are based on the most recent U.S. census. All reported margins of sampling error include the computed design effects for weighting.
In addition to sampling error, question wording and practical difficulties in conducting surveys can introduce error or bias into the findings of public opinion polls.
For more details on Gallup's polling methodology, visit www.gallup.com.