Story Highlights
In U.S., as ACA takes hold, most adults OK with costs
The oldest Americans are most satisfied
Americans rate healthcare services and coverage well
WASHINGTON, D.C. -- Nearly six in 10 Americans (57%) say they are satisfied with the total cost they pay for healthcare, on par with other readings over the last five years. So far, there is little indication that the Affordable Care Act (ACA), also known as "Obamacare," has affected the way Americans view their healthcare costs, either positively or negatively.
Healthcare has been the focus of political and economic debates since at least the start of President Barack Obama's first term, when Obama and congressional Democrats passed the controversial healthcare law in an attempt to increase the number of Americans with health insurance. This law also aimed to stop or at least lessen the ever-rising costs of healthcare in the country, though costs continue to climb.
Despite this backdrop, the majority of Americans have been serene about the cost of their healthcare for over a decade, and there is little evidence of change in those perceptions from recent years. Conversely, few are satisfied with the total cost of healthcare across the U.S., indicating that while most Americans believe the cost of healthcare is too expensive nationally, they don't consider it a problem for themselves.
Oldest Americans Most Satisfied With Cost of Their Healthcare
Americans aged 65 and older are by far the most satisfied with the cost of their healthcare, at 77%, compared with any other major demographic group The poorest Americans, those reporting a yearly household income of less than $20,000, are slightly above average in terms of their satisfaction with healthcare costs, at 61%. Interestingly, a significant share of both groups are eligible for the country's two government-run social healthcare programs, Medicare and Medicaid. Notably, about three-quarters of U.S. adults who have insurance via these two programs are satisfied with the cost of healthcare -- 16 percentage points higher than adults using private insurance (58%).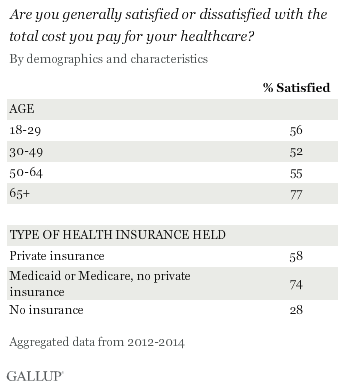 Meanwhile, some types of Americans appear to be feeling the pinch of healthcare costs more than others. The uninsured are the least satisfied (28%), for reasons that are not so mysterious. Americans younger than 65 are much less likely to be satisfied with the total cost of their healthcare, revealing a huge disparity between U.S. adults of working age and those in their retirement years on this item.
Strong Majorities Positive on Quality of Healthcare and Coverage
Nearly eight in 10 U.S. adults rate the quality of healthcare they receive as "excellent" or "good" (79%), a continued sign that Americans are largely content with the services they receive, whatever the cost considerations might be. Again, there has been no significant change in these perceptions since the 2010 passage of the ACA.
While U.S. adults rate the healthcare services they receive positively, some Americans struggle with what services or doctors their health insurance plans allow, or their healthcare "coverage." But the vast majority rate their overall healthcare coverage as excellent or good (67%). This hovers around where it has been for as long as Gallup has measured this question -- both before the healthcare law took effect and after. The percentage who say their coverage is "only fair" is up slightly, but from a big picture perspective, the main takeaway from this trend is one of little change in recent years.
U.S. adults holding health insurance via a private insurance plan are about as likely to rate their coverage positively (77%) as Americans holding either Medicare or Medicaid (75%), suggesting both groups are about equally happy with their plans. But, as noted earlier, Medicare and Medicaid holders are far more satisfied with the cost of their plan.
As Gallup has found in the past, Americans are far less effusive with their praise for healthcare coverage in the U.S. as a whole. This year is not an exception: Fewer than four in 10 Americans now rate healthcare coverage in the U.S. as excellent or good.
Bottom Line
Before passing the ACA, the large majority of Americans who had health insurance were broadly satisfied with their medical care and coverage and their healthcare costs. Thus, a major test of the ACA will be whether it succeeds in expanding affordable healthcare to the previously uninsured while doing "no harm" to the large majority of Americans who are already highly satisfied with their healthcare coverage. So far, the verdict is positive. Gallup finds no decrease in insured Americans' satisfaction with their healthcare services and their costs. At the same time, the uninsured are as negative as ever, but their numbers have dwindled. Gallup's annual November updates of these trends will monitor whether this positive outcome persists as implementation of the ACA progresses.
Survey Methods
Results for this Gallup poll are based on telephone interviews conducted Nov. 6-9, 2014, with a random sample of 828 adults, aged 18 and older, living in all 50 U.S. states and the District of Columbia. For results based on the total sample of national adults, the margin of sampling error is ±4 percentage points at the 95% confidence level.
Each sample of national adults includes a minimum quota of 50% cellphone respondents and 50% landline respondents, with additional minimum quotas by time zone within region. Landline and cellular telephone numbers are selected using random-digit-dial methods.
View survey methodology, complete question responses and trends.
Learn more about how Gallup Poll Social Series works.