Story Highlights
Economic Confidence Index averages -9 for week ending Dec. 7
Confidence remains flat for third week in a row
American Economic Confidence still higher than earlier in 2014
WASHINGTON, D.C. -- Gallup's Economic Confidence Index for the U.S. remained level at -9 for the week ending Dec. 7. This is similar to the index average over the past two weeks, and remains at a higher level than seen throughout most of 2014.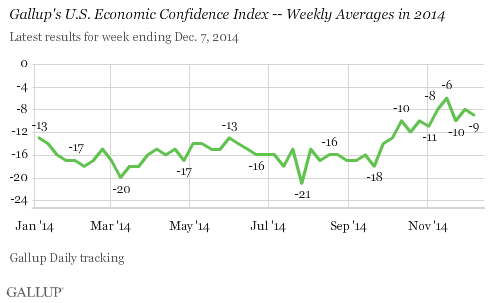 After a comparatively stable beginning of the year, the Economic Confidence Index began to improve in late September and climbed to -6 in November, an 18-month high for the index. It then dropped to -10 the following week, and has remained at about that level for the past two weeks.
Gallup's Economic Confidence Index is the average of two components: how Americans view current economic conditions and whether they feel the economy is getting better or worse. For the week ending Dec. 7, 2014, 23% of Americans said the economy was "excellent" or "good," while 30% said it was "poor." This resulted in a current conditions index score of -7, the same as it has been the past four weeks.
The economic outlook component measured -10, essentially the same as the -9 found the week prior. The outlook score is the result of 43% of Americans saying the economy is "getting better" and 53% saying it is "getting worse."
With the exception of one week in November, Americans' ratings of the current economy have been a bit better than their outlook for the economy since the index began to improve in late September.
Bottom Line
The Economic Confidence Index was flat in the U.S. last week, but remains higher than the weekly averages prior to October. Although the weekly average is down slightly from the 18-month high found in late November, confidence picked up a bit at the end of the week. It reached -6 for Friday through Sunday interviewing, perhaps in response to the positive employment report released Friday. Higher economic confidence at the end of the year could be a good sign of a stronger holiday shopping season.
Survey Methods
Results for this Gallup poll are based on telephone interviews conducted Dec. 1-7, 2014, on the Gallup U.S. Daily survey, with a random sample of 3,036 adults, aged 18 and older, living in all 50 U.S. states and the District of Columbia. For results based on the total sample of national adults, the margin of sampling error is ±2 percentage points at the 95% confidence level.
Each sample of national adults includes a minimum quota of 50% cellphone respondents and 50% landline respondents, with additional minimum quotas by time zone within region. Landline and cellular telephone numbers are selected using random-digit-dial methods.
Learn more about how the Gallup U.S. Daily works.