Story Highlights
One in six, 17%, avoid gluten-free foods
Majority do not think about gluten-free foods
Nonwhites more likely than whites to include gluten-free foods
WASHINGTON, D.C. -- One in five Americans say they actively try to include gluten-free foods in their diet, while 17% say they avoid gluten-free foods. However, the majority of adults, 58%, say they don't think about gluten-free foods either way.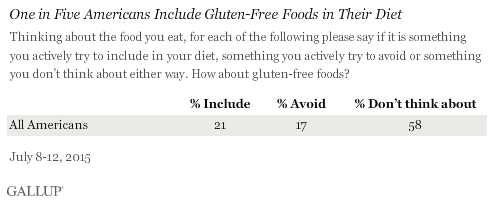 In a July poll, Gallup asked 1,009 Americans about the foods they include, or avoid, in their diet as part of its annual Consumption Habits poll. "Gluten-free foods" was included in the list this year for the first time.
There are a number of reasons people may aim for a diet free of gluten, a form of protein found in wheat, rye and barley and their derivatives. For example, gluten can damage the small intestine of people with celiac disease, which is estimated to affect one in 100 people worldwide. However, the Mayo Clinic finds that many people who follow a gluten-free diet have not been diagnosed with the disease. A Mintel Research study found that sales of gluten-free foods increased by 63% between 2012 and 2014, despite a much smaller increase in the percentage of people diagnosed with celiac disease. Based on the new Gallup data, far more U.S. adults say they actively try to include gluten-free foods in their diet than actually suffer from celiac disease.
Nonwhite Americans More Likely Than Whites to Eat Gluten-Free Foods
Demographic differences in those who seek out gluten-free foods are fairly minor. One in three nonwhite Americans say they actively include gluten-free foods, compared with 17% of whites. Age has a modest relationship to use of gluten-free foods, with one in four adults younger than 50 engaging in the practice, compared with 17% of those aged 50 and older. There are not major differences between men and women.
More educated and wealthier Americans tend to be less likely to include gluten free-foods in their diet than Americans with no college experience and lower-income Americans, respectively, but these differences are also not large.
Bottom Line
The gluten-free food market has grown substantially in the past five years, as has the introduction of more foods that do not contain gluten. With one in five Americans now seeking to include these products in their diet, the prevalence goes well beyond the roughly 1% of Americans with celiac disease, who have a serious medical reason to avoid gluten. Some Americans may eat gluten-free foods as part of an attempt to lose weight -- a variant of a no-carb diet -- while others claim it makes them feel better. Although there is some debate over how healthy a gluten-free diet is for those who do not have celiac disease, the percentage of Americans who say they are attempting to include gluten-free food in their diet shows how widespread the practice is.
Survey Methods
Results for this Gallup poll are based on telephone interviews conducted July 8-12, 2015, with a random sample of 1,009 adults, aged 18 and older, living in all 50 U.S. states and the District of Columbia. For results based on the total sample of national adults, the margin of sampling error is ±4 percentage points at the 95% confidence level. All reported margins of sampling error include computed design effects for weighting.
Each sample of national adults includes a minimum quota of 50% cellphone respondents and 50% landline respondents, with additional minimum quotas by time zone within region. Landline and cellular telephone numbers are selected using random-digit-dial methods.
Learn more about how Gallup Poll Social Series works.