Story Highlights
45% of Americans say Barack Obama is respected internationally
GOP no more likely than last year to say Obama is respected
Obama's approval on handling foreign affairs up slightly
WASHINGTON, D.C. -- Forty-five percent of Americans believe world leaders respect President Barack Obama, up from 37% a year ago. Still, the percentage who say international leaders respect Obama falls short of the 51% to 67% who held this view from 2009 to 2013.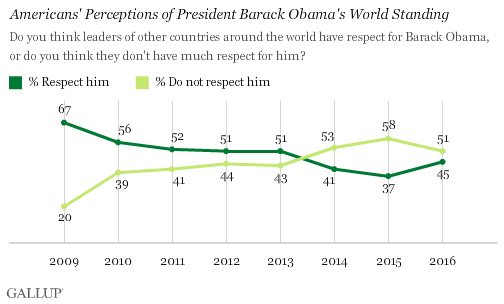 The latest world-respect figure, from Gallup's Feb. 3-7 World Affairs poll, represents the first time in Gallup's eight-year trend that Americans' perceptions of Obama's world standing have improved. When Obama first took office in 2009, 67% of Americans believed he was respected by leaders of other countries. Within two years, the percentage holding this view dropped to 52%, and by 2014 it fell to 41%.
Perceptions that Obama is respected on the world stage bottomed out last year after the Islamic State group emerged as a serious threat to the U.S., and as Russia-U.S. relations became increasingly tense over Russia's involvement in Ukraine. Obama was also grappling with the fallout of Edward Snowden's leaks of classified information.
In the past year, U.S.-Russia tensions over Ukraine eased after a ceasefire helped slow hostilities in the region. Additionally, Obama succeeded in reaching a major international agreement with Iran to limit that country's ability to develop nuclear weapons, although that agreement remains controversial.
Americans' views of Obama's international standing are divided across party lines. While about four in five Democrats say foreign leaders respect the president, only about one in seven Republicans agree. And a majority of independents say leaders of other countries do not respect Obama.
The rise in Americans' belief that Obama is respected on the world stage stems from increased percentages of Democrats and independents holding this view today compared with a year ago. Republicans are essentially unchanged.
Obama's Approval Rating on Handling Foreign Affairs Up Slightly
Americans' approval of Obama's handling of foreign affairs has also edged up compared with last February's measure. Thirty-nine percent of Americans approve of Obama's work on the issue, up slightly from 36% in February 2015. Obama's overall job approval rating was 50% in this year's Feb. 3-7 survey, compared with 46% last February -- so the uptick in approval on foreign affairs partly reflects a more positive view of the president overall.
In addition to the annual February updates, Gallup has measured Obama's approval rating on foreign affairs numerous other times during the years since he first took office. Overall, his foreign affairs approval rating has generally waned over the course of his presidency but has spiked a few times. His approval rating on handling foreign affairs was highest in his first year in office, at 61% in March 2009. It fell below 50% for most of 2010 and 2011, but rose to 51% after the killing of Osama bin Laden in May 2011.
Bottom Line
Obama's securing of an Iran nuclear deal may have increased Democrats' faith that the president is respected by international leaders, which boosted Americans' views overall. But while perceptions of the respect Obama receives from foreign leaders has improved, a majority of Americans still feel he is not respected, and Republicans' views have not improved. Americans' political views, which are especially polarized in an election year, likely affect their opinions of Obama's standing among world leaders.
Obama's approval rating on handling foreign affairs is not the lowest recorded for him, but it is substantially lower than earlier in his presidency. Over the course of his time in office, Obama's shift in focus moved from killing bin Laden and exiting Iraq to arguably more complicated matters such as the rise of the Islamic State group, tensions with Russia and civil war in Syria. While the Iran nuclear deal may have boosted Americans' perception of Obama as a president who can negotiate with other leaders, the unpopularity of the deal itself among Americans may have been a factor in why his approval rating on foreign affairs didn't receive a similarly sized increase.
Historical data are available in Gallup Analytics.
Survey Methods
Results for this Gallup poll are based on telephone interviews conducted Feb. 3-7, 2016, with a random sample of 1,021 adults, aged 18 and older, living in all 50 U.S. states and the District of Columbia. For results based on the total sample of national adults, the margin of sampling error is ±4 percentage points at the 95% confidence level. All reported margins of sampling error include computed design effects for weighting.
Each sample of national adults includes a minimum quota of 60% cellphone respondents and 40% landline respondents, with additional minimum quotas by time zone within region. Landline and cellular telephone numbers are selected using random-digit-dial methods.
View complete question responses and trends.
Learn more about how the Gallup Poll Social Series works.