Story Highlights
Job Creation Index was +37 in May
South, Midwest regions have highest job creation scores
East continues to trail behind other regions
WASHINGTON, D.C. -- Gallup's Job Creation Index was +37 in May, tied with the record high found in March. This marks 15 straight months of the index reaching +30 or higher.
The index has generally been moving upward since bottoming out at -5 in April 2009 during the Great Recession. It has been in positive territory since February 2010.
Gallup's Job Creation Index is based on employed U.S. adults' reports of whether their employer is hiring workers and expanding the size of its workforce, or letting people go and reducing the size of its workforce. Gallup computes the index by subtracting the percentage of those who say their employer is cutting jobs from the percentage who say their employer is adding jobs.
In May, 46% of employees said their company was hiring, compared with 45% in April. Meanwhile, the percentage who said their company was letting workers go held steady at 9%. Forty percent of workers said their employer was not changing the size of its workforce.
The Job Creation Index is a nearly real-time indicator of the nation's employment picture across all industries and business sectors. Gallup's index does not measure the type (full time or part time) or quality of the job gains or losses as reported by workers.
East Lags Behind South, Midwest and West in Job Creation
Worker reports of hiring have been much less positive in the East than in the other regions of the country. In the East, the Job Creation Index averaged +31 in May, compared with scores of +42 in the South, +38 in the Midwest and +37 in the West. This year, Southern and Midwestern employees have generally been more likely to report net job creation than have workers in the West. The East has experienced virtually no growth since last fall.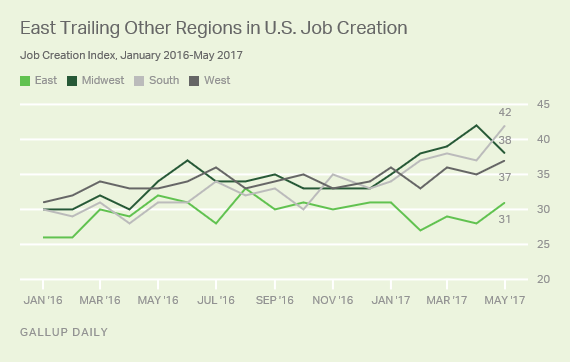 This is the first time index scores in all regions have been above +30 since January. The West has rebounded the most from the Great Recession in terms of the Job Creation Index, rising to +37 after falling to -11 three times in 2009.
Implications
Gallup's Job Creation Index is at an all-time high, reflecting an improving job market. These findings generally match the U.S. government's data on the job market, as evidenced by the Bureau of Labor Statistics' unemployment rate reaching 4.3% in May and the underemployment rate falling from 8.6% in April to 8.4% in May.
While the Midwest and South have flirted with and crossed over the +40 range in recent months, the Job Creation Index still has room to grow in the East and West. In 2016, the Salt Lake City metropolitan area index reached +45 and Nevada hit +40 -- and these are solid depictions of where the Job Creation Index may ascend to in the coming months.
These data are available in Gallup Analytics.
Gallup.com reports results from these indexes in daily, weekly and monthly averages and in Gallup.com stories. Complete trend data are always available to view in the following charts:
Daily: Employment, Economic Confidence, Consumer Spending
Weekly: Employment, Economic Confidence, Job Creation, Consumer Spending
Read more about Gallup's economic measures.
View our economic release schedule.
Survey Methods
Results for this Gallup poll are based on telephone interviews conducted May 1-31, 2017, on the Gallup Daily tracking survey, with a random sample of 9,554 employed adults, aged 18 and older, and living in all 50 U.S. states and the District of Columbia. For results based on the total sample of employed adults, the margin of sampling error is ±1 percentage point at the 95% confidence level. All reported margins of sampling error include computed design effects for weighting.
Each sample of national adults includes a minimum quota of 70% cellphone respondents and 30% landline respondents, with additional minimum quotas by time zone within region. Landline and cellular telephone numbers are selected using random-digit-dial methods.
Learn more about how the Gallup U.S. Daily works.