Story Highlights
Percentage satisfied with country jumped seven points to 36% in February
GOP satisfaction at long-term high, Democrats' up slightly
WASHINGTON, D.C. -- The U.S. national mood improved markedly this month, with the percentage of Americans satisfied with the way things are going in the country jumping to 36% in early February from 29% at the start of January.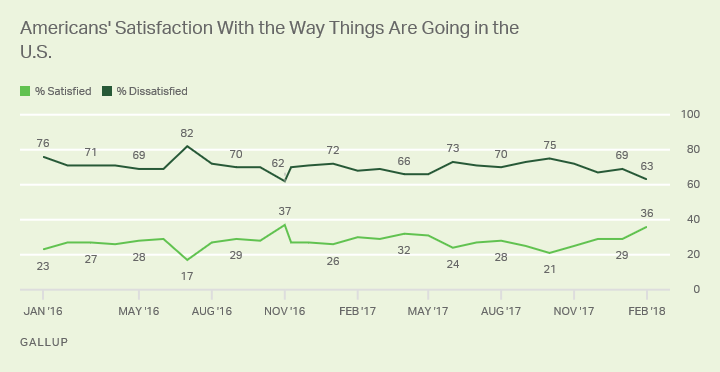 Gallup measures Americans' satisfaction with the country at the start of each month as part of its monthly Gallup Poll Social Series. This month's poll was conducted Feb. 1-10, coinciding with significant volatility on Wall Street but also a strong jobs report. Also of potential encouragement, at the start of the month many workers would have seen their first pay stub reflecting the recently passed federal income tax cuts.
Satisfaction was steady at 29% the prior two months after recovering from a dip to 21% in October 2017. The latter reading was from a poll conducted shortly after the most deadly shooting in the nation's history unfolded on Oct. 1 in Las Vegas, resulting in 58 dead and hundreds injured.
Republican Contentment on an Upswing
U.S. satisfaction hasn't been as high as it is today since November 2016, right before the presidential election, when Democrats' satisfaction soared. That likely reflected their expectation that Hillary Clinton would win. After Donald Trump won instead, Democrats' satisfaction dropped, ultimately moving below 20%. It has continued to be minimal while Republicans' has been relatively high.
This month's jump in satisfaction reflects slightly more positive evaluations of the nation's direction from Republicans as well as from Democrats. At 67%, Republicans' satisfaction is the highest of the Trump presidency while Democrats' 13% is low, but at the upper end of their Trump-era range.
Meanwhile, independents' satisfaction held steady this month at 31%, tying the high mark for this group since Trump was elected.
President Trump's job approval rating has improved since the State of the Union in which he touted the strength of the economy and the GOP tax cuts. It is now the highest it's been since last May, though, at 40%, it remains historically weak.
Meanwhile, Congress' job rating has declined five percentage points since early January to 15%, as much of the news from Capitol Hill has focused on the political brinksmanship employed to pass a new budget, including two short-lived government shutdowns.
Bottom Line
Americans have had a lot to react to on the national stage in the past month, ranging from political theater and conflict to economic triumph and turmoil. For now, the net effect is that Americans are more positive than they've been for some time about Trump and the state of the nation, while less positive about Congress. That could have implications for Republicans going into the midterms if the GOP-led Congress fails to see the improvement the other major metrics of Americans' national mood are seeing.
Survey Methods
Results for this Gallup poll are based on telephone interviews conducted Feb. 1-10, 2018, with a random sample of 1,044 adults, aged 18 and older, living in all 50 U.S. states and the District of Columbia. For results based on the total sample of national adults, the margin of sampling error is ±4 percentage points at the 95% confidence level. All reported margins of sampling error include computed design effects for weighting.
Each sample of national adults includes a minimum quota of 70% cellphone respondents and 30% landline respondents, with additional minimum quotas by time zone within region. Landline and cellular telephone numbers are selected using random-digit-dial methods.
View survey methodology, complete question responses and trends.
Learn more about how the Gallup Poll Social Series works.