Story Highlights
25% approve of how Congress is handling its job, up from 15% in December
Highest congressional approval rating since late May/early June
Favorable ratings of Nancy Pelosi have improved
WASHINGTON, D.C. -- Twenty-five percent of Americans approve of the way Congress is handling its job in Gallup's Jan. 4-15 update, a 10-percentage-point increase from December and the highest congressional approval rating since early in the coronavirus pandemic.
Line graph. Congress' recent job approval ratings. The 25% job approval rating is up from 15% in December. Congress also had a 25% rating in June, but ratings of 30% in April and 31% in May.
Gallup's update comes after Congress passed a major coronavirus relief package that then-President Donald Trump later signed into law in late December. Early in the poll's field period, Democrats won two U.S. Senate runoff elections in Georgia, giving the party control of both houses of Congress in late January. The attack on the U.S. Capitol by rioters seeking to prevent Congress from officially declaring Joe Biden's election victory also occurred during the poll's field period. However, the survey was largely completed by the time the House of Representatives voted on Jan. 13 to impeach Trump on charges of incitement of insurrection for his actions leading up to the Capitol Hill riot.
It is unclear to what extent each of these events led to a higher job approval rating for Congress, though the institution did receive a similar boost in approval after passing the last major coronavirus relief package in late March.
Approval of Congress has increased the most among Democrats, moving from 11% in December to 30% in January. Independents also rate Congress better -- showing an increase of nine points, from 16% to 25% -- while Republicans' level of support is essentially flat at 17%.
When Congress' job approval ratings improved last spring, the increases were also greater among Democrats and independents than among Republicans.
Line graph. Congressional job approval ratings by party. Democrats show the greatest increase in job approval, up to 30% from 11% last month. Independents ratings of Congress are also up while Republicans are essentially unchanged. Democrats showed a greater increase in approval of Congress last spring as well, rising as high as 39%. For much of 2020, thought, Republicans and Democrats had roughly similar approval ratings of Congress.
Congress' job approval ratings are usually low, averaging 30% since Gallup first asked the question in 1974. Since October 2009, all but the April and May 2020 readings have been below the historical average, including the record-low 9% in November 2013.
Pelosi Rated Better; McConnell Worse
In addition to asking about Congress generally, the poll asked about two of its leaders. Americans' evaluations of Speaker of the House Nancy Pelosi have improved, while their opinions of Senate Republican Leader Mitch McConnell are the most negative they have ever been, largely because of a sharp drop in favorable ratings among Republicans.
Pelosi's favorable rating improved from 39% in February 2020 to 44% in the latest poll, tying her personal high from January 2007, when she first became House speaker. At that time, Pelosi was not as well-known as she is today, and her unfavorable rating was much lower than it is now (22% vs. 50%, respectively). Since 2009, Pelosi's unfavorable rating has consistently exceeded her favorable rating.
Line graph. Favorable and unfavorable ratings of Nancy Pelosi. The current 44% favorable rating ties a January 2007 poll as the highest for her, but 50% view her unfavorably now compared with 22% in 2007. Her lowest favorable rating as speaker was 29% in October 2010. She also had a 29% favorable rating in October 2018 when she was House Minority Leader, just before the Democratic Party regained its House majority in the 2018 midterm elections.
Americans typically have been much more negative than positive in their evaluations of recent speakers of the House. While nearly all were rated more favorably than unfavorably when they became speaker, all left the position with net-negative ratings, including Pelosi's immediate predecessor, Republican Paul Ryan.
Compared with the prior measure in February 2020, Pelosi's ratings have improved among independents but not Republicans or Democrats. Eighty-one percent of Democrats, 38% of independents and 7% of Republicans currently have favorable views of her.
As Pelosi's ratings have improved, McConnell's have deteriorated, with 22% now having a favorable and 64% an unfavorable opinion of him. The unfavorable rating is the highest Gallup has measured for him, by 14 points. His lowest favorable rating was 18% in October 2015 -- but at that time, 41% viewed him unfavorably and four in 10 did not have an opinion of him.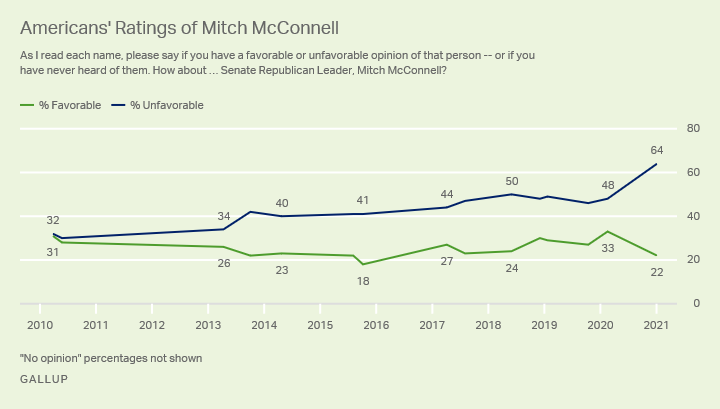 Line graph. Favorable and unfavorable ratings of Mitch McConnell. The current 22% favorable rating is among his lowest, and his 64% unfavorable rating is his highest ever.
McConnell has been at the center of many recent political controversies. He did not acknowledge Biden's victory in the 2020 presidential election until the electoral votes were counted on Dec. 14, but he did come out forcefully against the effort by some Republicans to object to the electoral votes from certain states. In late December, McConnell also stalled efforts favored by Trump and congressional Democrats to boost coronavirus stimulus payments from the $600 per person approved in the Dec. 21 bill to $2,000. McConnell has also recently criticized Trump's actions leading up to the Capitol Hill riot.
Opinions of McConnell have suffered the most among his fellow Republicans, dropping from 69% favorable in February 2020 to 42% now. Independents show a modest decline in favorability toward McConnell, from 27% to 19%, while Democrats' opinions are slightly improved (from 6% to 11%).
Republicans' opinions of McConnell are now split, with 44% holding an unfavorable opinion of him. McConnell had similar ratings among Republicans in October 2015, when the GOP held majorities in both houses but could not get much of its agenda passed with Democratic President Barack Obama in office.
After Trump was elected and the party retained its congressional majorities, Republicans once again viewed McConnell more positively than negatively.
The latest poll went into the field before the outcomes of the Georgia runoff elections were known and Democrats won control of the U.S. Senate, so Gallup did not get a measure on the new Senate Majority Leader, Chuck Schumer of New York. The most recent Gallup favorable rating of Schumer is from February 2020.
Bottom Line
Americans continue to hold negative views of Congress and its leaders, but their opinion of the job Congress is doing has improved, as has their opinion of House Speaker Pelosi.
Congressional approval saw significant increases the last two times a new president was inaugurated whose party also controlled both houses of Congress -- Obama in 2009 and Trump in 2017.
Those increases were largely fueled by higher ratings among supporters of the new president's party -- but they occurred in February of those years, after the presidential inauguration, rather than in early January after the installation of the new Congress.
This year, Democrats showed a significant increase in congressional approval after the new Congress began but before the inauguration, so it remains to be seen whether there will be further increases in approval among Democrats in Gallup's first post-inauguration update in February.
McConnell begins his new role as Senate minority leader with the worst ratings of his career, largely because of increasingly negative opinions from his fellow Republicans. McConnell's recent public breaks with Trump on larger stimulus payments and the election outcome likely cost him support among his base. However, the last time Republicans were as critical of McConnell as they are now, his favorable rating eventually recovered, as he worked with Trump to advance the Republican agenda.
View complete question responses and trends (PDF download).
Learn more about how the Gallup Poll Social Series works.