WASHINGTON, D.C. -- A Gallup Poll conducted in Myanmar's urban areas in 2006 reveals that many Burmese were struggling to feed and house their families long before Cyclone Nargis left millions hungry and homeless.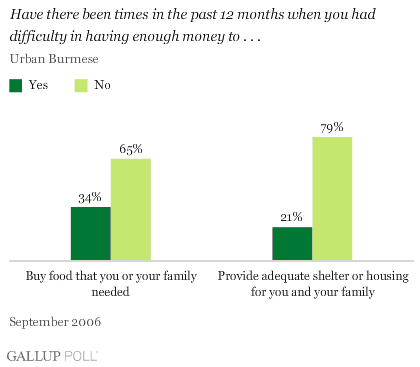 The United Nation's warning last week that Myanmar could face prolonged food shortages is grim news for the poor country, where the World Food Program estimates millions were undernourished even before the powerful cyclone swept away homes, crops, and lives two weeks ago. Well before the disaster, substantial numbers of urban residents -- who tend to earn far higher incomes than their rural counterparts do -- told Gallup they had difficulties affording food and shelter, which also does not bode well as prices soar in the country.
Food, more so than shelter, appeared to be the real challenge for urban Burmese surveyed in 2006. A third of urban Burmese (34%) said there had been times in the past year when they had difficulties with having enough money to buy food for their families. One in five (21%) urban residents said they experienced problems with affording adequate shelter. Two-thirds of urban Burmese also said they were somewhat (53%) or very (14%) dissatisfied with the amount and quality of the food they did get.
Urban Burmese were substantially more likely than their Southeast Asian neighbors were, with the exception of urban Filipinos, to report difficulties with affording food for their families. In adjacent Thailand and Laos, much lower percentages of urban residents reported not having enough money to afford food at times. Myanmar's urban residents were roughly as likely as urban Laotians, Indonesians, and Cambodians to say they had difficulties having enough money for shelter.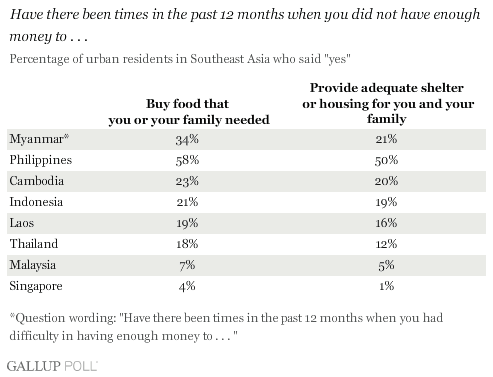 Bottom Line
While food and shelter are immediate concerns for millions of Burmese affected by the cyclone, the Red Cross said Friday that a lack of clean water could be the biggest threat in the short term. Drinking water in the coastal and delta region, the area hardest hit by the storm, is contaminated with salt water, decaying bodies, and animal carcasses.
Gallup's data suggest many Burmese were already vulnerable to disaster when the cyclone ravaged their country more than two weeks ago. Even now, the death toll is still soaring and Burmese are still struggling to get food, water, and shelter. The short-term outlook is grim, and the entire country could face long-term food shortages if the delta's farmers do not get rice crops into the fields in the next three months.
Survey Methods
Results are based on face-to-face interviews with approximately 1,048 urban Burmese, aged 15 and older, in September 2006. For results based on the total sample of national adults, one can say with 95% confidence that the maximum margin of sampling error is ±4 percentage points. In addition to sampling error, question wording and practical difficulties in conducting surveys can introduce error or bias into the findings of public opinion polls.