WASHINGTON, D.C. -- When asked between March and August 2008 who they personally would rather see elected president, a median of 56% of Africans surveyed chose Democratic candidate Barack Obama, while a median of 9% chose Republican candidate John McCain. This is despite sub-Saharan Africans' relatively high approval of current U.S. leadership compared with all other regions in the world.
Support for an Obama Victory
Although respondents are far more likely to prefer an Obama to a McCain presidency, significant percentages in most countries surveyed did not express an opinion. Such indecisiveness ranges from lows of 7% in Uganda and 8% in Kenya to a high of 77% in Benin. Across the 22 countries surveyed, women, older respondents (those aged 46 and older), and those with a primary education or less were far less likely than men, younger respondents, and those with at least a secondary education to express an opinion.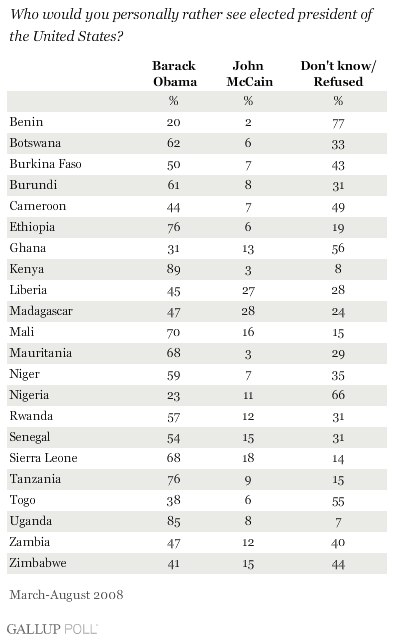 Majorities of Africans in 13 of the 22 countries surveyed would personally rather see Obama than McCain elected president of the United States. Support for Obama is highest in East Africa, and more specifically, Kenya (89%), Uganda (85%), Ethiopia (76%), and Tanzania (76%).
And even though approval of current U.S. leadership is highest in sub-Saharan Africa, compared with all other regions in the world, McCain does not have support of the majority in any of the countries surveyed. The highest levels of support for McCain are found in Madagascar (28%) and Liberia (27%), but these are still well below the proportions of Malagasy (47%) and Liberians (45%) who prefer Obama.
Does It Really Make a Difference?
When asked if it makes a difference to their countries who becomes the next president of the United States, a median of 40% say it does, while 31% say it does not. Sierra Leone (69%), Kenya (59%), Madagascar (53%), Uganda (51%), and Liberia (50%) are the only countries where majorities think it matters to their countries who the actual winner is. But here again, many Africans surveyed did not express an opinion, ranging from lows of 7% in Uganda, 10% in Kenya, and 11% in Ethiopia and Sierra Leone to a high of 84% in Benin.
Kenya Connection
Considering Obama's Kenyan heritage, it is not surprising to find one of his largest cheering sections in that country. Among the great ethnic diversity that exists in Kenya, just five groups (Kikuyus, 19%; Kalenjins, 15%; Luos, 13%; Luhyas, 12% and Kambas, 9%) represent more than two-thirds of the national population.
Ethnic affiliation has been an important component in the development of the country's politics, with some of the largest ethnic groups usually voting for the candidate representing their own ethnic group. Gallup's Poll of Kenya last June found that Luos, Luhyas, and Kalenjins (96% in each group) overwhelmingly favor Obama, whose father was a Luo. And although Kikuyus (82%) and Kambas (81%) express slightly less support for the man who has been called on the continent the "son of Africa," strong majorities in both groups would like to see him win the White House. Such findings suggest that Obama's appeal crosses ethnic lines in Kenya.
Bottom Line
Taken together, the Gallup Poll findings show that among Africans who have an opinion, Barack Obama is the clear favorite in the U.S. presidential race. The poll findings also suggest that Africans are not connecting the Bush's administration initiatives on the continent, most notably the President's Emergency Program for AIDS Relief and the Millennium Challenge Account, to the Republican candidate. However, Africans' responses as to whether the outcome of the U.S. election actually makes a difference suggest that regardless of who the next president is, they do not think it will impact them.
Survey Methods
Results are based on face-to-face interviews with at least 1,000 adults, aged 15 and older, in Benin, Botswana, Burkina Faso, Burundi, Cameroon, Ethiopia, Ghana, Kenya, Liberia, Madagascar, Mali, Mauritania, Niger, Nigeria, Rwanda, Senegal, Sierra Leone, Tanzania, Togo, Uganda, Zambia, and Zimbabwe between March and August 2008. For results based on the total sample of national adults, one can say with 95% confidence that the maximum margin of sampling error is ±5 percentage points. In addition to sampling error, question wording and practical difficulties in conducting surveys can introduce error or bias into the findings of public opinion polls.