PRINCETON, NJ -- Gallup daily tracking results from the month of July show job creation down 33% and consumer spending down 40% from a year ago. The year-to-year decline in job creation is generally consistent across regions. Spending is down the most in the Midwest and the least in the South.
Job Creation
In July, an average of 24% of U.S. workers nationwide reported that their employers were hiring new employees and expanding the size of their workforces. That figure is essentially unchanged from June (23%). The same is true in most regions of the country -- with the exception of the West, in which job creation increased to 22% from 19% the prior month. Even so, July job creation is worst in the West, while it is best in the South (26%).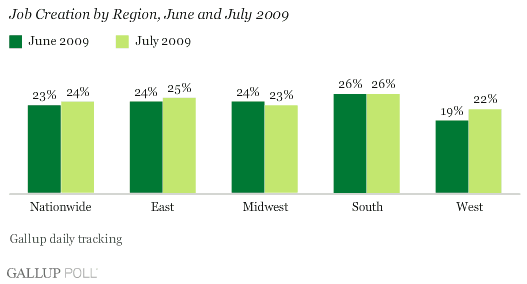 Consumer Spending
U.S. consumers' self-reported daily spending averaged $62 per day in stores, restaurants, gas stations, and online in July. This is essentially unchanged compared to June's average of $61 per day. Spending was largely unchanged in the East and Midwest but was up $7 in the South and down $4 in the West.
Commentary
Unlike the unemployment rate, which is a well-recognized trailing or lagging economic indicator, Gallup's job-creation measure -- much like jobless claims -- is more of a leading or at minimum a coincident indicator of economic performance. Job creation is essential to economic growth, and having job gains exceed job loss is vital to economic recovery and, eventually, to a reduction in the unemployment rate. In July, job loss (26%) exceeded job creation (24%) by two points -- essentially the same as the situation that has existed over the past couple of months.
In this regard, Gallup's July results suggest that the job market remains weak. Consistent with Wednesday's ADP and Challenger job reports and in sharp contrast to a year ago, new hiring continues to trail job loss. And while there has been a modest improvement in the rate of job creation vs. job loss compared to earlier in the year, the job-market situation remains dismal.
In turn, consumers remain cautious -- despite the success of "cash for clunkers" -- with average daily spending excluding autos, homes, and normal household bills remaining essentially flat during the first seven months of this year, and down 40% in July from a year ago. In part, this is likely due to the psychological shock associated with the financial crisis and associated worst economic downturn since the Great Depression, as well as the resulting creation of a spending and credit "new normal." However, in addition to the "new normal," there are other factors that may be holding down consumer spending. These temporary factors probably largely include today's dismal job-market conditions and the fear of further job loss.
Right now, the markets seem focused on Friday's unemployment report. If it exceeds the 9.7% consensus -- which would be up from June's 9.5% -- there could be negative economic and political fallout. However, regardless of what the government reports -- and an analysis of recent Gallup data on the job market suggests the unemployment rate is likely to reach or exceed 9.7% -- the real key to the course of the economy in the months ahead is job creation and the consumer spending it could unleash.
Survey Methods
For Gallup Poll Daily tracking, Gallup interviews approximately 1,000 national adults, aged 18 and older, each day. The Gallup consumer spending results are based on random half-samples of approximately 500 national adults, aged 18 and older, each day. The Gallup job creation and job loss results are based on a random half sample of approximately 250 current full- and part-time employees each day. For the total monthly samples of these surveys, one can say with 95% confidence that the maximum margin of sampling error is ±3 percentage points.
Interviews are conducted with respondents on land-line telephones (for respondents with a land-line telephone) and cellular phones (for respondents who are cell-phone only).
In addition to sampling error, question wording and practical difficulties in conducting surveys can introduce error or bias into the findings of public opinion polls.