PRINCETON, NJ -- Back-to-school spending seemed to show up during the week ending Aug. 16, as self-reported average daily spending hit a new high for the year. At the same time, consumer confidence maintained its new high of the prior week and job creation eased, but only slightly. Despite this good news and a 22-point improvement in consumer confidence compared to last year, this may not be enough to help the nation's retailers because consumer spending remains down 29% and job creation down 38% from the same week a year ago.
What Happened (Week Ending Aug. 16)
Consumer Spending surged as self-reported average daily spending in stores, restaurants, gas stations, and online increased $13 per day, representing a 20% week-over-week increase and the highest level since the Christmas holidays. Still, dollar-wise, the increase only matched the back-to-school increase of the same week a year ago -- leaving consumer spending down from the same week last year by 29%. During the prior week, consumer spending was down 33% from its year-ago level.

Consumer Confidence remained at its new weekly high -- matching the 40% saying the economy is "getting better" the prior week and up from 32% a month ago, and a 22-point increase from a year ago. At the same time, the percentage saying the economy is "getting worse," at 54%, is at its lowest point since January 2008, when Gallup Daily tracking began. Americans' views of the current economy are also essentially unchanged for the week, with the percentage rating the economy "poor" at 44%, compared to 46% the prior week.

Job Creation, at 24%, was off slightly from the 25% of employees saying their companies were hiring during the prior week. This is also slightly below the 25% last week saying their companies were letting people go. Although the jobs picture has improved slightly in recent weeks, the percentage of companies reported to be hiring is down 38% while the percentage letting employees go is up 39% from the same week a year ago.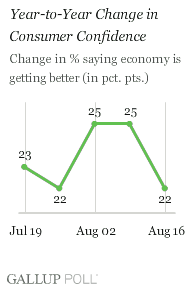 The Commerce Department reported on Thursday that retail sales fell in July for the first time in three months, and when auto sales are excluded, they fell 0.6%, for the biggest drop since March. While this tended to surprise many on Wall Street, it was fully consistent with Gallup's Consumer Spending results showing spending down 40% in July from a year ago.
The Reuters/University of Michigan preliminary August consumer sentiment report on Friday also surprised, with that index dropping to its lowest level since March. This was not consistent with Gallup's Consumer Confidence measure that finds consumer expectations improving steadily in early August. Given the volatility in consumer perceptions and the small sample size of the survey involved, the Reuters/Michigan preliminary number may turn out to be something of an aberration.
Regardless, the markets' net conclusion that consumers are not spending in a way that supports a sharp economic recovery appears to be correct. Although Gallup's Consumer Confidence measure shows a sharp improvement in optimism about the U.S. economy's direction, the assessment of the current economy has shown less improvement, and Gallup's Consumer Spending measure shows that consumers have not been increasing their spending -- let alone doing so in a way that is commensurate with the surge in confidence.
What to Watch For
Given this context, the surge in consumer spending during the week ending Aug. 16 to a new high for the year is somewhat encouraging. Compared to last summer's spending, however, it is not large enough to make for a good back-to-school sales period for the nation's retailers. Right now, the key question is whether consumer spending will continue to improve over the next several weeks. A year ago, spending fell during the week after a similar spending surge, so it may do so once again. On the other hand, year-over-year comparables for the coming week will be easier to match.
Of course, the key to an improvement in overall consumer spending lies with jobs. Gallup's Job Creation measure suggests no improvement in hiring. Although jobless claims have been difficult to gauge from week to week this summer, Gallup's data suggest they are likely to remain essentially flat when the government reports them Thursday morning.
Consumer spending apparently continues to be heavily influenced by the spending "new normal" and harder-to-get consumer credit. However, as "cash for clunkers" and last week's back-to-school spending experience suggest, consumers will spend money when they feel the need and are heavily incentivized. Regardless, unless job creation begins to show substantial improvement during the weeks and months ahead, the weak sales performance of recent months may continue to be the "new normal" for the remainder of the year.
Survey Methods
For Gallup Daily tracking, Gallup interviews approximately 1,000 national adults, aged 18 and older, each day. The Gallup consumer perceptions of the economy and consumer spending results are based on random half-samples of approximately 500 national adults, aged 18 and older, each day. The Gallup job creation and job loss results are based on a random half sample of approximately 250 current full- and part-time employees each day. For the total samples of these surveys, one can say with 95% confidence that the maximum margin of sampling error is ±3 percentage points.
Interviews are conducted with respondents on land-line telephones (for respondents with a land-line telephone) and cellular phones (for respondents who are cell-phone only).
In addition to sampling error, question wording and practical difficulties in conducting surveys can introduce error or bias into the findings of public opinion polls.