WASHINGTON, D.C. -- Sub-Saharan Africans would most likely turn to their families if they needed money to start a business, according to Gallup surveys of 18 countries in the region. Forty-two percent of respondents spontaneously named "family" as their primary source for funds, while banks (16%) and friends (15%) were a distant second. Despite the emphasis on microfinance in recent years in sub-Saharan Africa, 4% mentioned these institutions.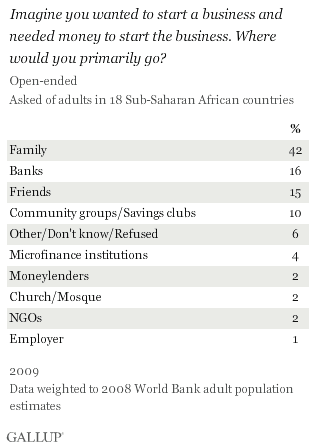 In a region where extended family is important, few have bank accounts, and microfinance options are limited, it is not that surprising that sub-Saharan Africans mentioned family as the primary lending source. Regardless of income, education, whether adults live in urban or rural areas, or even if they are planning to start a business in the next 12 months, family remains the most frequently mentioned source for business start-up money.
Roughly one in five respondents in the region have a bank account -- often a requirement for lending -- and these respondents are six times more likely than those without an account to mention banks as a primary source for loans. Half of current bank account holders named banks as a primary source and about one in four (24%) named family. Among those without a bank account, 8% mentioned banks and 46% named family as the primary source for lending.
It makes sense that certain demographic groups that are more likely to have bank accounts were also more likely to name banks as a primary source for loans. Respondents in urban areas were almost twice as likely as those in rural areas to mention banks, and those with higher incomes were more likely than those with lower incomes to mention banks. Those with at least some tertiary education were as likely to mention banks as they were family.
Majority Would Never Consider Formal Lending
When asked which lending sources they would ever consider for a business loan, most sub-Saharan Africans said they would consider family (81%) and friends (63%), while a minority would consider formal sources such as banks (38%) and microfinance institutions (34%). Fewer than one in five (18%) would ever consider moneylenders.
Among more formal lenders, all demographic groups were least likely to consider moneylenders, who traditionally charge high interest rates. Community savings groups receive more support from rural respondents, while sub-Saharan Africans with higher incomes and higher education were more likely to consider banks. Microfinance institutions consistently receive a minority of support across all demographic groups, with the poorest and least educated slightly less likely to consider them.
Bottom Line
While microfinance has been touted as a key way to alleviate global poverty, the majority of sub-Saharan Africans surveyed said they wouldn't consider these institutions for loans. For impoverished sub-Saharan Africans, basic needs take top priority, and the idea of even a small loan can be more risk than a family is willing to consider.
Gallup data reflect this to a certain degree, but there is little difference between the poorest and richest groups, demonstrating that income isn't the only factor holding back the growth of microlending in sub-Saharan Africa. Improved government regulation and greater access to banking and savings are likely to play an important role in the growth of the financial sector in this region.
For complete data sets or custom research from the more than 150 countries Gallup continually surveys, please contact SocialandEconomicAnalysis@gallup.com or call 202.715.3030.
Survey Methods
Results are based on 18,000 face-to-face interviews with adults, aged 15 in older, conducted in 2009. A minimum of 1,000 interviews were conducted in each of the following countries: Burundi, Cameroon, Chad, Congo Kinshasa, Ghana, Ivory Coast, Kenya, Malawi, Mali, Niger, Nigeria, Rwanda, Senegal, South Africa, Tanzania, Uganda, Zambia, and Zimbabwe. For results presented in this article, including demographic subgroups, one can say with 95% confidence that the margin of error is between ±1 and ±2 percentage points. The margin of error reflects the influence of data weighting. In addition to sampling error, question wording and practical difficulties in conducting surveys can introduce error or bias into the findings of public opinion polls.