WASHINGTON, D.C. -- Many people in Asia and the Middle East and North Africa emerged from the global economic crisis optimistic about the economic conditions in their local communities. Across the 117 countries Gallup surveyed in 2009, the lion's share of countries where at least half of residents saw their local economies getting better were located in these two regions.
In general, adults in Asia (excluding former Soviet countries in Central Asia) were the most likely to say local economic conditions were getting better. A regional median of 47% said conditions were improving; however, this level of optimism was not present in every Asian country. One in five or fewer adults in Pakistan (20%) and Japan (18%) shared this perspective.
Given China's robust economic growth even as the 2008 financial crisis devastated the global economy, it is not surprising that residents there were the most optimistic about local economic conditions. Although attitudes about local conditions in 2009 were slightly more pessimistic compared with 2008, optimism has generally remained high in China since Gallup began asking the question there in 2006.
In addition to China, other countries that experienced more than 5% GDP growth in 2009 also topped Gallup's measure of local economic optimism: Bangladesh, Qatar, Vietnam, Djibouti, Malawi, and Rwanda.
Outlooks Mixed in Middle East and North Africa
Opinions varied more in the Middle East and North Africa than they did in Asia. At least half of adults, however, said local economic conditions were getting better in Qatar (67%), Saudi Arabia (59%), United Arab Emirates (56%), Morocco (54%), and Tunisia (50%). Economic optimism was considerably lower in Turkey, the Palestinian Territories, Yemen, and Egypt, where fewer than one in four said local economic conditions were getting better.
Adults in some sub-Saharan African countries also were among the most optimistic in the world about local economic conditions. Majorities said conditions were getting better in Malawi (56%), Niger (61%), Rwanda (62%), and Djibouti (64%). However, residents of the region as a whole were divided between seeing things as getting better (33%) and getting worse (36%). Optimism was the sparsest in Kenya (10%), the Ivory Coast (16%), and the Democratic Republic of the Congo (16%).
Optimism Lacking in the Americas
Brazil and Canada stood out in the Americas as the only countries where a majority (54%) were optimistic about local economic conditions. In most countries throughout the region, roughly 3 in 10 perceived conditions as getting better. Americans (30%) were as likely as Guatemalans (31%), Hondurans (31%), Venezuelans (30%), Mexicans (29%), and Nicaraguans (29%) to assess the economic situation as improving.
Pessimistic Europeans
Among the 22 countries where less than 20% said conditions were improving, 17 were located in European and former Soviet Union countries. Less than 10% said conditions were getting better in Latvia (8%), Ukraine (5%), and Lithuania (4%) -- the least optimistic countries in the world.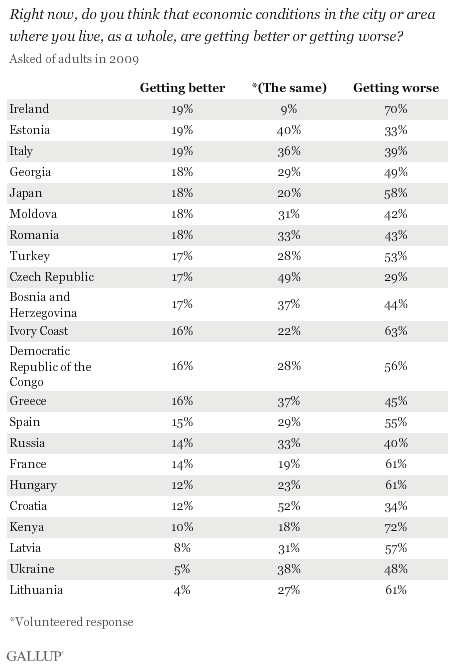 In the post-global economic crisis landscape, it is clear that adults in many countries in Asia and the Middle East and North Africa regions find reason to be optimistic about the economic situations where they live, while residents in Europe and former Soviet countries find the road to recovery elusive.
Visit Real Clear World's Top 5s feature to learn more about the countries that are most economically optimistic.
View the full trend on local economic conditions in all 117 countries surveyed.
For complete data sets or custom research from the more than 150 countries Gallup continually surveys, please contact SocialandEconomicAnalysis@gallup.com or call 202.715.3030.
Survey Methods
Results are based on telephone and face-to-face interviews with approximately 1,000 adults, aged 15 and older, conducted in 2009 in 117 countries. For results based on the total sample of national adults, one can say with 95% confidence that the maximum margin of sampling error ranged from a low of ±2.1 percentage points in China to a high of ±5.5 percentage points in Ireland. The margin of error reflects the influence of data weighting. In addition to sampling error, question wording and practical difficulties in conducting surveys can introduce error or bias into the findings of public opinion polls.