PRINCETON, NJ -- Americans are more positive about U.S. progress in the war in Afghanistan now than at any point in the past year. Forty-five percent say things are going well for the U.S. there, the highest percentage since July 2009, and one of the more positive evaluations in the last four years. Still, the majority of 54% believe things are going badly for the U.S.
The results are based on a Nov. 19-21 USA Today/Gallup poll, conducted before the Pentagon's Nov. 23 report characterized U.S. progress in Afghanistan as "uneven."
Americans' current assessments of U.S. progress in Afghanistan are significantly better than the low point from last November. At that time, just before President Obama laid out his new policy on Afghanistan, 32% said things were going well for the U.S. there.
Obama's policy called for an increase in U.S. troops in Afghanistan in the short term, but a plan to begin withdrawal in July 2011. The administration now is shifting the emphasis to removing U.S. combat troops from Afghanistan by the end of 2014 as opposed to the earlier emphasis on when withdrawal would begin. Given a choice, 20% of Americans favor the plan of having U.S. combat troops out of Afghanistan by the end of 2014, but roughly twice as many would prefer either a speedier U.S. exit (38%) or not setting a timetable at all (40%).
Self-identified Democrats are most likely to back Obama's timetable, but many more prefer withdrawing U.S. combat troops before 2014. Most Republicans would prefer that no timetable be set. Independents divide evenly between not setting a timetable and withdrawing troops before 2014.
More generally, 44% of Americans say they approve and 49% disapprove of the way Obama is handling the situation in Afghanistan. That is up from 36% approval in late July/early August, when support for the war dropped after there were leaks of classified military documents detailing some troubling accounts of the U.S. conduct of the war on an Internet site called WikiLeaks. But Obama's Afghanistan approval rating is down slightly from the 48% registered in February, the first measurement after Obama's new Afghanistan policy was announced.

U.S. military action in Afghanistan, the initial military response to the 9/11 terror attacks, has become one of the longest U.S. military engagements in the nation's history. The surge in troops has also increased the U.S. commitment significantly. Currently, 68% of Americans say they are very (31%) or somewhat (37%) worried that the costs of the war will make it difficult for the U.S. to address its domestic problems.
More generally, support for the war effort overall is on the low end of what Gallup has measured since 2001, with 58% saying the United States did not make a mistake in sending troops to Afghanistan. That is, however, an improvement from the late summer, after the WikiLeaks controversy, when support dipped to 52%.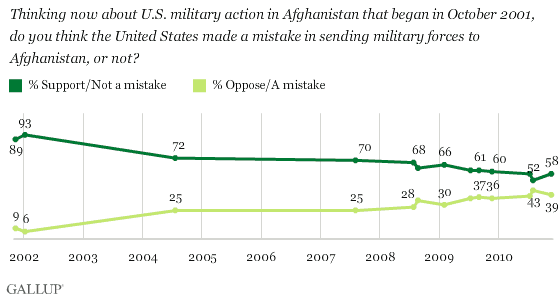 Americans continue to be more supportive of the Afghanistan war than the war in Iraq. The last time Gallup asked the same "mistake" question about Iraq, in August, 41% said the Iraq war was not a mistake and 55% said it was.
Afghanistan war support continues to vary significantly by party identification, with 75% of Republicans, 54% of independents, and 46% of Democrats saying the war was not a mistake.
Implications
Despite the long-term commitment of U.S. troops and resources, Americans continue to back the war in Afghanistan, even as they are more likely to believe things are going badly rather than well for the U.S. there. But Americans are more optimistic about U.S. progress now than at any point in the past year, perhaps owing to accounts of some recent U.S. successes there, some of which came after the time period (through the end of September) covered in the Pentagon report. Whether Americans' greater optimism continues could depend on the White House review of Afghanistan policy scheduled for December.
Survey Methods
Results for this USA Today/Gallup poll are based on telephone interviews conducted Nov. 19-21, 2010, with a random sample of 1,037 adults, aged 18 and older, living in the continental U.S., selected using random-digit-dial sampling.
For results based on the total sample of national adults, one can say with 95% confidence that the maximum margin of sampling error is ±4 percentage points.
Interviews are conducted with respondents on landline telephones (for respondents with a landline telephone) and cellular phones (for respondents who are cell phone-only). Each sample includes a minimum quota of 150 cell phone-only respondents and 850 landline respondents, with additional minimum quotas among landline respondents for gender within region. Landline respondents are chosen at random within each household on the basis of which member had the most recent birthday.
Samples are weighted by gender, age, race, education, region, and phone lines. Demographic weighting targets are based on the March 2009 Current Population Survey figures for the aged 18 and older non-institutionalized population living in continental U.S. telephone households. All reported margins of sampling error include the computed design effects for weighting and sample design.
In addition to sampling error, question wording and practical difficulties in conducting surveys can introduce error or bias into the findings of public opinion polls.
View methodology, full question results, and trend data.

For more details on Gallup's polling methodology, visit www.gallup.com.