WASHINGTON, D.C. -- When asked to name the most important financial problem they face, Americans are most likely to say a lack of money or low wages (16%), followed closely by healthcare costs (14%) and too much debt (11%). Other concerns include the cost of owning/renting a home, the high cost of living, and unemployment -- although fewer than 1 in 10 name these as a top problem.
The three most-mentioned financial concerns in the Jan. 7-9, 2011, poll have been at the top of Americans' list for the past two years, with little change in the percentages who name each one.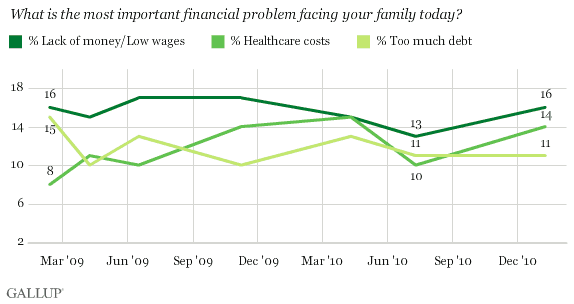 In the same poll, a separate question asked Americans whether they are worried about four specific economic matters. Of these, worry about not being able to maintain their standard of living is the only one a majority of Americans mention. About 4 in 10 are worried about not being able to pay their medical bills over the next 12 months or that their house will lose value.
Americans are least likely to worry that they or their spouse will lose their job within the next 12 months, with 30% saying they are worried and 68% not worried. This is notable given the high U.S. unemployment rate, and because Americans name unemployment as the most important problem facing the country.
Worries about job loss, though low in an absolute sense, are up significantly from early 2008, when the question was last asked. That poll was conducted as the economic slowdown was becoming apparent, but the unemployment rate was much lower at that time than it is today. The current level of worry about losing one's job is on the high end of what Gallup has measured in this trend over the past two decades.
Likewise, worry about paying healthcare costs and maintaining one's standard of living are up from recent years, with standard-of-living worries at a new high.
Bottom Line
Although unemployment in the United States remains above 9% and Americans name jobs as the top problem facing the nation, when it comes to their personal financial concerns, not having enough money appears to be top of mind. Clearly the two issues -- jobs and available cash flow -- are interrelated. But given that fewer than 1 in 10 Americans name unemployment or job loss as their top financial problem, and that 68% say they are not worried about job loss within the next 12 months, it appears most Americans are more worried about living well in their current situation rather than unemployment.

Survey Methods
Results for this Gallup poll are based on telephone interviews conducted Jan. 7-9, 2011, with a random sample of 1,018 adults, aged 18 and older, living in the continental U.S., selected using random-digit-dial sampling.
For results based on the total sample of national adults, one can say with 95% confidence that the maximum margin of sampling error is ±4 percentage points.
Interviews are conducted with respondents on landline telephones (for respondents with a landline telephone) and cellular phones (for respondents who are cell phone-only). Each sample includes a minimum quota of 150 cell phone-only respondents and 850 landline respondents, with additional minimum quotas among landline respondents for gender within region. Landline respondents are chosen at random within each household on the basis of which member had the most recent birthday.
Samples are weighted by gender, age, race, education, region, and phone lines. Demographic weighting targets are based on the March 2010 Current Population Survey figures for the aged 18 and older non-institutionalized population living in continental U.S. telephone households. All reported margins of sampling error include the computed design effects for weighting and sample design.
In addition to sampling error, question wording and practical difficulties in conducting surveys can introduce error or bias into the findings of public opinion polls.
View methodology, full question results, and trend data.

For more details on Gallup's polling methodology, visit www.gallup.com.