WASHINGTON, D.C. -- Twenty-four percent of Americans aged 18 to 26 were uninsured in January through April of this year, down from 28% in 2010, and fewer than in 2009 and 2008. Americans in this age group became eligible to remain on their parents' health insurance plans under a provision of the new healthcare law that began in September 2010.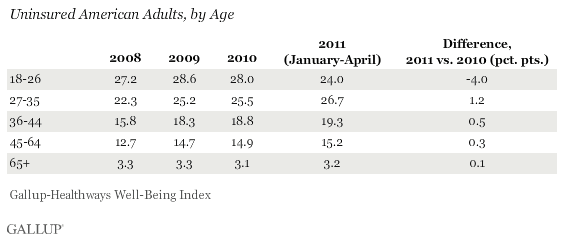 Previously, 18- to 26-year-olds were the most likely of all age groups to be uninsured. Those aged 27 to 35 have now taken that place. Additionally, the percentage of uninsured in every age group -- except 18- to 26-year-olds -- has so far in 2011 increased or remained unchanged.
More 18- to 26-year-olds now say they get their healthcare coverage through "something else" other than an employer or the government. This could be the result of more young adults now being covered under their parents' plans, having a private health plan, or getting coverage through their college or university.
This age group is also more likely to have government health insurance -- Medicare, Medicaid, or military/veterans' benefits -- so far in 2011 compared with the prior three years.
There has been little change in the percentage of 18- to 26-year-olds who get healthcare from an employer since 2010.
See page 2 for a breakdown of health coverage types across all age groups.
Bottom Line
So far in 2011, 18- to 26-year-olds are less likely to be uninsured than they have been at any point since Gallup began tracking health insurance coverage in 2008. This may reflect their recent ability to remain on their parents' healthcare plans. The uninsured rate among 27- to 64-year-olds, however, remains elevated or unchanged, as it has been since 2009, when the effects of the economic crisis, including high unemployment, set in.
About the Gallup-Healthways Well-Being Index
The Gallup-Healthways Well-Being Index tracks U.S. and U.K. well-being and provides best-in-class solutions for a healthier world. To learn more, please visit well-beingindex.com.
Survey Methods

Results are based on telephone interviews conducted as part of the Gallup-Healthways Well-Being Index survey Jan. 2-April 30, 2011, with a random sample of 102,584 adults, aged 18 and older, living in all 50 U.S. states and the District of Columbia, selected using random-digit-dial sampling.
For results based on the total sample of national adults, one can say with 95% confidence that the maximum margin of sampling error is ±1 percentage point.
Interviews are conducted with respondents on landline telephones and cellular phones, with interviews conducted in Spanish for respondents who are primarily Spanish-speaking. Each daily sample includes a minimum quota of 400 cell phone respondents and 600 landline respondents, with additional minimum quotas among landline respondents for gender within region. Landline respondents are chosen at random within each household on the basis of which member had the most recent birthday.
Samples are weighted by gender, age, race, Hispanic ethnicity, education, region, adults in the household, cell phone-only status, cell phone-mostly status, and phone lines. Demographic weighting targets are based on the March 2010 Current Population Survey figures for the aged 18 and older non-institutionalized population living in U.S. telephone households. All reported margins of sampling error include the computed design effects for weighting and sample design.
In addition to sampling error, question wording and practical difficulties in conducting surveys can introduce error or bias into the findings of public opinion polls.
For more details on Gallup's polling methodology, visit www.gallup.com.