PRINCETON, NJ -- Americans broadly support President Barack Obama's plan to begin withdrawing U.S. forces in Afghanistan this year, with additional troops scheduled to leave by the end of next summer and the remainder by 2014. Nearly three-quarters, 72%, are in favor, while 23% are opposed.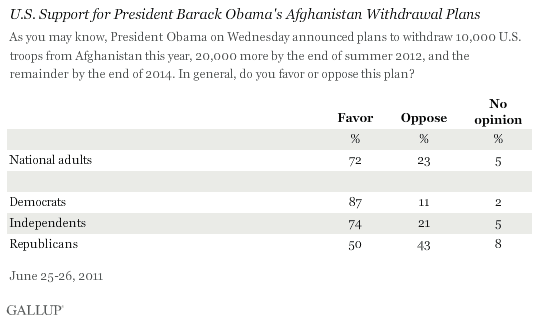 The vast majority of Democrats and independents, as well as half of Republicans, favor the outlines of Obama's plan, according to the June 25-26 Gallup poll.
The same poll finds a more mixed reaction to the near-term goal of having 30,000 U.S. troops out of Afghanistan in 15 months. Forty-three percent of Americans consider this number about right, 29% call it too low, and 19% too high.
The slight majority of Democrats, 57%, say the 30,000 figure is about right; however -- in line with vocal criticism of the plan from Rep. Nancy Pelosi and other congressional Democrats who want a more aggressive drawdown -- 30% call it too low.
Independents' reactions are more closely divided: 40% call it about right, 33% too low, and 18% too high. Republicans are the most fractured of all, with about a third saying the withdrawal figure is about right, a third calling it too high, and 20% too low.
Six in 10 Disagree With Obama's Timetable
Americans' reaction to Obama's timetable for withdrawing troops could reflect their views on the pace of troop withdrawal as well as their perceptions about the impact that announcing a timetable could have on the U.S. war effort. Perhaps as a result, less than a third (30%) roundly endorse Obama's timetable, while another third think the troops should be withdrawn sooner and 31% think the U.S. should not set any timetable.
Democrats are the most supportive of Obama's timetable, but fewer than half, 45%, agree with it, while 40% think the troops should leave sooner.
The slight majority of Republicans (54%) say no timetable should be set, while the rest are evenly divided between agreeing with Obama's timetable (19%) and wanting an accelerated one (20%).
Bottom Line
Americans have long supported the U.S. war effort in Afghanistan, and, as recently as May, the majority said sending U.S. troops to that country in 2001 was not a mistake. Also, at that time more thought the war was going well than badly -- a change from the pattern seen in late 2009 and throughout 2010 -- almost certainly because of the death of Osama bin Laden.
However, with the war adding to the United States' economic burdens, the obvious goal of capturing or killing bin Laden achieved, and mixed support for the conflict from congressional and rank-and-file Democrats, Obama was under pressure to announce an end game. The new Gallup poll suggests he succeeded in satisfying public opinion, with 72% of Americans broadly in favor of his plan. Yet, scratching beneath the surface, the poll also suggests he did not go far enough to fully satisfy Democrats' and independents' desire for a swift withdrawal. This may partly explain Obama's lagging job approval rating over the past 10 days, or at least why his June 22 speech announcing his "way forward in Afghanistan" did not help to raise it out of the mid-40s.
Survey Methods
Results for this Gallup poll are based on telephone interviews conducted June 25-26, 2011, on the Gallup Daily tracking survey, with a random sample of 1,034 adults, aged 18 and older, living in all 50 U.S. states and the District of Columbia.
For results based on the total sample of national adults, one can say with 95% confidence that the maximum margin of sampling error is ±4 percentage points.
Interviews are conducted with respondents on landline telephones and cellular phones, with interviews conducted in Spanish for respondents who are primarily Spanish-speaking. Each sample includes a minimum quota of 400 cell phone respondents and 600 landline respondents per 1,000 national adults, with additional minimum quotas among landline respondents for gender within region. Landline telephone numbers are chosen at random among listed telephone numbers. Cell phone numbers are selected using random-digit-dial methods. Landline respondents are chosen at random within each household on the basis of which member had the most recent birthday.
Samples are weighted by gender, age, race, Hispanic ethnicity, education, region, adults in the household, and phone status (cell phone only/landline only/both, cell phone mostly, and having an unlisted landline number). Demographic weighting targets are based on the March 2010 Current Population Survey figures for the aged 18 and older non-institutionalized population living in U.S. telephone households. All reported margins of sampling error include the computed design effects for weighting and sample design.
In addition to sampling error, question wording and practical difficulties in conducting surveys can introduce error or bias into the findings of public opinion polls.
View methodology, full question results, and trend data.

For more details on Gallup's polling methodology, visit www.gallup.com.