PRINCETON, NJ -- As Americans are no doubt feeling a familiar post-Thanksgiving bulge in their waistlines, Gallup data reveal insights into how those who say they have ever lost weight made it happen. Americans who have succeeded at losing weight at some point in their lives -- representing 52% of all U.S. adults -- are more likely to mention various dietary changes than efforts at exercising as the most effective strategies to drop pounds. However, exercising (31%) and eating less (23%), specifically, lead the individual responses.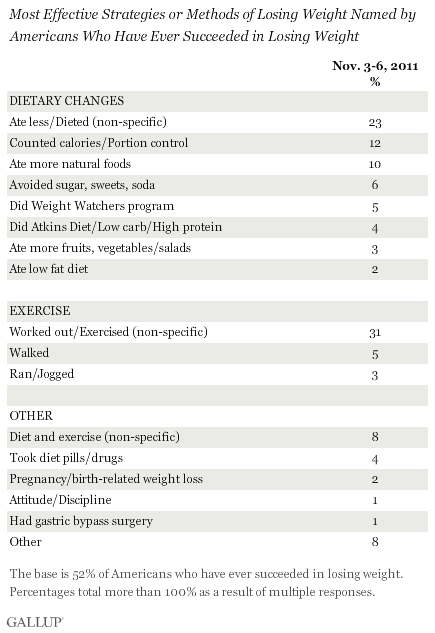 It appears that dieters have mainly attempted "do it yourself" dieting rather than enrolling in commercial weight loss programs. Among those mentioning dietary changes, eating less is most commonly cited, but sizeable percentages also mention portion and calorie control, eating more natural foods, and avoiding sugar. Five percent of all Americans who have lost weight credit Weight Watchers with their success while 4% credit the Atkins diet or a similar low carbohydrate approach.
Working out/exercising is the dominant exercise-related response, but 5% specifically credit walking and 3% running or jogging.
Beyond the conventional lifestyle changes required to lose weight, small percentages of Americans who have succeeded at losing weight cite using diet pills (4%) or having a gastric bypass (1%). Respondents' full answers, in their own words, are available here.
Women are less likely than men to credit exercise with their past weight loss: 32% of women name some form of exercise as having been effective for them, compared with 41% of men. Americans 55 years and older (25%) are also far less likely to name exercise as their weight-loss success strategy than those aged either 18 to 34 (44%) or 35 to 54 (40%). Accordingly, older Americans put much more emphasis than younger Americans on dietary changes. Beyond these differences, men and women and adults of various age groups offer similar insights into what worked for them to lose weight in the past.
Nearly Half Cite Both Diet and Exercise as Keys to Losing Weight
By grouping Americans' weight loss strategies into distinct categories of just diet, just exercise, or both, Gallup finds 32% of those who have succeeded at weight-loss credit diet-related approaches exclusively as most effective for them. Nineteen percent mention only exercise in their responses, while 47% mention both dieting and exercise as important factors.
Three in 10 Now Seriously Trying to Lose Weight
The U.S. weight loss industry is now estimated at roughly $60 billion, and it is little wonder.
Two-thirds of Americans consider themselves over their "ideal" weight, and 3 in 10 -- including 25% of men and 32% of women -- are currently trying to lose weight.
The overall percentage of Americans trying to lose weight has hovered at or just under 30% for most of the past decade, but was generally lower prior to 2003.
In fact, trying to lose weight is something most Americans can identify with. Two-thirds say they have made a serious effort to lose weight at least once in their life, including 25% saying they tried once or twice, 30% trying between 3 and 10 times, and 8% trying more than 10 times.
Nearly three-quarters of women (73%) have ever attempted weight loss, with an average of seven attempts. By contrast, just over half of men (55%) have ever tried to lose weight, with the average trying fewer than four times.
Bottom Line
Losing weight is something most Americans have attempted at some point in their lives, and most would currently like to weigh less than they do, even if less than half of them are seriously trying. One of the reasons relatively few people try could be the frustration that comes along with it, particularly during the holidays when so many social and cultural events are centered around food.
Although Americans have been losing the weight battle over the past few decades, some have had success, at least temporarily. Understanding how they achieved success could potentially help and inspire others. Unfortunately, there is no "magic bullet." However, it is clear that a combination of dieting and exercise has worked for the largest number. Others have found success mainly through dieting, while relatively few succeeded strictly through exercise.
Survey Methods
Results for this Gallup poll are based on telephone interviews conducted Nov. 3-6, 2011, with a random sample of 1,012 adults, aged 18 and older, living in all 50 U.S. states and the District of Columbia.
For results based on the total sample of national adults, one can say with 95% confidence that the maximum margin of sampling error is ±4 percentage points.
Interviews are conducted with respondents on landline telephones and cellular phones, with interviews conducted in Spanish for respondents who are primarily Spanish-speaking. Each sample includes a minimum quota of 400 cell phone respondents and 600 landline respondents per 1,000 national adults, with additional minimum quotas among landline respondents for gender within region. Landline telephone numbers are chosen at random among listed telephone numbers. Cell phones numbers are selected using random digit dial methods. Landline respondents are chosen at random within each household on the basis of which member had the most recent birthday.
Samples are weighted by gender, age, race, Hispanic ethnicity, education, region, adults in the household, and phone status (cell phone-only/landline only/both, cell phone mostly, and having an unlisted landline number). Demographic weighting targets are based on the March 2010 Current Population Survey figures for the aged 18 and older non-institutionalized population living in U.S. telephone households. All reported margins of sampling error include the computed design effects for weighting and sample design.
In addition to sampling error, question wording and practical difficulties in conducting surveys can introduce error or bias into the findings of public opinion polls.
View methodology, full question results, and trend data.
For more details on Gallup's polling methodology, visit https://www.gallup.com/.