PRINCETON, NJ -- Mitt Romney is a considerably weaker front-runner among Republican registered voters nationally than he was at the beginning of the week. Romney now leads Newt Gingrich by 30% to 20%, with Rick Santorum and Ron Paul tied at 13%. At the beginning of the week, Romney had a 23-percentage-point lead over Gingrich and Santorum.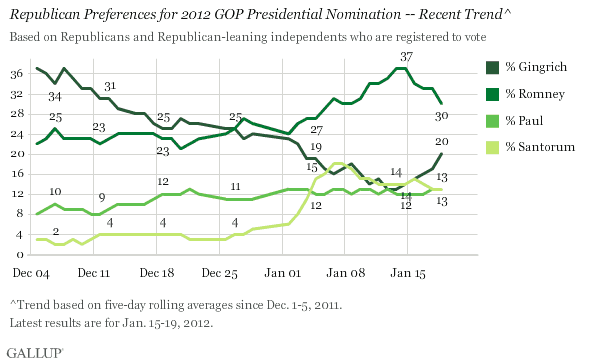 The latest results, based on Gallup Daily tracking interviews conducted Jan. 15-19, only partially reflect the potential impact of the dramatic events that have roiled the GOP presidential race this week. These include the withdrawal of two candidates (Jon Huntsman and Rick Perry) from the race, a televised interview given by Gingrich's second wife in which she discussed her former husband's extramarital affair, the continued focus on Romney's tax returns, the announcement that Santorum rather than Romney apparently won the Iowa caucuses, and a lively debate in South Carolina Thursday night in which Gingrich lashed out at the news media, and the CNN moderator in particular.
Polls in South Carolina suggest that Gingrich has a good chance of winning that state, and if so, the race could tighten further in the coming days.
The Republican race has been marked so far by unprecedented volatility. The latest chapter appears to be the remarkable ups and downs in support for former Speaker of the House Gingrich, who went from a solid front-runner status in early December to a badly trailing second-place position, to now perhaps another upward swing in momentum.
Sign up to get Election 2012 news stories from Gallup as soon as they are published.
Survey Methods
Results for this Gallup poll are based on telephone interviews conducted Jan. 15-19, 2012, on the Gallup Daily tracking survey, with a random sample of 1,235 Republicans and Republican-leaning independents, aged 18 and older, living in all 50 U.S. states and the District of Columbia, who are registered to vote.
For results based on the total sample of Republican registered voters, one can say with 95% confidence that the maximum margin of sampling error is ±4 percentage points.
Interviews are conducted with respondents on landline telephones and cellular phones, with interviews conducted in Spanish for respondents who are primarily Spanish-speaking. Each sample includes a minimum quota of 400 cell phone respondents and 600 landline respondents per 1,000 national adults, with additional minimum quotas among landline respondents by region. Landline telephone numbers are chosen at random among listed telephone numbers. Cell phone numbers are selected using random-digit-dial methods. Landline respondents are chosen at random within each household on the basis of which member had the most recent birthday.
Samples are weighted by gender, age, race, Hispanic ethnicity, education, region, adults in the household, and phone status (cell phone only/landline only/both, cell phone mostly, and having an unlisted landline number). Demographic weighting targets are based on the March 2011 Current Population Survey figures for the aged 18 and older non-institutionalized population living in U.S. telephone households. All reported margins of sampling error include the computed design effects for weighting and sample design.
In addition to sampling error, question wording and practical difficulties in conducting surveys can introduce error or bias into the findings of public opinion polls.
For more details on Gallup's polling methodology, visit www.gallup.com.